Being a fitness enthusiast myself, I am sometimes awed by the spate of options available in the market for health freaks. Be it going for yoga sessions or to the Gym, everyone has just one aim – to acquire a healthy physique. However, exercise, if not complemented with the right intake of nutrients, will not give you the desired results. Towards that end, I have always been on a lookout for options that are easy to make, nutritious, and available to me even on the move.
In fact, studies suggest that a low intake of fruits and vegetables is responsible for death due to cardiovascular diseases. Hence, my conclusion is that a fruit smoothie is one such option that can not only give that extra flush of nutrients after a workout in a very natural and scrumptious way but also increase your fruit intake. And what better than a portable smoothie blender to ensure that you don't miss out on your wholesome drink even on the go. So, I have compiled a list of the best portable smoothie blenders to make life easy for you. But before that, if you wish to know how you can make healthy smoothies, you can look at what experts have to say here.
How is a portable blender different from Other Blenders?
Compared to other blenders, the portable mixer is compact and convenient to use. The average capacity of these blenders is around 300ml though some do have up to 500ml as well, unlike the usual more sophisticated kitchen blenders which have a higher capacity. Besides the usual, you can carry them along and have a drink ready right after a workout. To add to the portability element of these compact blenders, the manufacturers also try adding features like battery operation so that you can enjoy your health drink even in the wilderness of a jungle. Being lightweight is an important feature of portable smoothie blenders which makes it really portable!
Did You Know?
Do not hesitate to use frozen fruits in your smoothies as against fresh ones, because research has indicated that frozen fruits have more or less the same or at times even higher quantity of some nutrients like Vitamin C.

Benefits of Using a Portable Blender for Smoothies
Safety –

 A lot of the portable blenders stop working when you detach the cup. This keeps it safe and easy to use. 

Smoothie on the Go –

 You can operate the device anywhere ay anytime. 

Refreshment at the Right time –

 The Portable Smoothie Blender gives you the drink you need immediately. This way, you can yield maximum nutrition from your juice.

Cost-Effective –

 These devices offer you mobility and are much more economical than a regular blender. This is an advantage because they can be used at home as well. 
Top Picks – Best Portable Smoothie Blenders
#1. REDMOND Smoothie Blender, 4000mAh Portable – Whether you are hitting a gym or finishing a session of yoga, the REDMOND Smoothie Blender, 4000mAh Portable works perfectly for both – protein shakes and fresh fruit juice.
#2. PopBabies Personal Blender – PopBabies personal blender is your 'blend and drink' on the go! The compact design makes it easy to carry and is great for taking to the office, gym, or for traveling.
#3. Yeaky Portable Blender – The Yeaky Portable Blender is a USB rechargeable and travel mixer, great for instant food, shakes, drinks and so much more. 
#4. – The FDA approved Olivivi Portable Blender is your choice for a healthy shake anywhere at any time.
#5. Hamilton Beach Personal Blender – Hamilton Beach is one of the most trusted brands for home appliances, and their portable blender is nothing short of amazing. 
 #6. Supkitdin Portable Blender – The Supkitdin Blender has six stainless steel blades and offers a powerful copper motor to turn your fruits or vegetable into a smoothie in under one minute. 
#7. KAMSPARK Portable Blender – The Kamspark Juice Cup is a high-grade borosilicate bottle with a handle. It is BAP-free and blends baby food, protein, and fruits for any activity. 
#8. – Tenswall's high-tech design is one of the safest blenders available in the market. The blades stop when the cap and body separate. 
#9. – The Supersmart safety system in the Tenswall portable blender is incredible. The device stops working if the body and cup are separated. 
#10. Hotsch Portable Blender – Hotch brings you a portable blender that extracts juice with its six blades and is known for its long life. 
10 Best Portable Smoothie Blenders – Our Reviews
Whether you are hitting a gym or finishing a session of yoga, the REDMOND Smoothie Blender, 4000mAh Portable works perfectly for both – protein shakes and fresh fruit juice. This battery power is good enough to prepare 15-18 cups of your power drink. The blender is charged via USB and has a stainless steel blade for the perfect blend. 
What I liked best about this is its built-in safety feature, The product is very safe and does not operate if not assembled correctly. So, it won't let you run it for more than 20 seconds so as to avoid overheating the motor. Not only this, it won't start working until the base and bottle is firmly attached so that you are safe from any accident.
User Experience
Most users have appreciated its powerful blending capacity and its easy portability. The glass bottle feature is a sure winner for many users because it makes it easy to clean and is non-toxic. The accessories are also a huge puller for this gadget. Users are overwhelmed by its long stick with a sponge at the end accessory which is a real help in cleaning and not to mention its small ice-cube tray.
The flip side is its noise. However, can't blame it completely because most blenders are noisy. Some users have felt that one needs to run it a little longer to get a completely smooth consistency and also sometimes the blades get jammed when particles get stuck at the bottom. But these are not very big roadblocks. For instance, the blades can be unjammed by turning the bottle upside down and for smoother blending, you could cut the fruits/vegetables real small.
Pros
Comes with a USB cable, User manual, Cup Cover, bottle cleaner, and Ice Tray

Takes 3-5 hour to charge @ 4000mAh

6 stainless-steel blades and 2000rpm motor

Gives a perfect blend in just 15 seconds

Borosil glass bottle is a plus because it is both safe for hot drinks and non-toxic
12-month warranty
Easy to clean and carry
480 ml cup capacity
250W motor
Cons
Precautions: Do not use the blender when it is charging or if the mixer is empty. 
My verdict: This is by far the best in class. Mid-range price with good capacity, this one is definitely for you!
Portable Blender, PopBabies Personal Blender, Smoothie Blender. Rechargeable USB Blender Corolina Blue
BLEND AND GO PORTABLE BLENDER: blend & drink from the 14 oz. Jar wherever you would like!
COMPACT DESIGN PERSONAL BLENDER: the petite size makes it the perfect blender for home, office, or travel.
UNIQUE FUNCTION AND GIFT: blending while charging;
SAFE AND VERSATILE SMOOTHIE BLENDER: dishwasher safe to-go cups (Food Grade material, Perfect for shake and smoothies, protein shaker, baby food etc.
POWERFUL AND WORLDWIDE TRAVEL BLENDER: strong enough to crush ice cubes, frozen fruits and seeds. No worry plug issues when travel to different countries.
This blender from PopBabies is positioned as a "favorite gear" by this company with 30 years of manufacturing legacy. With a capacity of about 480 ml, it comes with a battery strength of 4000mAh and a motor power of 175W.
A unique feature that caught my attention is its ability to blend even as it charges. It is easy to use and very light and petite for trouble-free gym bag packing. The manufacturers have provided built-in blades to prevent any finger injuries from open blades.
User Experience
There a few things they could have done better. For one, it has been provided with a 4 leaf blade. So my guess is it would require more blending time to get a smooth consistency. However, users don't seem to be complaining much on this account. The second feature is its cup. Though it is made of food-grade non-toxic BPA-free material, I'd rather go with a Borosil one. But again, some users find this more convenient and it is comparatively break-proof.
Pros
Comes with charging cord, user manual, smoothie, juice recipe booklet, pouring spout, and ice tray

Takes 3-5 hour to charge @ 4000mAh

2200 rpm motor
Blend while you charge
BPA-free cup
Built-in blades
Around 480ml cup capacity
175 W motor
Cons
Precaution: Do not add fruits over 1.5 inches in size into the blender. This avoids clogging. 
My Verdict: A great product with good capacity from a well-known brand. Though a bit pricy, its definitely worth it.
Yeaky Portable Blender, Mini Personal Blender with Detachable Base and USB Rechargeable, 16oz Juicer Cup for Shakes and Smoothie, Especially for Baby Food, Home Outdoor Office and Travel (pink, 16oz)
[16 oz Portable Glass Blender] --- Made of thickened high borosilicate glass, our personal blender is eco-friendly and hard to break. With 16oz/ 480ml bottle,...
[Upgraded & Safe Ensured] --- Motor would not work until all the seals are tightened well, which makes sure that blades would not hurt you. Come with odorless...
[30s Fast & Delicate Blending] --- Our mini blender has 6 leaves stainless steel blades, which can blend fruit and vegetable in 360 degree. With 25000RPM super...
[One Touch to Clean] --- Just fill the bottle with water and touch the button for 2 seconds, then it will start to clean itself, which is super convenient and...
[Perfect Gift & Satisfaction Guarantee] ---No other gifts is better than bringing health. Yeaki Portable Blender is the best gift for our family, friends and...
This pot blender is a USB rechargeable travel mixer, great for instant food, shakes, drinks, and so much more. The one-touch operation makes it easy to use. With six stainless steel blades, it makes juicing vegetables and fruits effortless. When you think about using a bender for your post-workout drink, try this environmentally friendly design.
My favorite feature the detachable bottle is made of thickened borosilicate glass which is completely non-toxic and hard to break.
User Experience
Users have given a thumbs up to its ease of cleaning and power. Well, not surprising! With its 25000 rpm motor, you can expect it to do the job quickly. With 6 leaf blades and 480 ml capacity of the bottle, this is a good buy. An orange peeler in the accessories is an added attraction.
Pros: 
Comes with USB charging cable, cup cover, user manual, and orange peeler

4000 mAh battery

Six blades for effortless blending

25000 rpm motor

Borosilicate thick glass bottle
Detachable jar
Cons
Not very detailed instruction booklet
Precautions:  Use 1.5 An-2 An charger to charge this blender to prevent battery damage.
My verdict: This gadget well justifies its price for all the features that come with it.
#4.
The FDA-approved Olivivi Portable Blender is your choice for a healthy shake anywhere at any time. The Device has a USB charger and can fill 15 cups on a full charge. The unique sawtooth blade design lets you blend the ingredients to perfection. With a motor of 300W power, this one certainly has the muscle to do your job well.
Another safety feature that captivated my attention is its one-button double click start. This is actually quite useful, given the fact that it is generally packed in a small bag for office or gym and there are chances that the power button is pressed by mistake leading to accidental startup.
User Experience
I was excited about its electromagnetic safety lock design which is its unique feature. But for some elderly users, it turned out to be quite a woe because they were not able to align the magnet to the switch because of age-related hand instability. This is something to think about before buying. Nevertheless, we have to accept the fact that every coin has two sides.
Pros: 
Comes with USB charging cable, strainer, cleaning brush, and user manual

Charges entirely in 2-3 hours with 4000mAh battery

Around 400ml capacity
6 leaf stainless-steel blades
2200rpm rotation speed

Fills 15-20 cups in one charge

Double touch safety feature

Electromagnetic safety design

Sawtooth blade design
Cons
Cup cannot be removed from the base and used for drinking
Precautions: Shake the blender while it blends to avoid clogging.
My verdict: This 300 W power machine has all the right features to give you the best. Certainly a good buy at this price in my opinion.
Hamilton Beach Personal Blender for Shakes and Smoothies with BPA-Free Portable 14oz Travel Jars, 14 oz, Raspberry
Compact design and BPA free: Great for home, office and travel with on the go portability
Blend and go: Blend and drink from the 14 ounce jar and lid which are both dishwasher safe
One-touch blending: Makes great smoothies, shakes, baby formula, marinades, salad dressing and more. To remove stubborn spots, use a mild, non-abrasive cleanser
Stainless steel blades: Ice crushing power for smooth results
Efficient 175 watt motor provides all the power you need for fast, reliable performance
Hamilton Beach is one of the most trusted brands for home appliances, and their portable blender is nothing short of amazing. The BAP-free, compact design is excellent for use at home or even in the office. You get around a 400ml jar with a lid, which is dishwasher-safe. The stainless steel blades can blend ice into your drink smoothly. 
User Experience
I liked the little space they have provided to roll the cord around the blender where it fits in perfectly for neat storage. Users have liked the fact that it is less noisy than the bigger blenders and gives you a perfect smoothie. However, some have reported inconsistent blending because of the lack of a vortex-like feature that automatically pulls the ingredients on top for blending. My view is that this could be due to the lesser number of blades present. A quick solution to this would be to shake the blender while it is blending so that the ingredients at the top can go down for mixing.
Pros : 
175 W power motor

Around 400 ml in one blend

Easy to clean with dishwasher safe parts

One-touch operation
BPA free cup
Detachable jar with lid
Measuring lines on the jar
Cons:
Plastic jar
4 leaf blade
No accessories provided
Not rechargeable
Precautions: Do not submerge the device in water. Wipe the blender with a damp cloth to clean.  
My verdict: A good product from an established brand. It's a bit pricy, but that's what you pay for the trust the name carries!
Supkitdin Portable Blender, Personal Mixer Fruit Rechargeable with USB, Mini Blender for Smoothie, Fruit Juice, Milk Shakes, 380ml, Six 3D Blades for Great Mixing (Green)
【Updated Blades】The juicer extractor is designed with 6 PCS 304 stainless steel blades and strong power system, pure copper motor, quick speed and long...
【Safety and Healthy】Made of eco-friendly, food-grade non-toxic PCTG material, BPA free; Silicone bottom,non-slip and shock absorption. The juice blender is...
【USB Charge】The USB juicer cup equipped with 2000mAh rechargeable high quality batteries that can be recharged in a variety of ways, like charging by power...
【Multi-Function】This Green blender is great for making nutritious single-portion smoothies, juice blends, mix fruits and vegetables, coffee, milk powder,...
【Portable and Widely Application】Lightweight and portable (3.14*8.85inch/13oz), easy to carry with silicone gel; This portable juicer is also a suitable...
The Supkitdin Blender has six stainless steel blades and offers a powerful copper motor to turn your fruits or vegetable into a smoothie in under one minute. The product is made with PCTG eco-friendly material and has a non-slip shock absorption body. Using the USB charger, you can charge the device entirely in 3-5 hours. Once charged, you can juice up to 15 cups of juice. 
User Experience
I found mostly positive user reviews. A portable blender at this price is certainly a good option. I would rather ignore some of the complaints regarding capacity because again what more can you expect at this price.
 Pros: 
Comes with USB cable, two straws, a cleaning brush, and manual

Can juice 15 -20 glasses in one full charge

175 W motor

22000 rpm speed
2000 mAh rechargeable battery
6 blades
BPA-free material
Cons:
Small cup size
non-detachable cup
Precautions: Do not add frozen fruits into the blender. Add milk or water into the blender to avoid damage to the blades. Take a look at our recommended blender for chopping frozen fruits.
My verdict: Good product at an affordable price. Though a little small, yet it is good for 1 cup of power drink.
The Kamspark Juice Cup is a high-grade borosilicate bottle with a handle. It is BAP-free and blends baby food, protein, and fruits for any activity. The six stainless steel blades and strong motor lets you crush ice and ingredients easily. The 4000 mAh battery is recharged by USB and can be charged through a laptop or power bank. It is easy to clean – just add soap and water into the blender and run it until clean. The device comes with a user manual and a takeout lid. 
User Experience
Some users had a problem with blending frozen fruits. However, it looks like you need to fill sufficient liquid in it to help in blending. Some buyers also reported the jamming of the motor when any firm produce is added. The trick here is to first hold the blender upside down for the blades to start their motion and then you can slowly bring it to the upright position. This way the firm products will not jam the blades.
I especially liked its detachable bottle with a firm seal that can be safely stored even in a horizontal position in your bag without worrying about any leakage.
 Pros

: 
Comes with USB charging cable, user manual, and extra bottom lid

25000 rpm rotation speed
4000mAh rechargeable battery

Six stainless steel blades for easy blending

Borosilicate glass bottle which is completely detachable
Cons
Inconvenient charge port placement at the bottom hinders the standing position of the device while charging
Flimsy charge port seal
100W motor is a bit low in strength
Precautions: Hold the switch for two seconds to start the machine. This is part of KAMSPARK's safety feature. 
My verdict: A very budget-friendly product with happy users to boast of. My thumbs up for the features you get at the price.
#8.
Tenswall's high-tech design is one of the safest blenders available in the market. The blending process starts with the push of a button, and to clean the device, just add soap and water to blend. So you don't have to worry about cleaning. The body comes with a high-quality ABS shell and is made of eco-friendly PCTG material.
The Tenswall Portable blender is a great product to take to the gym, office, etc. because of its compact design, and lightweight. Users are not very happy with its capacity of 380 ml. Now come on! This is meant to be easy to carry and not a ninja blender. 
I wasn't much impressed by the accessories that come with it – hardly any! But its safety features and charge port cover are a great thumbs up!
Pros:
comes with a USB cable, instruction manual, and clean cotton

lightweight

4000mAh battery 

120W power motor
Up to 22000rpm rotation speed
3-5 hrs charging gives around 15 cups
6 leaf blades
PCTG food-grade material bottle
charge port has a silicon cover

Safety feature stops the blades if the cup and body are disconnected
Cons
380Ml Capacity is on the lower side

Non-detachable base
No warning for low battery
Precautions: The devices won't operate when the parts are not connected correctly. 
My verdict: A very convenient appliance that gives you perfect results every time. Go for this if you are looking for a compact easy to carry machine.
#9.
The Supersmart safety system in the Tenswall portable blender is incredible. With a 380ML capacity, the mini-blender has six blades making it more powerful than the ones with four blades. Hence, the device leaves no trace of fruit and blends amazing smoothies all day. The product is non-toxic and eco-friendly with ABS material in use. Use the USB to charge the battery. With a three-hour charge, it can blend up to 12 glasses. 
Its unique quality – the device stops working if the body and cup are separated! Most users are impressed with its compact shape which makes it easy to carry. One sticky point is its small capacity. Well, it's meant to be a personal portable blender! Would go for a ninja blender if capacity is the issue.
 Pros: 
Comes with USB cable, brush for cleaning, strainer, and user manual
The battery capacity of up to 2000 mAH
Can make 13-15 cups in a single charge
Motor rotation speed of up to 22000 rpm

Eco-friendly design

Six blades to blend

Food Grade ABS Material body
Cons:
Not dishwasher-safe
Cup not detachable
Cup capacity of 380 ml is low
Precautions: To clean the device, just add soap and water into the blender and turn it on. Do this right after use to avoid corrosion. 
My verdict: Powerful blender which is very easy to carry. It does what it is supposed to do and that too pretty well!
2021 Hotsch Portable Blender, 13.5 Oz Personal Size Juicer Cup for Smoothies and Shakes, USB Rechargeable with Six Blades, for Sports Travel and Outdoors - Blue
【High Level of Safety】Hotsch portable blender is BPA free, and it is made by eco-friendly, food-grade and non-toxic PCTG materials. It embraces unique...
【Powerful & Effective】The juicer cup is equipped with 6 PCS 304 stainless steel blades with 7.4 rated voltage. With a higher level of rotation frequency...
【Great Performance on Portability】The built-in 4000mAh USB rechargeable battery can be easily charged by power bank, computer or other USB power source....
【Easy Operation & One Button Control】The mini blender is easy to clean by adding water and simply long press the power button to start the self-cleaning...
【Perfect Gift & Outstanding Service】No other gifts is better than bringing health to our family, friends and lovers. Hotsch portable blender is professional...
Hotsch brings you a portable blender that extracts juice with its six blades and is known for its long life. The durable device makes fruits or vegetable smoothies effortlessly in under a minute. You can charge the device using a power bank or by connecting the USB cable to your laptop. The blender has a non-slip bottom and is BPA free. The device is fully charged in 3-5 hours and produces up to 15 – 20 cups on a single charge. 
Overall I didn't find many complaining customers. Only a few who were not appreciative of its blending capacity despite have six blades. My take on this is that its motor is not that powerful. However, despite that, it does a pretty good job at it. So, maybe try smaller ice cubes or fruit pieces for a better blend.
Pros: 
Comes with a cleaning brush, USB cable, and User manual.

4000 mAh battery
24000 rpm motor speed
400ml cup capacity

Six blades for perfect blending

USB chargeable

Non-slip silicone bottom

Self-cleaning
Cons
150 W power motor not very powerful
Precautions: Do not add hot liquids over 50 degrees as it might damage the blender and lead to leakage. 
My verdict: Well priced product without much frills. Does its job well!!
My choice criteria
1) The Blades 
Blades form the most important feature of any blender because they do the key work of pulverizing hard ingredients.  They vary in number from 2-6. Obviously, the more the number the higher the rating. However, almost all of the models in my list have stainless-steel blades though they might vary in quality and durability and hence the rating respectively. I am a big fan of stainless-steel gadgets. To know why? – check out my review of rice cookers with stainless-steel inner pot.
2) Size
Unlike kitchen blenders, portable blenders are specifically built to serve one or max two people at a time. Their holding capacity can vary between 300ml to 500ml. What I have focused on is a balance between the holding capacity and compactness. My preference goes to the one which can easily be fitted into a yoga or gym bag and can serve you sufficient nutrients as well.
You also need to keep in mind that if you are using ice cubes (which you would definitely prefer), then you need to make sure that there is sufficient space in the jar to accommodate the water released from the ice. And if your jar capacity is less, then you may not be able to fit in enough fruits and vegetables for a nutrient-packed drink. However, if you are looking at an acai bowl, the portable blender may not be the best choice because of its sheer size. For that, take a look at our detailed article about the best blenders for acai bowls. 
3) Motor power
This feature carries immense weight in my grading criteria. For getting a smooth consistency of your health drink you need a blender with a strong motor, apart from the sharp blades. Top range kitchen blenders have powers as high as 700 watts and above. Unfortunately, your portable blender can't afford such a high-power motor because it needs to be light and compact. Such blenders have low-power motors, even as low as 125 watts. However, this power is good enough to make a milkshake with a blender. Have a look at an easy milkshake recipe here.
4) Power Source
An interesting prerequisite of some portable blenders which wins my admiration is the complete doing away of the need for a power source by the manufacturers. They are battery-operated. This is absolutely brilliant! Now you can go and chill out in the wilderness of the mountains or camp in a jungle completely disconnected from the world, but you can still enjoy your power-packed smoothie. The only catch here is, you need to carry the battery.
But wait! We have some more options waiting for us – the rechargeable batteries. These batteries need to be charged once and then they are ready to blend 18-20 cups in one charge. You don't have to worry about carrying extra batteries for replacement.
And then there are some blenders which you can charge through the USB port of your laptop. How convenient! You don't need to get up from your workstation for that high-protein power charge!
The unit for measuring the storage capacity of a battery is mAh. A 1200 mAh capacity battery would mean that it would deliver 1200mA of current for an hour. But let's not get boggled by the technicalities. Basically, the higher the capacity of your battery, the longer it will run and hence, earn a higher ranking in my review.
5) Blender material
Portable smoothie blenders use both glass and plastic materials. However, for plastic material, I have given full marks for BPA-free plastic. Whether your blender has a glass jar or a plastic one, it can be easily cleaned in a dishwasher and what better than a hard food disposer dishwasher. For more details check our list of some amazing dishwashers for your kitchen.
Tips To Use A Portable Smoothie Blender
Wash the blender by inserting soap and water into the cup and blending.

Try not to overheat the battery by charging the device for longer than required.

Always add liquids like milk or water when grinding ice or hard foods. 

Do not put hot liquid in your blender.
FAQs on Portable Smoothie Blenders
1) Can I use the Blender While charging?
A) Not all devices can be run while being charged. The PopBabies Personal Blender Can be run while charging. Check the product in our recommendations above. 
2) Can I Blend Ice in the Portable Blender?
A) Some of the portable blenders get damaged if you only add ice. Add water or milk to the blend to avoid damage. The Hamilton Beach Personal Blender is one of the best blenders for ice. 
3) What do I do if my blender gets damaged?
A) Check the description of the product you order. Look or a product that has a warranty or part replacement.
Conclusion
The bottom line is that portable blenders have a special place in today's hectic lifestyle as they can give you healthy options in on the go. There are umpteen options available in the portable blender segment and the list I have provided may not be the ultimate one. However, my exhaustive research has certainly ensured that my list contains a product for every type of budget and need. Hence, I can confidently say that REDMOND Smoothie Blender, 4000mAh Portable is by far the best. Its spacious cup size which is made of borosil glass gives it a unique edge over others.
Recommended Posts: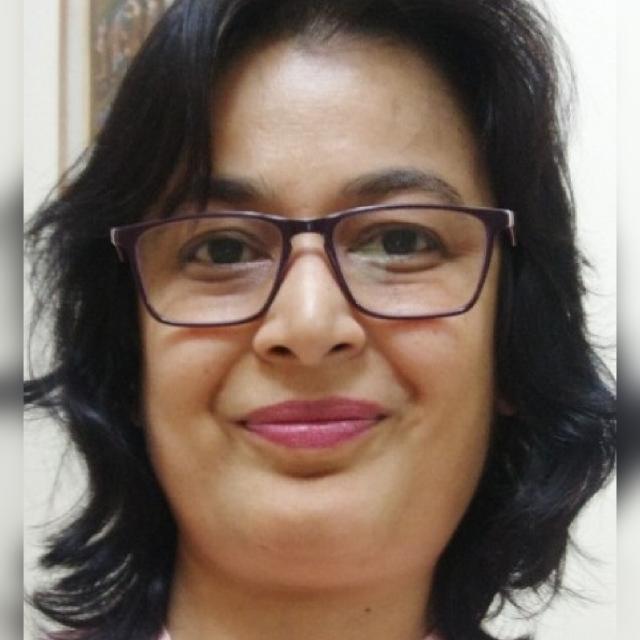 A graduate in Computer Science with post-graduation in Finance, Manisha Dhiman Kant is a stay at home mom. Having worked with multinational companies for around 10 years, she chose to work from home to balance her family commitment and work life. Since then she has written content on various areas of management, life, and technology. An avid online shopper, Manisha enjoys writing frank reviews for the benefit of other shoppers especially in kitchen gadgets and appliances category because that, she feels, is her forte (an entitlement most moms have because of having spent substantial time in the kitchen).