Is your family eating a toxin-free meal daily? With the increasing cancer cases around us, this question haunts us day in and out. After having been through this experience myself, I have always endeavored to bring chemical-free products to my house, be it organic food or Teflon-free utensils. Hence, to ensure health for my family I do a thorough research of the kitchen products I buy. Rice cooker is one such product that is used daily in the majority of households around the world. I specifically undertook to do exhaustive research for the best rice cooker with a stainless steel inner pot.
Why use a rice cooker with a stainless steel inner pot?
For those of you who are not aware of the harmful effects of non-stick coatings on cookware, let me enlighten you with some facts in brief –
The chemical coating can come off and mix with your food over a while.
If the cookware is overheated, particularly when it is empty, it emits very unhealthy fumes which can be a health hazard for you and your family.
Steel, on the other hand, is chemical-free and doesn't corrode easily, hence cannot mix with food. It also maintains the flavour and acidity level of the food as compared to other metals like aluminium which makes the food acidic due to the addition of the metal in it while cooking. For more information on healthy cooking medium, you can check here.
Summary list of the best rice cookers with stainless steel inner pot
1. GoWISE USA GW22620 4th-Generation Electric Pressure Cooker – An intelligent cooker with maximum programs. Just switch it on and let it do the rest.
2. Cuckoo CMC-QSN501S Browning Fry, Steamer, Warmer, Yogurt, Soup Maker-Stainless Steel, Incl Multifunctional Rice Cooker – This sleek and clever device will sweep you off your feet with its navigation and safety features.
3.Tatung - TAC-11KN(UL) - 11 Cup Multi-Functional Stainless Steel Rice Cooker - Silver) – A reputed brand that will give you the same consistency of rice every time.
4. Elite Gourmet ERC-2020 Electric Rice Cooker with Stainless Steel Inner Pot Makes Soups, Stews, Grains, Cereals, Keep Warm Feature, 20 Cup, White – A simple appliance for those who forget to switch off their cooker. It remembers to switch to "warm" mode after the rice is cooked and never lets it burn.
5. Aroma Housewares Simply Stainless 14-Cup (Cooked) (7-Cup UNCOOKED) Rice Cooker, Stainless Steel Inner Pot (ARC-757SG) – A modest unit and a trusted brand, this one is good for small families.
6. Oyama CFS-F10B 5 Cup Rice Cooker, Stainless Black – Very simple to use, it is good for small families even as it is easy on your pocket.
List of 6 best rice cookers with stainless steel inner pot in ascending order of my preference
GoWISE USA GW22620 4th-Generation Electric Pressure Cooker with steam rack, steam basket, rice scooper, and measuring cup, 6 QT
Faster than stovetop cooking: proven to be a faster cooking method than traditional stovetop cooking, This cooker will prepare your delicious meals with a touch...
All in one: featuring 12 cooking programs replacing the functions of 9 Appliances into one. Cooking programs include rice, Multigrain, Soup, Multigrain,...
Set it: have food ready at the right time with the built-in 24-hour delay timer. This pressure cooker is also equipped with an auto keep Warm feature and can...
Accessories plus recipes: do more with your pressure cooker with the included accessories: (1) stainless steel basket, (1) stainless steel rack, (1) rice Spoon...
1 year : Includes is a 1-year purchase and free lifetime support from GoWISE USA.
This is an American brand cooker that comes with 12 cooking programs doing away with the need for 9 different kitchen appliances and creating more space in the kitchen for you. This can be used for meat, stew, soup, porridge, egg, yogurt, and much more.
User Experience
The users of this product have appreciated the fact that it is a noiseless cooker and this is what sets it apart from others. Another feature which many users found helpful is its ability to cook frozen foods without the need for thawing. This makes it a real-time and energy saver.  However, some users did complain about its non-detachable flimsy cord which in my opinion is not a very big detractor to buying the product.
With a completely detachable lid, this device is very easy to clean. Have a look at some good dishwasher for easy cleaning of your pot.
I liked the touch-sensitive control panel. So, if you like the cool touch-sensitive technology, you'll love this cooker.
One big plus of this brand is its good customer service.
Accessories include – rice spatula, steel rack, measuring cup, stainless steel basket.
My Verdict: This is the best in the category of rice cookers with stainless steel inner pot based on the number of programmable features and the price.
Pros:
12 pre-set programs
Fast and noiseless cooking
Detachable lid for easy cleaning
1-year warranty with lifetime company support
Easy on the pocket
24 cup capacity to cook
Stainless steel accessories
Good value for money
Cons:
Non-detachable flimsy cord
Sale
Cuckoo CMC-QSN501S Q5 Superior Multifunctional 5 Quarts, Black Multi-Pressure Cooker
MULTI-FUNCTIONAL: Have 1 multicooker replace 8 small appliances (pressure cooker, slow cooker, rice cooker, steamer, food warmer, yogurt maker, sous vide, &...
EFFICIENT & SMART: Features a user-friendly, modern LED screen complete with touch controls, a preset timer, 2-language voice guide (English, Chinese) and...
STAINLESS STEEL INNER POT: Features a durable 5-quart stainless steel inner pot constructed that allows for even temperature distribution and guaranteed...
SAFE STEAM RELEASE: Automatically releases the industry high pressure level of 26 PSI (178 KPa) softly and quietly for a safe, convenient cooking experience...
TRUSTED KOREAN BRAND: Internationally known for superior quality and with over 40 years of industry experience, CUCKOO has perfected the art of cooking rice and...
A Korean brand that dates back four decades, Cuckoo, has come up with this model which has a completely stainless-steel inner pot as opposed to a similar earlier model with a non-stick coated pot. This model has 11 programs to play around with so that you can don't have to deal with the clutter of too many kitchen utensils – one appliance is good enough for cooking rice, soup, pasta, porridge, and meat. You can also use it for browning fry and preparing yogurt. By regulating the temperature and pressure its complex algorithm ensures that you get consistent outcomes each time.
However, what captivates me the most is the voice navigation that keeps guiding you about the next steps. This is very helpful as the cooking cycle is divided into parts and the voice navigation keeps informing you about the stage of cooking. Another exciting feature of this cooker is its auto clean/sterilization function. The auto vent releases excessive pressure and also cleans the inner chamber so you don't have to soak it overnight for cleaning.
User Experience
The manufacturers have taken extra precautions to ensure the total safety of the user and the auto vent is a unique feature towards this end. I have encountered many users complaining about how they burned their hand while opening a rice cooker. This cooker has done away with this complaint for sure! The dual motion packing further adds to the safety aspect as it seals the steam inside.
Accessories include a scoop and a measuring cup.
My verdict: Go for it if you want complete peace of mind while cooking and ready to spend an extra few for the brand legacy because this rice cooker with stainless steel inner pot does a good job.
Pros
Trusted brand
Multiple programs
High on safety standards
Compact and sleek look
Auto clean
Can cook up to 20 cups at a time
Cons
The recipes provided with the cooker do not work well.
User needs some acclimatization before they can cook well
A bit on the expensive side
Tatung - TAC-11KN(UL) - 11 Cup Multi-Functional Stainless Steel Rice Cooker - Silver
A multi-functional rice cooker and steamer that is great for preparing hot fluffy rice, steaming veggies and seafood, anda variety of other dishes.
This easy-to-use one step rice cooker makes up to 11 cups of uncooked rice (22 cups cooked rice). This is enough rice to serve large families or social...
Durable 18/8 (food grade 304) stainless steel inner pot and outer pot, it's easy to clean and retains its luster over time. The indirect heating technology...
The cooker features a "Keep Warm On/Off" switch. With the keep warm switch ON, your dish will automatically keep warm after the cooker finishes cooking....
Cooked has four distinct modes. Braise mode which is ideal for lightly frying food. Steam Mode which is made possible by the outer pot that you can fill with...
This is a 40-year old brand that commands trust and reputation. It uses the old school technique of indirect heating used by most eastern rice-eating cultures. This helps in even cooking and maintains the flavor of the dishes cooked. Having said that, this simple yet multifunctional cooker can work in different modes because of the indirect heating technology. The "steam mode" can be used for dishes that require steaming including rice, the "Braise mode" is for frying and the "stew mode" can be used for making soups, etc. This multifunctionality will help you replace many other kitchen utensils and make it more spacious. The best part I liked about this cooker is its size. You can make 11 cups (equivalent to 22 cooked cups) of rice at a time, so don't worry if you have unexpected guests!
Accessories include measuring cup, spatula, steam plate and a cover for the inner pot.
The downside of this rice cooker with stainless steel inner pot is its price. For the number of features it provides, I feel it could have been a little less pricey. However, the brand does enjoy a premium for its legacy.
My Verdict: A bit pricey but the strong brand equity compensates for it. If you are looking for an experienced good quality and simple appliance which can make perfect rice, then ignore the price. It's money's worth!!
Pros
Trusted brand
Simple to use
Multifunctional
Clear water level markings
Easy to clean
85% positive reviews by users on Amazon
Good Capacity
Cons
Does not have programming modes, timer, etc.
Handles are flimsy
Takes up more electricity due to indirect heat technology.
It is designed for 110V electrical outlets only.
Pricey for the features offered
Elite Gourmet Electric Rice Cooker with Stainless Steel Inner Pot Makes Soups, Stews, Grains, Cereals, 20 Cups, White
COOK MOUTH-WATERING & FLUFFY RICE EVERY SINGLE TIME without wasting your time over the pot. The Elite Cuisine ERC-2020 pro rice cooker is here to help you cook...
WANT PERFECTLY COOKED RICE. JUST SET IT & FORGET IT: Sick and tired of undercooked or overcooked rice. The Elite Cuisine professional rice cooker will evenly...
COATING FREE STAINLESS STEEL INNER POT Unlike flimsy aluminum pots, our rice cooker features a surgical-grade 304 stainless steel cooking pot, which is more...
THE ALL-INCLUSIVE HOUSEWARMING GIFT IDEA for a hassle-free cooking experience. The cool-touch side handles will prevent accidents while the tempered-glass lid...
EXTRA LARGE CAPACITY cooks up to 20 cups of cooked rice for the entire family and more. This rice cooker holds up to 10 cups of raw rice and 20 cups of cooked...
The next cooker in my list is Elite Gourmet. This simple yet intelligent piece has a capacity for up to 20 cups. For those who get baffled by too many programs, this device has just two options – warm and cook. Hence, you don't have to bother about which program to choose or what timer to set. Just fill it with the required proportion of rice and water, push the knob to "cook" and let it do the rest. I call it intelligent because once the rice is cooked, it shuts on its own and goes to the "warm" mode automatically.
The stainless-steel inner pot preserves the aroma and freshness of the rice and you get consistent results each time. Though it is a rice cooker without any complex programming modes, it can be used to cook almost anything like vegetables, pasta, porridge, etc. Most of the users loved the huge cooking capacity of its sturdy high-quality steel pot.
User Experience
However, some users had issues of plastic burning odor during the initial few uses. Nevertheless, in my opinion, this is a temporary problem which I have experienced with some other cookware too. This can be resolved by simply boiling plain water a couple of times in the cooker so that the odor slowly wanes away and then start cooking.
Accessories include a measuring cup and a scoop.
My Verdict: I like this appliance for its simplicity and intelligence. It is also easy on the budget being below $30.
Pros
Simple to use
Good capacity up to 20 cups
Good quality inner pot
Versatile usage
Budget-friendly
Cons
No programming modes
Some issues with odor during initial use
Sale
This is a very basic rice cooker with a capacity of 4-14 cups of cooked rice. Remember, 1 cup of uncooked rice is equivalent to 2 cups of cooked rice. This again has two simple functions – "cook" and "warm".
Without too many complex programs, this appliance can be used even by those who do not know cooking. You can also buy the stainless steel steamer tray and cook vegetable/meat along with your rice by placing the steamer tray above the rice pot and covering it with the lid. Of course, if you are steaming the vegetables, you will have to remove them earlier to avoid overcooking. The rice can continue to cook till it's ready.
The high-quality stainless-steel inner pot is pretty handy as any left-over rice in it need not be removed and kept in a separate vessel. You can directly keep the steel pot with rice in the fridge and when needed it can be placed straight from the fridge into the cooker and reheated in the "warm" mode.
I was impressed with the bamboo spatula provided with the accessories by Aroma as against the ordinary ones provided by other brands. A measuring cup is also included.
My Verdict: Go for it if you have a small family and are looking for a simple budget-friendly rice cooker with the health benefits of a stainless-steel inner pot. The brand has 40 years of experience in this field and can be trusted for quality.
Pros
Budget-friendly
Simple and petite
Good quality stainless-steel inner pot
Easy to clean
Cons
Not programable
Some issues with water spilling out from the vent
For small families
Oyama CFS-F12W 7 Cup Rice Cooker, Stainless White
All Stainless Steel cooking surfaces
Stainless Steel Steamer Tray
3 Dimensional Heating (base, side and lid)
Keep warm function
Cooking bowl has a triple layered base for uniform heating without burning
This appliance also falls in the unprogrammable category of cookers with two options to choose from – "cook" and "warm". It is simple to use and has a completely stainless steel inner pot with no non-stick coating. Hence, it preserves the freshness and natural aroma of rice. It has a very compact design and from the outside looks like the expensive programmable models of rice cookers.
It is easy to clean though the lid is not detachable. This is mainly because its entire inner body is made of stainless steel. Another easy clean feature is the detachable steam vent casing which helps in easy washing. The 3-Dimensional heating technology and the triple-layered reinforcement of the pot base ensure an even cooking and consistent output every time.
This model does a good job at the "keep warm" function. The rice can be kept warm for 24 hours without getting dried or hard at the bottom.
In my research I found some users complaining about starchy water coming out of the vent making the surroundings messy. This issue can be overcome by ensuring that you do exactly what the instructions say.
Accessories are not included.
My Verdict: A good buy for a small family.
Pros
Budget-friendly
Simple and petite
Good quality stainless-steel inner pot
Easy to clean
Cons
Not programable
Some issues with water spilling out from the vent
Only for small families
Research Methodology
After going through various cookers on Amazon and checking innumerable feedbacks and getting guidance from my personal experience, I have come up with a list of best rice cookers with stainless steel pot in different categories.
However, I would like to point out that though there are many rice cookers available in the market for different budget customers, the choice in the stainless steel inner pot segment is quite limited. Some of them claim to have stainless steel pots, but detailed research brings out the fact that though it is steel, it has been coated with non-stick material to make it stick-proof. So, I have excluded them from my list because I want to go for a complete stainless-steel inner pot without any non-stick coating. Some other factors I have used are –
Brand: I have included only those brands in my list which are tried and test by users over quite some time.
Features: The programming feature was my top priority. However, I have excluded the not so trustworthy brands (even though they might have got some good reviews) with programming features and stainless steel pot because of the lack of reliability of such brands. I have given higher ratings based on accessories offered, quality of pot etc.
Capacity: The higher capacity models have been placed higher on the list. However, I have included the best options available in smaller capacity for the benefit of those who are looking for that feature.
Price: Generally, price is dependent on features and brand value. Hence, my aim was to enlist the best options for pricey to low budget appliances
Customer reviews: Besides my own judgment and knowledge (based on personal experience and study) all my conclusions have been made after due consideration to the reviews by actual users.
Did You Know?
Rice is a staple food of more than 50% of the world's population, with Asia and Africa being its largest consumers. China and India are the highest producers of rice in the world and produced around 265 million metric tons of rice in 2018/19

Check out some interesting and easy rice cooker recipes
FAQs
1. Since these cookers do not have non-stick coatings, does the rice get stuck at the bottom?
Yes, I notice a common issue with users regarding the rice getting stuck at the bottom of the pot, especially for those who are not used to stainless steel cooking. However, this was more prominent in the non-programmable models than the other and not a very big area of concern. Nevertheless, as you start getting accustomed to the cooker you will easily figure out the best way to avoid it.
2. What can be done to avoid rice getting stuck at the bottom of the pot?
A simple solution to this problem can be the application of a few drops of olive oil to the base of the pot before cooking.
3. Is there any water spillage from the cooker vent or sides of the lid?
Some users have experienced this issue, but the following steps can resolve this problem –
All models have an instruction booklet. Please make sure you are using the exact measurements for each type of rice as given in it.
You need to wash the rice thoroughly ( rinsing 3-4 times) to get rid of the extra starch.
The above two steps are good enough to resolve the issue. However, an extra quick fix can be to add a few drops of olive oil to the rice before switching on the cooker.
Conclusion
My final thoughts – though this may not be an exhaustive list, it still contains the best rice cookers with a stainless-steel inner pot. I would allot full marks to GoWISE USA GW22620 4th-Generation Electric Pressure Cooker and Cuckoo CMC-QSN501S Browning Fry, Steamer, Warmer, Yogurt, Soup Maker-Stainless Steel, Incl Multifunctional Rice Cooker for the exquisite programming options they bring to the market along with the healthy non-coated pot option. You can go for any of these options based on your personal choice of brand and budget preference.
The rest of the models are also some of the best options available in the various categories of budget constraints and features required.
Despite all the differences in features and prices, one thing is common in all of them – they are the best rice cookers with stainless steel inner pot.
Other suggested readings:- Best Quiet Blender – Buyer's Guide And Reviews; 7 Best Quietest and Silent Dishwasher: Complete Guide; Electric Tomato Juicer For Canning: Top 10 And Buyer's Guide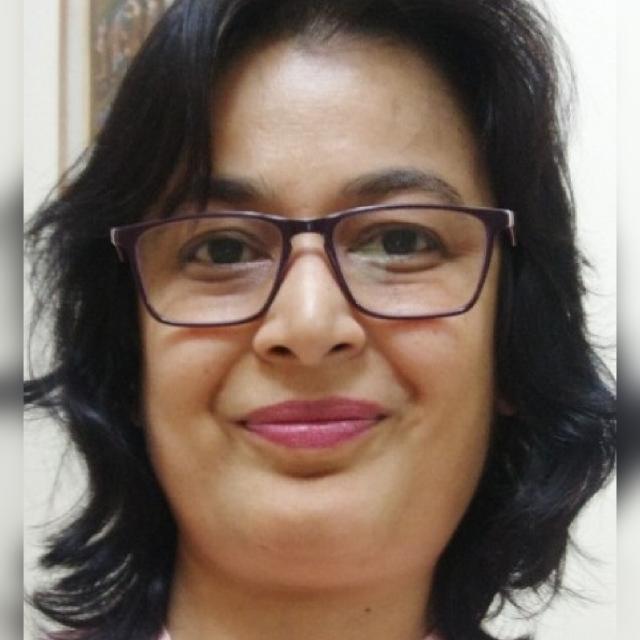 A graduate in Computer Science with post-graduation in Finance, Manisha Dhiman Kant is a stay at home mom. Having worked with multinational companies for around 10 years, she chose to work from home to balance her family commitment and work life. Since then she has written content on various areas of management, life, and technology. An avid online shopper, Manisha enjoys writing frank reviews for the benefit of other shoppers especially in kitchen gadgets and appliances category because that, she feels, is her forte (an entitlement most moms have because of having spent substantial time in the kitchen).