What did an Indian say at an American diner ?.. "Can I get some garam masala please!!".. Yeah, that's how Indians are. We love our spices. We love them so much that we have eight different kinds of chilies hailing from different states in India, the 'ghost pepper' being the hottest of them all. And why do we love our spices? .. the reason is curried. Indians love curried cuisines, butter chicken, paneer tikka masala, chana masala, sambar.. being some popular ones. A blend of spices goes into the making of these curries for a lip-smacking taste. After preparing these meals and devouring them to the fullest, the most difficult part is – doing the dishes. For that purpose, a Dishwasher is simply a boon to have in an Indian kitchen.
After thorough research, I have reviewed some of the best powerful Dishwashers online in this buying guide, ideal for an Indian kitchen. Before going any further, read the next section if you are still contemplating the requirement of the best dishwashers for Indian cooking.
Why does an Indian kitchen need a Dishwasher?
Now that we have discussed the importance of curries in Indian cooking and the love for them in an Indian kitchen, we need to go through the fact that the stains of these curries on the dishes are extremely difficult to remove. These stains can be stubborn and can end up on your fancy crockery forever if not washed properly, leaving them sticky and smelly. You have already given so much of your energy into cooking that delicious meal and now when you look at the mess, the dirty plates, cups, bowls, your brain hits a whole new level of stress. Why drench all of the leftover energy when you can let a Dishwasher take charge of washing your Indian utensils?
A Dishwasher can be your favorite helping hand in the kitchen so that you don't have to "stress about the mess", 'cause it has already got your back (and I am speaking metaphorically; back pain while bending over the sink can be seriously painful) !!  Also, go through the next section for a complete understanding of the types of Dishwashers according to space requirements.
Types Of Dishwasher
The three most common types of dishwashers are 24-inch built-in, 18-inch built-in, and portable dishwashers. While most kitchens have one of these three types of dishwashers, you may find that the best dishwasher option for you is an integrated dishwasher, a freestanding dishwasher, a drawer dishwasher, or a countertop dishwasher.
1. Built-In Dishwasher
Built-in dishwashers are the most popular and recognizable types of dishwashers. A built-in model has an independent and permanent connection to your plumbing, unlike some dishwasher types that need to route water from your sink plumbing. This dishwasher slides into place and is secured in a spot under your cabinets, which helps buffer noise during wash cycles. Standard built-in dishwashers measure 24-inches wide. Due to their popularity, 24-inch built-in dishwashers are the most widely available dishwasher option and have the broadest variety of features. A compact 18-inch built-in model is a popular choice for smaller homes and apartments.
2. Portable Dishwasher
If you don't have enough room to install a dishwasher under your cabinets, get portable dishwashers as they are a great option. Portable dishwashers are compact, freestanding units that connect to your sink instead of having its own plumbing. As long as you have an adapter for your sink faucet, this appliance can be connected directly to your kitchen sink whenever you need to wash dishes, then disconnected and put away for storage afterward. The top of the dishwasher is usually a countertop material, giving you extra working space if needed. This type of dishwasher is popular for small homes and apartments and for those who move frequently but want to take their dishwasher with them.
3. Countertop Dishwasher
When even portable dishwashers are too inconvenient for your space, you can choose a countertop dishwasher instead. Countertop dishwashers are versatile, easy to use, and small enough to sit on your counter. They connect to your sink using a quick connect adapter and use less water and detergent than standard dishwashers. However, countertop dishwashers have a lower capacity than other types of dishwashers, so they are a better option for small households than large households. Moreover, you can use it for several years without any harm.
4. Integrated Dishwasher
Integrated dishwashers are built-in dishwashers that are professionally installed with a custom cabinet panel on the door. The control panel is hidden on the top of the door so that it get blends seamlessly with the rest of your cabinetry. An integrated dishwasher usually requires a contractor to make repairs or remove it from the cabinets.
5. Drawer Dishwasher
Drawer dishwashers have two levels that open like drawers rather than having a pull-down door. These dishwasher drawers are designed to be loaded and unloaded conveniently from the top and reduce strain on the body from bending. If dishwasher accessibility is a concern, this may be the best dishwasher for you.
In this post, I have listed the best built-in, countertop and portable dishwashers available online.
The first reliable, hand-powered, dishwasher was invented by Josephine Cochrane in 1887. Cochrane, who never washed dishes herself apparently invented the dishwasher because her servants were constantly chipping her fine china. Cochrane went on to produce dishwashers with her own company, which later became KitchenAid.
Best 5 Dishwasher For Indian Kitchen Summarized
1) Farberware Complete Portable Countertop Dishwasher – This portable counter top dishwasher is ideal for your small family with an inbuilt water tank; recommended by me for washing Indian utensils.
2) Frigidaire FFCD2418UB Built-in Dishwasher – This 24" built-in dishwasher has 5 cycles and 14 place settings ; programmed for washing your Indian utensils beautifully.
3) EdgeStar BIDW1802BL Built-In Dishwasher – This top dishwasher is energy star certified and is highly recommended in terms of capacity and cleaning; also comes with leakage sensors.
4) hOmeLabs Compact Countertop Dishwasher - Energy Star Portable Mini Dish Washer – This is an energy star certified portable countertop dishwasher and the users are loving it for its washing performance.
5) Farberware Professional Countertop Dishwasher – This is a countertop dishwasher that is very spacious and good at cleaning; comes with a water supply failure indicator.
5 Best Dishwashers For Indian Kitchen Elaborated
Apart from listing dishwashers of some popular Indian brands like Samsung, whirlpool, elica, Faber, etc here, I have listed the best dishwashers in all of their senses. Check them out for detailed information on their features, warranty, electricity consumption, etc only if your kitchen is Indian.
Farberware FDW05ASBWHA Complete Portable Countertop Dishwasher with 5-Liter Built-in Water Tank, 5 Programs, Baby Care, Glass & Fruit Wash-Black/White
QUALITY CONTROL NOTE All dishwashers are factory tested to ensure proper operation As a result it is normal for small amounts of residual water to be found in...
COMPACT DESIGN: This convenient dishwasher can fit a variety of dishes (up to 12-inches in diameter at an angle) and is ideal for small-sized houses,...
NO HOOKUPS NEEDED: If you want the advantage of portability and storage, this dishwasher gives you the choice to fill the built-in tank so you don't need a...
FIVE WASHING PROGRAMS: You'll get full size dishwasher cleaning in a countertop sized compact unit that offers five wash programs - Normal, Rapid, Fruit Wash,...
STEAM: Steam generated during the Baby Care cleaning cycle can be used to sanitize baby bottles and give glassware a sparkling clean finish
This portable countertop dishwasher features 5 wash programmes – Normal, Rapid, Fruit Wash, Baby Care, and Glass. It has a pull-out dish rack and a separate cutlery rack. The LED digital controls give you a clear picture-view of wash controls and the automatic water level indicator lets you know when the correct water level has been reached. A fruit basket is also included for cleaning the fruits and vegetables. More often, steam is generated during the 'baby care cleaning cycle' to sanitize baby bottles and give glassware a sparkling clean finish. The rapid cycle has a 40 minutes timer and the automatic air circulation helps to dry dishes after the washing process. This dishwasher also comes with a 5-liter built-in water tank which adds to the convenience of not needing a hookup to the water faucet.
User Experience
The inbuilt water tank has proven helpful to the user because some of them have such kitchen settings that they can't place the dishwasher next to the sink. With this dishwasher, the problem was solved. Although some amazon users have complaints about the customer service being poor and unresponsive.
Positives
LED control panel
See-through window design
Inbuilt water tank
no hookup to the faucet needed
Portable or mobile
Placement next to the sink is not needed
Also has a fruit cleaning option
The baby care cleaning cycle
Water indicator for cleaning
High quality – can be used for years
Negatives
The tank needs to be filled 3 times with a 1.8-liter pitcher
Not ideal for your big pans and pots
My Opinion
Unlike other dishwashers in the market, I found the looks of this one to be quite captivating. So score! for that. The see-through glass window creates an appeal to the design of the product. I might also predict that the future countertop dishwashers will have a see-through window too. And, if you get the inbuilt water tank then it is a plus of course. Check price of this dishwasher, quite expensive it is but worthy enough to buy as it's on sale.
This is a 24-inch built-in dishwasher from Frigidaire. Considering the dimensions, this dishwasher goes below your countertop, it's quite huge and it has the desired capacity for all your kitchen utensils. Furthermore, this best dishwasher is ideal for your big Indian family. This best dishwasher features 5 wash cycles – heavy, normal, 1 hour, rinse only, energy saver; temperature, and options displayed on the panel. It provides 14 place setting capacity for the dishes. This has a handle attached to a pull-down door, unveiling the interiors. Also, the buttons on the program panel are pressure press and there are multiple settings to choose from. There's also a 4 hour plus delay option. Its place settings consists of 14 different settings which allow washing different utensils.
The delay start option is an addition as compared to the other dishwashers as you can place the delay setting accordingly with your schedule. About the interiors, the capacity of this one is quite amazing and can cover all your kitchen utensils at a time. Also, there are separate racks on each floor – one for your bowls, glasses, and cups and another for your big plates, small plates, cutlery, and other big utensils. Also, this dishwasher always has extra room for your dishes. It's very quiet while working and does a nice job while cleaning. It also has an easily removable/washable catch basket; this is a feature that  I think should be standard in all dishwashers. It also automatically adjusts the cycle time based on how much cleaning your dishes need.
User Experience
There have been some issues with the packaging and shipping of the product not being neat. Performance-wise, there have been fewer complaints. Although many have an opinion that the product dents easily.
Positives
Separate racks for big and small utensils
Delay Setting
14 place settings dark
Polymer tall tub
Ideal for every size of family
Dry Heating element
Enough room for all utensils
Removable and washable catch basket
Very quiet dishwasher
Negatives
Easily dented
Poor shipping and packaging
My Opinion
Performance-wise and capacity-wise, the product is ideal for your household. Although the dealing authority and the shipping authorities need to improve the shipping standards. The manufacturers can improve the quality of the material used in the build-up. Worthy enough to buy.
Sale
EdgeStar BIDW1802BL 18 Inch Wide 8 Place Setting Energy Star Rated Built-In Dishwasher
Accommodates up to eight (8) place settings and features a silverware basket and cup tray
Six (6) Wash Cycles: Heavy, Normal, ECO, Glass, Rapid, and Rinse; Three (3) Options: Sanitize, Hi Temp, Heated Dry
At only 17.75 inches wide, using this unit to replace an older appliance such as a trash compactor is a great option.
Leakage sensor automatically shuts off water flow when a leak is detected to protect your home from water damage
Quiet 52dB operation keeps the disturbance to a minimum; Dimensions 32.5" H x 17.6" W x 22.4" D; Weight: 52.9 lbs
This is an 18 inch Energy Star-rated built-in dishwasher that features 8 place settings for your dishes. For an in-built dishwasher, the design of this one is compact for Indian Cooking and there are adjustable legs to it for the desired height. There are 6 wash cycles- heavy, normal, ECO, glass, rapid, and rinse; and 3 options- sanitize, high temp, heated dry. The digital push-button control panel and digital display allow you to easily select your cycle. There's also a delay option for a delayed cycle for up to 24 hours. Anyone who knows to plumb can install it with ease.
The dishwasher is ideal for your big family of more than 4 people and offers spotless cleaning to your utensils. The bigger capacity allows thorough cleaning to all size utensils. There's a silverware basket in the bottom drawer for your silverware. Also, there's a slider on the racks for a smoother glide. The leakage sensor in the dishwasher suspects any kind of leakage and automatically shuts down the water flow, preventing a flood in your house.
User Experience
The capacity and the cleaning are up to the mark. The amazon users are extremely happy with the performance of this product.
Positives
Energy-star certified can be used for years
Fits adequately
Leakage sensors
Glider racks
Quiet
8 place settings
Easy to install
2 spray arms
Heated drying
Negatives
Wire extension has to be separately purchased
My opinion
I vote for this built-in dishwasher for its performance and rare complaints. The leakage sensors are what I like the most. The customer service is also fairly responsive; worth buying.
Sale
hOmeLabs Compact Countertop Dishwasher - Energy Star Portable Mini Dish Washer in Stainless Steel Interior for Small Apartment Office and Home Kitchen with 6 Place Setting Rack and Silverware Basket
A convenient and small Energy Star certified dish washing machine for cleaning the dishes after dinner or cooking. Simply load the dishes in the dish basket and...
With simple to use control panel and light indicators. Program selector has 6 wash cycle options: heavy, normal, ECO, glass, speed, and rinse for your different...
Features a quick connect assembly with accessories including inlet and drain hose and a faucet adapter for water lines that are compatible with round-shaped...
Using the rinse aid dispenser, you can dry your plates, mugs, and glass quickly without the marks or streaks. Only use rinse aids designed for an automatic...
This counter top appliance measures 17.2 x 19.6 x 21.6 inches with 6 standard place setting capacity perfect for small size household or individuals living in...
This product from Homelabs can simply adjust to your countertop with hassle-free installations. The compact design and the elegant color give the product, a sleek look. The exterior of the product features a simple to use control panel and light indicators. Program selector has 6 wash cycle options- heavy, normal, ECO, glass, speed, and rinse for your different dishwashing needs. There's also a delay button light to postpone the wash cycle. It's an Energy Star certified dishwashing machine. It includes an inlet and drainage hose for water lines and also a faucet adaptor for easy installation purposes. The pull-down handle leads to the interior of the dishwasher. It features a 6 place setting rack including a drinkware rack for your glasses and a separate basket for your silverware.
User Experience
The product has been receiving decent reviews for a long. They have used diversified utensils and have not had many issues with this dishwasher. They have remarkably quoted the product as one of their best purchases. However, some of them have seemed to have a problem with the drying of the dishes after washing.
Positives
Energy-star certified
Compact and sleek
6 place settings
Easy to install
Separate basket for silverware
Fits diversified utensils
Good capacity for a family of 3-4
User-friendly controls
Rinse aid indicator
Saves water
Delay button
Cons
Doesn't dry well
Baby care function missing
My Opinion
Apart from the missing function of sanitization of baby bottles, everything about this dishwasher is just perfect. Being Energy Star certified is just a cherry on top so that you don't raise an eyebrow while looking at the electricity bill.
Farberware Professional FCD06ABBWHA Compact Portable Countertop Dishwasher with 6 Place Settings and Silverware Basket, LED Display, Energy Star, White
Dimensions: Depth - Door Shut (with Handle): 21.7" | Depth - Door Shut (without Handle): 20" | Depth With Door Open 90 Degrees: 29" | Dishwasher Size: 21" |...
Six-place setting: the six-place setting capacity allows you to wash a variety of dishes (up to 10-inches in diameter) and includes folding down rack shelves...
Quick installation: Features a quick connect assembly with accessories and adapters included to easily connect directly to your faucet
Seven washing programs: you'll get full size dishwasher cleaning in a countertop sized compact unit that offers seven wash programs - heavy, Normal, baby care,...
Extra-drying function: this feature adds extra heat to the final rinse to enhance drying results, but can only be used with the following programs - heavy,...
This is another great product from Farberware ideal for your countertop. To begin with the design- a sleek and compact design with a Led touch control panel on the top to display the program settings. Each of the program settings – heavy, normal, baby care, light, glass, speed 45 min, self-clean (P1 – P7) also have indication images for the ease of operations and a handle to pull down, revealing the rack. The interiors of the dishwasher are pretty easy for the place settings too. There are two hoses, for inward and discharge of water respectively. After a quick installment to the faucet (accessories and adaptors included), the water has to be continuously kept on during the complete cycle. Also, the child lock function locks the LED panel so that your children don't accidentally run the dishwasher.
User Experience
Overall the product is performing well. Although the amazon users have been advised to use only powder or gel as cleaners and not pods. The one thing that they like the most is that the dishwasher is too quiet while it functions.
Positives
Compact design
Easy to install
Quiet
Child lock feature
Automatic heating element – Latest features
Baby care option
Self-clean option
6 place settings
Water supply failure indicator
Light on the pocket
Ideal for your pots and pans
High quality – can be used for years
Negatives
The water has to be on for the whole cycle
My Opinion
Considering the price and the user experience, this dishwasher makes an ideal deal. It's compact and ideal for a small apartment and a small family of 3-4 and this is what I like among other features. This dishwasher also has a glass alternative for enhanced looks but it's too pricey for just looks.
Best Tips to Use a Dishwasher
1. Be extremely careful with the glassware in your dishwasher. In case of any breakage, small particles can get into the insides of the dishwasher and hamper the performance.
2. You can use the accessories of your baby food processor in the dishwasher that fit in properly. Use steam sanitization function for baby bottles.
3. Don't force the utensils if the capacity has no room for more.
4. For thorough cleaning, place the utensils in a neat arrangement ensuring gaps.
5. Also, bigger pots and pans are made of hard material, so place them separately.
6. Dishwashers are generally budget-friendly rather than more of an investment. Maintain them properly for longevity so that they don't drill a hole in your pocket.
7. Your expensive china is not meant for a dishwasher; wash them separately.
8. Keep an eye on any sort of leakage from the dishwasher.
9. Keep your kids away from reach of the dishwasher to avoid any accidents.
10. Program the dishwasher cycle accordingly to ensure minimum wastage. Water is essential, don't waste it. Also, check out some of the best dishwashers with low water pressure on our website.
Your dishwasher saves 100 gallons of water a week when you use it every night instead of handwashing. That's over 5,000 gallons in a year. Or over 80,000 glasses of water you could be saving.
FAQ's
1. How long does it take for the dishwasher to wash?
While it depends on the cycle you choose, most dishwasher cycle times can last anywhere from 1.5 to 4 hours. The average dishwasher run time can vary based on sensor readings or how dirty your dishes are.
2. Are you supposed to rinse dishes before putting them in the dishwasher?
These days, there's no need to rinse dishes before putting them in the dishwasher. The dishwashers already have a rinse cycle included in the functions.
3. Why does my dishwasher smell even after cleaning?
Over time, small particles of leftover food accumulate in the filter or crevices of the machine and begin to smell. Remove the filter from the dishwasher and clean it thoroughly, using a stiff scrub brush, soap, and hot water. Check some of the best dishwashers with hard food disposers on our website.
Conclusion
If you are a small family of 3-4 people, I would suggest you go for a countertop dishwasher. The Farberware Complete Portable Countertop Dishwasher is my personal favorite and the current trending in the market. It's not just all about looks, it can work wonders on your curry-stained utensils by washing them off and maintaining a crystal clean shine on them; a future dishwasher, and a perfect gift for Holidays!!
So now, all you need to concentrate on is making that curry more spicy and delicious and not worry about the mess because your Dishwasher already has your back (again, metaphorically)!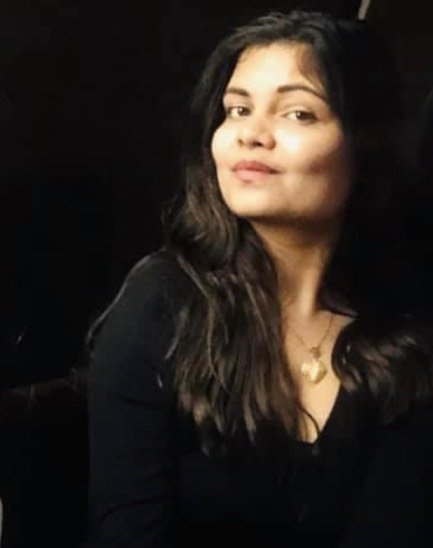 Akanksha is a postgraduate in Commerce. She is a homemaker and is constantly looking for rational solutions that keeps it all easy-peasy around the kitchen. She believes in engaging with her readers through a personal touch while keeping up with their rationale to help them with better analysis and pro decisions. To every woman out there, homemaker or working, her shout out is – "You deserve it!!".