After a sumptuous meal, hasn't the thought of doing the dishes ever terrified you? For those of you using a dishwasher, would say "no" because you know that you have a dishwasher to do the job. Good for you! Nevertheless, have you ever thought of doing away with the trouble caused by the pre-wash rigmarole you need to do before placing the dishes in the dishwasher so that food residue and oil on the dishes do not spoil the washer or clog the drain. Towards that end and also for those first-timers looking to buy a new one, I present to you the list of 5 best dishwashers with hard food disposer in the ensuing discussion.
Why use a dishwasher with hard food disposer?
You must be wondering – why a dishwasher with hard food disposer? Well, looking out for the best appliances, that are sustainable and enabling, is my passion. That's the reason why I specifically chose to do exhaustive research to find the best dishwasher with this enabling feature. It provides you the freedom of putting the dishes directly into the appliance without bothering to remove the food debris on them. This, I would say, is the real "expediency"!
What about the little debris that sticks to the dishes even after the wash cycle is complete in some normal washers? A dishwasher with hard food disposer makes sure that not a speck of debris remains on the dishes because its sharp grinders completely mince the hard food for easy disposal. This grinding also saves your machine's pipes and nozzles from getting clogged by any hard food particle, thus, saving on maintenance effort and cost. Apart from this convenience that a dishwasher with hard food disposer provides, various studies have proved that washing dishes with a dishwasher is more sustainable than hand washing. For more information on why dishwasher cleaning is good for the environment, you can refer to the Sciencealert report.
Did You Know?
Studies have shown that greenhouse emissions can be reduced by about 72% by using dishwashers to clean dishes as against cleaning them by hand.
Summary list of the 5 best dishwashers with a hard food disposer
GE PDT845SMJES Integrated Dishwasher – For the quite and intelligent cleaning of your dishes. Worth every penny!
GE GDT605PFMDS 24 Inch Built-In Dishwasher – Combination of simplicity and functionality. Let this spacious model make your life easy.
Frigidaire FFID2426TS 24 Inch Built-In Dishwasher -The "no-frills" appliance that gives you an economical but perfect cleaning experience.
– Go for this sleek model with LED display for the number of functions it gives you per dollar.
GE GSD2100V Built-In Dishwasher – A combination of simplicity and durability, this timeless machine gives you consistent results each time.
List of  5 best dishwashers with hard food disposer
This machine from GE is one of the quietest among the contemporary models available on Amazon. At 42 DB sound level, you will have to keep checking whether the machine is running or not. It has all the features expected of a new-age washer that delivers the same spotlessly clean dishes every time. Apart from the deep clean silverware jets,  side jets, steam wash, heat dry, and temp boost for spotless cleaning, the model comes with a wash system of 140 cleaning jets to ensure every corner of the dishes can be reached.
A very useful feature added in this model is the bottle jets,  which help to clean your hard-to-clean bottles or long glasses perfectly. Hence, after treating yourself with some healthy organic juice, you can just put your delicate glasses in the bottle jet chamber and get spotless clean glasses. Have a look at our organic juice recipe. The cleaning functionality is further enhanced by the "reversing quad arm" that has 25 jets spraying water in the reverse direction to achieve maximum coverage.
The feature that impresses me the most is its stainless-steel tub for which I have a special bias because it is sturdier than plastic. The product has energy ratings and NSF certification so you can be assured of the best.
User Experience
Though the product finds favor with most buyers, there have been some unhappy customers on account of the drying function not working as per expectation. My view on this aspect is that a bit of adjustment with the heating and drying functions can resolve the issue. The best way would be to follow the instructions manual.
No doubt it's a bit heavy on the pocket, but once you start using it you get your money's worth.
Pros
16 place settings
Delay start of up to 12 hours
A sound level of 42 DB
7 cycles and 10 options
Easy installation
Cons
My verdict: This one's a good investment for getting speckless dishes done quietly. You'll not regret the buy.
This intelligent appliance from the trusted brand GE makes life easy for you by bringing up-to-date technology to your fingertips. It has the Dry Boost function which is 3 times more effective than the standard drying cycle. This GE machine has internal sensors so that you don't have to worry about water overflowing. I can vouch for the sanitization function which they claim kills 99.99% of the bacteria. My confidence comes from the fact that this product is backed by NSF certification.
Other than this, the steam function which loosens the tough debris on the dishes along with the piranha food disposer ensures that you don't have to pre-rinse even very hard soiled utensils before placing them in the washer. So, if your rice gets stuck at the bottom of the pot of your rice cooker (which sometimes happens if it has a stainless steel inner pot), this steam function will make sure that you don't have to bother about this aspect. For the best rice cookers with a steel inner pot check out this list we have compiled for you.
The cleaning function is enhanced by the 4 bottle-wash-jets that are incorporated in the upper rack so that water can access the most difficult-to-reach places for a spotless cleaning which has been rightly endorsed by many users. Hence, after a nice healthy milkshake from a sipper after a workout, you don't have to worry about cleaning it because the bottle-wash-jets will do the job. For some easy milkshake recipes, check here. This function is further enhanced by the "three-level 600 series wash system" and silverware jet. These features ensure that three wash zones are created for a pressurized cleaning to guarantee complete coverage of dishes.
This silver beauty has a spacious interior with 16 place settings, an adjustable upper rack that can accommodate tall kitchenware, and even plates with a diameter as big as 10 inches. It is comparatively silent at 50 DB.
User Experience
I did not find many complaining users of this model, just one issue of door jamming.
Pros
Clean dishes
16 place settings
A sound level of 50DB
Energy Star and NSF certifications
Sensors to avoid overflow
4 cycles and up to 8 dishwasher options
Up to 12 hours delay-start
Cons
Door lightweight
Plastic tub
My verdict: On the whole, this unit combines simplicity with functionality and hence a good buy.
For your comfort and ease, Frigidaire has come up with this sleek model that uses Orbit Clean technology to ensure full coverage of the dishes to give you sparkling clean dishes. It has a 14-place setting with a flexible lower rack that is good for larger utensils, an upper rack for smaller kitchenware, and a separate basket for silverware. With 4 wash cycles and 3 options to choose from you have good flexibility to wash as per the load. Its sensor technology is smart enough to measure the water temperature and accordingly adjust the cycle length to heat the water to the required temperature.
This machine comes with an energy star rating and NSF certification thus giving it a reliability stamp. With the additional feature of a 2-6 hours delay start, this appliance is worth a shot.
User Experience
Some issues have been reported by users which mainly relate to door quality and its latching ability. Buyers also were not happy with the upper rack. Having said that, these issues do not make it a "no buyer".
Pros
Simple to use
4 wash cycles with 3 options
14 place settings
Economical
Energy Star and NSF certifications.
Cons
Doesn't have many programs
A sound level of 54 DB
My verdict: This no-frills machine with average capacity does all the work you would want a dishwasher to do and that too at a much lower cost compared to a complicated one.
#4.
This beautiful dishwasher with a stainless steel body makes your interior look stunning. With an interior design that fits as many as 14 place settings, it has 5 handy wash cycles to give you the flexibility of choosing the relevant one as per load to save on water and electricity. Its 5-level wash system ensures deep coverage of the dishes and self-cleaning filters guarantee debris-free water for thorough cleaning.
The feature that caught my attention the most ( all the more because of my obsession with cleanliness) is its sanitization cycle. My confidence in the company's claim that it has the ability to eliminate 99.9% of the bacteria present in dishes has been strengthened by the NSF certification it has received. Other than this it also has energy star certification which is another feather in its cap.
However, I would not quite give it a thumbs up for the sound level of 55DB though it is below the 60DB of conversation level. Having said that, this is a fair sound level expected of a dishwasher with hard food disposer and you can still have a conversation when it is running.
User Experience
Many users found the delay-start feature of 4 hours quite a useful attribute. During my research, I came across many users who really liked the heavy-duty metal spring attached to the door so that it stays put at the angle you have placed it. The door can be opened mid-cycle which is a very convenient feature. The cleaning power of the machine is quite exceptional though there have been some complaints of water being left behind in it at times. A feature which the company can work on is its polymer washtub. Though the users found it quite durable, my personal opinion is that a stainless-steel tub is sturdier and creates less noise.
Pros
Washes dishes very well
Reasonably quiet
5 cycle options
Heavy-duty metal springs
Energy star rating NSF certification
Cons
The internal heating function is not effective
Difficulty in loading faced by some users
Polymer washtub, not steel
My verdict: This sleek model with an LED display console is value for money. Go for the functions it gives for the dollars spent.
This simple yet solid model enjoys the trust and loyalty of the GE brand which is one of the most loved brands in America. Its ageless demeanor can give your kitchen fabulous appeal and utility. It comes with 5 cleaning cycles along with 2 dishwasher options and 4 level wash system. With the 2-stage filtration system, you don't need to worry about dishes not cleaning well. In fact, this dishwasher does a good job of cleaning them.
Its unique feature is the powerful piranha hard food processor that grinds the food debris so that it can easily pass into the drain, thereby obviating the necessity to rinse the dishes before placing them in the machine. A feature that many "old school" customers have liked about this model is its clock dial system for start/stop function as against the modern complex electronic control panels which are more likely to fail easily. It has temperature control systems and an indicator to inform you about the cycle progress. With 12 place setting, it looks good for a smaller family size. This reminds me of the list of mini rice cookers that we have compiled for you if you have a small family. The two products together can make your kitchen work completely effortless.
User Experience
The downside of this machine is its sound level of 64 DB. Looks noisy on the face of it, but if you can cover it with an insulation blanket, it won't bother you much. The plastic tub is another dark spot in my opinion. However, a steel tub would have increased the cost of the product. So, we can live with it. Some users have complained about the door falling when opened and also some issues with the rack design. However, in my view, these issues can be resolved by a bit of a tweak here and there. I wouldn't bother much about this!
Pros
Easy installation
Easy to use
Cleans well
Piranha food disposer
Sturdy
Cons
Noisy at 64 DB
Less space in the top rack
Plastic tub, not steel
12 place settings
My verdict: If you are looking for a simple basic hardworking machine for a small family, then this one is a perfect choice considering its budget-friendly price.
Research Methodology
My list of the 5 best dishwashers with hard food disposer has been based on comprehensive research done on the criteria mentioned in the ensuing section. I have also analyzed umpteen feedbacks by the actual users to understand the ground zero working of each model.
1. Quietness
The unit used for rating the sound levels is a Decibel (DB). As per data from Yale Appliance, a dishwasher that has a sound level of just 1 decibel more than the other will actually sound 30% louder than that. Hence, a 44 DB machine is considered quiet if you consider the fact that the sound level of a conversation is 60 DB. If your machine's sound level is 60 or above, then you can not have a conversation while it is on. This feature has a higher weightage in my ranking.
2. Tub material
A stainless steel tub is better than a plastic one because other than being more durable, it also helps in reducing the sound level of the machine by dampening sound.
3. Food disposer
All the models I have listed have food disposers.
4. Programming features
The more the programs available, the higher is the rating as per me. This is because it gives you the flexibility of choosing the cycle as per load which saves electricity and water.
5. Energy efficiency rating
These ratings help to ensure that cost per wash is reduced and there is efficient water utilization. This eventually is good for the environment because it reduces energy and water consumption. To know more about energy star certification you can visit the government website.
6. Other Certifications 
Certifications like NSF, which give credibility to the company's claims about the product, have a great significance in the appliance industry. As a result, such products are rated higher in my reviews. To know more about the significance of NSF certification you can refer to this link.
7. Drying function
It is generally believed that if a dishwasher does not dry the dishes well it's no good. However, it is advisable to use a rinse agent instead of heat drying from an energy-saving perspective. Hence, in my opinion, this function gets a lower weightage in my ranking. A more detailed view is present in this article by "Greenmatters".
8. Smart function
This feature is generally associated with wifi-enabled functionalities. However, I found that many machines have sensors to check water and temperature levels, etc. I would consider these features too as "smart" and hence give them a preference.
9. Interior design
The spacious and flexible interior always wins my vote and so does it in my list.
10. Reliability
This is decided by the frequency of service required by the appliance. This I have related to the brand name. A trusted brand would generally not sell products requiring frequent servicing. Hence, I have tried to find any exception to the rule and removed such products or rated them low.
Some interesting tips on how to get the best out of your dishwasher
Now that you have seen where to keep your delicate cutlery, you can enjoy your homemade ice cream in your delicate glass bowls and wash them in your dishwasher without worrying about breaking them. For some interesting recipes check out here.
FAQs
1. Can these dishwashers be self-installed?
Yes, there are instruction booklets available with all the models with clear installation instructions.
2. Which dishwasher is better – one with a food disposal system or a filtration system?
I have explained in the beginning how a hard food disposer works. It reduces your cleaning work to practically zero.  On the other hand, a filtration system dishwasher requires regular cleaning of the filters, at least once a month, else you could encounter unpleasant odor or some unclean dishes after a while. However, they are slightly quieter than the food disposal ones.
Conclusion
To sum up my analysis, GE PDT845SMJES Integrated Dishwasher is the best available model for those looking for convenience and functionality and can invest those extra bucks. Those looking for good cleaning that is easy on the pocket – don't be disappointed. I have dug up a good option in GE GSD2100V Built-In Dishwasher. And then there are other mid-range options that you will love for their efficacy and simplicity.
Some more interesting products from our research:
If you are looking for some good blenders, check out here!!
Make your cooking completely hasslefree with our suggested list of rice cookers – Best Rice Cooker for Sushi: Buyer's Guide [Updated]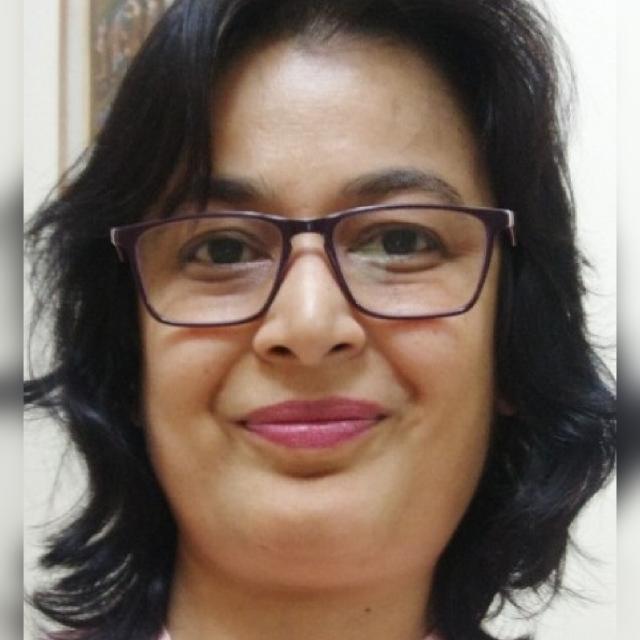 A graduate in Computer Science with post-graduation in Finance, Manisha Dhiman Kant is a stay at home mom. Having worked with multinational companies for around 10 years, she chose to work from home to balance her family commitment and work life. Since then she has written content on various areas of management, life, and technology. An avid online shopper, Manisha enjoys writing frank reviews for the benefit of other shoppers especially in kitchen gadgets and appliances category because that, she feels, is her forte (an entitlement most moms have because of having spent substantial time in the kitchen).