The defenders of a vegan diet claim its immense benefits to self, animals, and the planet on the whole. Well, I don't doubt their claims, but this diet certainly increases your work of chopping, slicing, and grating. A food processor specifically for a vegan diet is your best bet at saving the effort. Hence, I have compiled a list of the best food processors for Vegans.
Why a Vegan diet is best for us?
A Vegan diet is the need of the hour even though it sounds very difficult to get into. Well, you will naturally be drawn towards it after reading the rest of the article, no matter how hard it looks.
Health benefits
Starting with the first benefit I mentioned in the beginning, this diet has immense health benefits for you. Other than helping with weight loss, it reduces the risk of heart disease because of its ability to lower cholesterol. Along with reducing the chances of some cancers like colon cancer, a Vegan diet, which essentially is made up of raw food, is very good for managing type 2 diabetes by lowering the A1C levels. To know more about the health benefits, you can refer to the research paper here.
Vegan raw food to mitigate cruelty to animals
The next reason for opting for a Vegan diet is more ethical than health-related. The amount of cruelty the animals suffer before become our food is heart-wrenching. To understand more about how animals are treated before they land on our plates, you can check this guide. The proponents of raw vegan diet see it as a way of alleviating animal suffering because lesser is the demand for animal products, lesser will be the need to increase production.
Sustainable option for the environment
And the final argument in favor of veganism is that it is good for the planet. This is because raising livestock for food requires them to be fed immensely. Studies suggest that livestock uses more than 80% of farmland whereas they provide only 18% calories. Even fish production, which is considered to be relatively more sustainable, is a source of methane production because of the excreta that gets deposited at the bottom of the pond. You can refer to this research paper for a detailed analysis of how a vegan diet is more sustainable than others. So, as per the researchers, eating vegan food is the best choice you can make for saving the world.
Did You Know?
Research has shown that completely replacing animal-sourced foods with plant-based foods can lead to an up to 84% reduction in greenhouse gas emissions.

Summary of Best Food Processors for Vegans
#1. Breville BFP820BAL Sous Chef 16 Peel & Dice – This Breville machine is the best in class. Features justify the price so a big thumbs up to this one! Certainly, one of the best food processors for your vegan diet!
#2. KitchenAid KFP1466CU 14-Cup Food Processor – A combination of class and beauty, this compact yet multifunctional processor is a must-have for your Vegan cooking.
#3. Breville BFP660SIL Sous Chef 12 Cup Food Processor – A good option from Breville, comparable to its top-end model at a much lower price. This food processor is worth a thought!
#4. Cuisinart DFP-14BCNY14-Cup 14 Cup Food Processor – This durable product from Cuisinart is one of the best food processors for vegan food lovers in the mid-segment range. With a high rating from users, this one is sure to surprise you with its fabulous it working.
#5. Ninja BN601 Professional Plus Food Processor – Make your kitchen a happening place with this high iQ Ninja food processor. Its 1000 watt motor makes your cooking real easy.
#6. NutriChef NCFP8 Multipurpose 12 Cup Multifunction Food Processor – No doubt this is the best budget-friendly appliance with no compromise on features. A good buy!
#7. Hamilton Beach Compact 8-Cup Food Processor & Vegetable Chopper – Good value for money. Another budget-friendly appliance with a full focus on quality. A perfect choice for your veggie diet!
Best Food Processors for Vegans
Now that you have chosen to be Vegan, you are in for a lot of cutting and chopping work. So, here is my list of the best food processors for vegans like you, compiled with utmost attention to every detail. However, for more variety, you can also look at my review on food processors for nut butter which can also be used for vegan processing.
Breville BFP820BAL Sous Chef 16 Peel & Dice Food Processor, Brushed Aluminum
Dicing - no longer difficult breville's new dicing attachment takes ease and precision to the next level. The dicing attachment works by slicing and then...
Peeled to perfection peeling doesn't have to be painful. The peeler disc can peel up to 7 potatoes at a time and all sorts of produce like beetroot and sweet...
A chute for every shape Three Feed chute options for precise results. By enabling larger produce in the big chute, Breville larger dicing area creates more...
Heavy duty induction motor The sous chef 16 Peel and dice has an updated direct drive, High torque 1200W motor to easily handle the toughest jobs in the...
S-blade system the micro-serrated s-blade delivers swift action for consistent chopping, mixing, and processing of a variety of ingredients.
This state-of-the-art appliance from Breville promises to take precision and ease to the next level. Its powerful 1200 watt motor handles even the toughest ingredients with the utmost ease. The 16 cup capacity of its bowl helps you process large quantities without any hassle. The best part is its mini bowl. The manufacturer has been thoughtful enough to provide this bowl for your small quantity processing.
Its peeling feature is a real attention grabber. I loved its peeler disc for the capacity and variety of peeling it can perform at a time. This is a perfect time and energy saver for the immense vegan cooking job. The variable slicing disc with 24 settings can slice between 0.3 mm thickness to 8.0 mm thickness – a function very useful for professional-level vegan cooking. Undoubtedly, this qualifies as the best food processor and hence finds a place on my list.
User Experience
Users love this machine for its precision and utility. The storage container provided in the accessories is a big hit with users. The wide feed chute is an added advantage that the users find very convenient.
Some users were not happy about the space it occupies, but it's not a big deal I guess. Sharp blades are both good and not-so-good features. One needs to be careful while disengaging or cleaning else they can cause serious injury. However, the sharp blades help in the perfect processing of your vegetables.
Pros
1200 Watt powerful motor
Perfect Dicing feature
Three feed chute
New peeling function
16 cup capacity with an option for smaller capacity processing
Easy storage
Brand legacy
Cons
My Verdict:  Price justifies the features. If you have the money just go for it!
KitchenAid KFP1466CU 14-Cup Food Processor with Exact Slice System and Dicing Kit - Contour Silver
Industry's First hands-free commercial-style dicing kit slices then dices for effortless processing;Feed Tube Type : Medium
The externally adjustable ExactSlice System features optimized speeds, and an external lever that allows you to go from thick to thin with one slide of the...
High, Low & Pulse speed options allow you to precisely and properly handle soft or hard ingredients with the touch of a button.
The 2-in-1 Feed Tube lets you use either the large or narrower opening during continuous slicing or shredding, depending on the size of the ingredients.
Model KFP1466 includes 14-Cup Work Bowl, 4-Cup Work Bowl, Lid with Feed Tube, Lid without Feed Tube, Adjustable Slicing Disc, Reversible Shredding Disc,...
This sleek and compact red model from Kitchenaid is an absolute delight to have for its looks and functions. The company claims to be a pioneer in introducing a very advanced dicing mechanism that boasts precision and ease. This hands-free professional dicing kit is certainly very impressive. It offers a variety of slicing thicknesses for your various needs. Indeed, this makes it the best vegan food processor.
With a 14-cup capacity and ultra-tight sealing system, you can fill your ingredients to the top level without worrying about any leakages. The three-speed options of high, low, and pulse give you the flexibility of processing various types of vegetables. The accessories included with this model actually swept me off my feed. Fabulous!
User Experience
The vegan users consider it the best mate in the kitchen, for it makes all the food prep a breeze. This kitchen equipment enjoys excellent reviews from users. They have given it a high overall rating of 4.5 over 5 for its dicing and chopping jobs. And talking of versatility, this one has received a rating of 5 on 5!
On the downside, some users were unhappy with the locking mechanism which they felt is too finicky. One reviewer also reported food getting caught under the blades. However, these are minor issues that require some acclimatization with the machine.
Pros
Famous brand
Compact and sleek
Hands-free commercial-style dicing kit
14-cup capacity with an option of smaller quantity processing
2-in-1 feed tube
Many useful accessories
3-speed options
Tight sealing system
Cons
Expensive
Only 1-year warranty
My Verdict: The innovative features of this Kitchenaid machine make it a must-have appliance in your kitchen.
Breville BFP660SIL Sous Chef 12 Cup Food Processor, Silver
Grating cheese and chopping herbs or nuts to mixing batters and pureeing soups
12 cup cap; BPA Free plastic work bowl; Safety braking system
Large 5" wide feed chute eliminates need to precut most ingredients
Momentary pulse button for maximum control and even processing
1000 watt induction motor offers great versatility and power in a compact size
This model from Breville is comparable to its top model introduced earlier, albeit not as sophisticated. However, it does come close to the top-end model in terms of a powerful 1000 Watt induction motor capacity. Safety features ensure the processor doesn't start if not sealed properly. The 12-cup capacity is considered good for medium-level cooking.
Its sharp blade system ensures consistent slicing each time. The 3-feed chute option gives you the flexibility of processing different sizes of vegetables. I also liked its adjustable slicing disc which can slice to a paper-thin thickness of 0.3mm on one hand and 8 mm thickness on the other.
User Experience
Overall, this model is well-liked by most of its users for its strength and sturdiness. Its versatility and precision make it a darling of vegan cooks and also won it excellent reviews.
The flipside of this appliance is its short cord. Some users find this very frustrating. However, looking at its overall performance, I consider it one of the top food processors available on Amazon.
Pros
Powerful 1000 watt motor
Heavy and sturdy machine
Multiple blades for a variety of slicing and chopping jobs
Good customer service from a well-known brand
12-cup capacity
Cons
Expensive
Only 1-year limited warranty
My Verdict: Good product from a well-known brand at not too expensive pricing. This is a very good option for Vegan cooking. So go ahead and make your kitchen work a fun activity!
For some good options below $100, check out our list of some good yet affordable processors.
Cuisinart DFP-14BCNY 14 Cup Food Processor, Silver
Includes stainless steel Standard slicing disc (4mm), medium shredding disc and stainless steel chopping/mixing blade. Cord length : 36 Inches
720-Watt large-capacity food processor with intuitive "on" And "off/pulse" Buttons
14-Cup Lexan work bowl; extra-large Feed tube; small and large pushers
Spatula, instruction/recipe booklet; dishwasher-safe parts
Detachable disc stem
Next on my list of the best processor for vegan diet lovers is Cuisinart – a brand that has built trust over years of uncompromising quality in the field of kitchen appliances. This particular brand series comes with the ability to carry up to a 14-cup worth of ingredients at a time. With a 3-year extended warranty, this kitchen equipment, undeniably, makes a solid statement.
I was specifically drawn towards its large chute which makes every chef's pre-meal prep pretty easy. Since this chute can accommodate large ingredients, you can save yourself the extra cutting time and effort. Moreover, it comes with a pulse function to give you full control of your prepping.
User Experience
Much like the other products on my food processors list, this Cuisinart also turns out to be a star performer. Not only does it reap high ratings in various reviews, but it is also the most loved kitchen equipment on Amazon. Most users have showered immense praises on it for its elegance and durability. Some users were also impressed by this machine because it has won the editor's choice award from America's Test Kitchen. Indeed, a title only for the deserving candidate!
However, every coin has two sides, and so does this product. So don't be surprised when I say that some users found it very cumbersome to fit its attachments. Others were not happy with its capacity which they found to be only 13-cups and not 14 as is being claimed on Amazon. In short, this may not be 100% perfect, but it certainly is a simple machine that does its job well.
Pros
Trusted brand name
14-cup capacity
Simple one-button functionality
5-year warranty on the motor and 3-year extended warranty
720-watt motor
Does all the prep work you can think of, including kneading and dough making
Cons
Does not come with a smaller bowl insert
Some users found cleaning this machine a challenge
My verdict – When it comes to Cuisinart, you don't need to think twice. So go for it because your kitchen deserves the best.
Ninja BN601 Professional Plus Food Processor, 1000 Peak Watts, 4 Functions for Chopping, Slicing, Purees & Dough with 72-oz. Processor Bowl, 3 Blades, Food Chute & Pusher, Silver
MOST POWERFUL KITCHEN FOOD PROCESSOR*: The 1000-peak-watt motor can process the toughest ingredients with ease. (*under $200, based on average selling price and...
PRROFESSIONAL PERFORMANCE: Dedicated blades and discs deliver restaurant-worthy results. Precisely chop, consistently slice, and evenly mix all in one...
4 VERSATILE FUNCTIONS: 4 Auto-iQ intelligent preset programs make food prep easier with 3 speeds – low, high, and pulse. Chop veggies, shred cheese, and make...
XL PROCESSING CAPACITY: The 9-cup (72-oz.) processing bowl delivers consistent results whether you're chopping a small batch (a few garlic cloves) or an...
MIX DOUGH IN SECONDS: Powerful dough mixer has the torque to fold in ingredients quickly and evenly, making up to 2 lbs. of dough in as little as 30 seconds.
If you are looking for the best food processor that can help you with all your raw vegan foods along with the extraction of nut butter, then this little Ninja is a perfect choice. This Ninja product will give you a professional level output at a very reasonable price. Though its capacity is not as large as the top-end Breville machine listed above, yet it gives the brand good competition on quality and ease of use.
Firstly, with a powerful motor of 1000 watts and a sharp blade ensemble, this food processor can chop the ingredients into a smooth paste in a jiffy. So you will get the smoothest butter ever from whichever nut you make with this kitchen device. Also, I was quite delighted to read in the various reviews that making the dough and batter with this food processor is a cakewalk. So, if you are planning to make cookies for your kids or a yummy cake for your anniversary, this kitchen mate is there to make your work real easy.
Moreover, its Auto-iQ pre-set program makes your cooking very consistent every time.
User Experience
Undoubtedly, users are quite upbeat about this kitchen aid. They have rated it as high as 4.8 /5 in their reviews, especially for the ease of use and suction power. Though it is dishwasher safe, most users loved the fact that they could clean easily it with their hands as well. All they needed to do was to put some warm water and a few drops of soap and press the pulse function.
On the flip side, one user wished it came with the spiralizer blade, which is missing in the attachments. Also, some found it a bit troublesome to assemble it back after disassembling it for cleaning. Nevertheless, most vegan users love this durable and powerful food processor.
Pros
Motor with 1000-watts power
4 Auto-iQ preset programs
Can accommodate up to 9-cups
Affordable yet durable and high quality
Attachments include – chopping and dough blades, reversible disc for slicing and shredding, recipe guide, bowl, feed chute lid with a pusher, and disc adapter
Cons
Difficult to assemble
Does not come with a special disc for french fries slicing
My Verdict: This is one of the best food processors available on Amazon that can give you high quality at a budget-friendly price. So don't waste time and choose the best one for yourself!
Sale
NutriChef NCFP8 Ultra Quiet 600 Watt Powered Electric Processor & Vegetable Chopper Multipurpose 12 Cup Food Processor, Speed Function for Easy Prep-6 Attachment Blades, Day White
6 ATTACHMENT BLADE: The 12 cup food processor set includes slicer/shredder & masher blade disc, chopper, dough kneading, & emulsifying blades, & citrus juicer...
QUIET POWERFUL MOTOR: This food chopper blender food processor with dough blade is equipped with ultra-quiet powerful motor w/ 600w power output for fast and...
2L Capacity: NutriChef food processor dicing slicing shredding mixing food prepping machine comes w/ high capacity food bowl that can hold up to 12 cups of dry...
EASY TO CLEAN: Has a compact design and quick to set up for fast & easy food prep. All the attachment parts of this electric food processor are removable from...
ELECTRONIC OVERLOAD PROTECTION: This slicer shredder food processor has an electronic overload protection feature to protect the motor from overheating and...
A budget-friendly product from Nutrichef, this machine promises ease and efficiency while performing a variety of functions. Its quiet yet powerful 600-watt motor drastically reduces your prep time. With a 12 cup capacity, this appliance can make your shredding, dicing, slicing, and mixing job a cakewalk. Its best part is the ease of cleaning. Just remove all parts and wash them with soap water. No need to put it in the dishwasher or go through a rigorous washing regimen. However, if you are looking for some good dishwasher options, don't forget to refer to some great alternatives I have compiled for you.
Its 6 attachments provide all the options for a variety of jobs like shredding, mashing, chopping, kneading, citrus juicing, and so on. The rubber suction attachment at the bottom is strong enough to hold it in place while doing the volatile processing work.
User Experience
This appliance boasts a great user experience. Most users are very satisfied with its versatile features. A special mention for its unique slicing function and the ease of cleaning. Recommended by most users for its efficiency and price.
I didn't come across many complaining customers of this product, just a bit of grumbling about not so good instruction booklet. But on the whole, never seen so many satisfied customers of a product.
Pros
Good motor power for vegan cooking
12-cup capacity
6 attachments for various jobs
Sturdy
Quiet motor
Easy to assemble and disassemble for cleaning
Budget-friendly
Cons
Instruction booklet not detailed
Some issues with safety lock as the machine doesn't start sometimes
My verdict: You don't get so many features at this price. No second thoughts about this buy!
Hamilton Beach, with a 100-year legacy, once again brings a thoughtfully designed appliance for your ease and comfort. Well known for their pocket-friendly appliances, the manufacturers have ensured that this model does not lag in features and utility. It comes with a reversible slicing/shredding disc along with stainless steel chopping blades. I was super impressed with this disc for its ability to perform julienne or french cut for your carrots or french fries respectively (kids love these homemade fries).
The BPA-free bowl is dishwasher-safe and has an 8-cup capacity. All parts are dishwasher-safe and easy to clean.
User Experience
Users love this little "master chef" for its utility at such a good price. They are very appreciative of its capacity to take abuse well. Some users liked its perfect slicing as well as the ease of processing, especially the smaller quantities.
On the flip side, some users found it difficult to clean. Some users have reported issues with the knob control and space between the food chute and slicing blades where the unprocessed ingredients get stuck. However, nothing very serious which can't be overlooked because the pros weigh more than the cons.
Pros
Budget-friendly
Well know brand
Stong
Powerful motor
BPA-free bowl
Cons
Small capacity
Difficult to clean
My verdict: This appliance is value for money. So many functions at such a great price! Don't miss this opportunity.
Note: If you are planning to use a food processor to shred vegetables for making vegetable rice or soup, then try using a rice cooker for complete hassle-free cooking. Here's my list of some great rice cookers.
My selection Criteria for the best food processor list
A food processor is a woman's best mate in the kitchen. But for it to be really helpful, it needs to have many features. Hence, I have only selected those models that fulfilled the following yardstick.
1. Power
The power of the motor decides how fast it processes the ingredients. The more powerful the motor, the smoother will be the nut butter. In my experience, anything from 450 watts and above should be a good benchmark for power. Accordingly, my list contains models 450 Watts and above.
2. Blades
Blades are the next important components of a processor. It is heavily dependent on blades for the various functions of chopping, grinding, slicing, etc. Unlike a blender that has specialized blades, a processor has discs and blades for various functions. The expensive models have more varieties as compared to the less expensive ones. However, I have enlisted models that cater to the most useful capabilities.
3. Noise levels
A quiet functionality is an important feature and all my processors range between low to medium noise levels.
4. Safety
This is an imperative feature for all electronic gadgets. Safety features in all the models listed above vary from anti-splash design safety to motor integrated activation triggers.
5. Containers
These vary from 8-cup to 16-cup capacity and you can choose as per your requirements.
Having seen why a vegan diet is good for you, you can also look at some not-so-expensive food processors our team of experts has compiled specifically for cabbage processing (a very healthy ingredient of a vegan diet).
FAQs – Top questions
1. Will I be able to use my processor as a juicer?
Some processors do have separate juicer attachments for your juicing requirements. Even if yours doesn't have, you can use the grinding attachment for juicing.
2. Why should I buy a processor? Cant a blender do the same job?
Well, yes and no. It can do some part of the job like pureeing or juicing. However, it will not help you much with dicing, slicing, or chopping because it is not supposed to do all that. Its main job is to pulverize the ingredients. On the other hand, a processor has many options for all the different types of your cutting needs. Nevertheless, if you are looking for some good blenders, don't forget to look at our list.
3. How is a pulse function useful?
It is helpful for controlling the amount of processing your ingredients need. For instance, if you need big pieces of onion rather than finely chopped ones, then you need to give shorter bursts of power to your chopper blades by pressing the pulsator for a shorter period of time. The opposite will hold true if you need finely chopped pieces.
4. Are there any processed foods that are Vegan?
It's true that vegan food can be good for your health, but all vegan foods are not healthy. For instance, vegan deserts may not have animal ingredients but might have extra sugars and starches which are added to get the same texture as dairy-based deserts. Similarly, vegan frozen foods might be available in plenty, but they are stuffed with extra sodium for preservation. The basic premise of processed foods, vegan or not, is the addition of oils, salts, and sugars to increase shelf life. The best way to avoid eating unhealthy vegan processed foods is to be sure of the ingredients.
Now that you are truly motivated to turn Vegan, don't forget that a fresh vegetable and fruit juice once or twice a day is a great way of starting this immensely healthy journey. And, if you are looking for a good juicer, my list of some great juicers can help you make the right choice.
Conclusion – which is the food processor to go for?
A food processor is a must-have appliance specifically for a vegan because this cooking requires a lot of chopping, cutting, shredding, etc. The list I have collated consists of some of the best brands with features categorically designed for a Vegan diet. Even while taking care of the specific features required for Vegan cooking, I have made sure that there are options for all budget types.
On the whole, I would recommend Breville BFP820BAL Sous Chef 16 Peel & Dice as my top choice for the best food processor for Vegans. However, if the price is a somewhat important decider then I would propose KitchenAid KFP1466ER 14-Cup Food Processor and Breville BFP660SIL Sous Chef 12 Cup Food Processor as my next best alternatives. Both match on pricing with a minor difference in capacity. Nevertheless, both are good contenders of Breville BFP820BAL Sous Chef 16 Peel & Dice for the features and utility. And finally, for the budget-conscious buyers, I propose NutriChef NCFP8 Multipurpose 12 Cup Multifunction Food Processor and Hamilton Beach Compact 8-Cup Food Processor & Vegetable Chopper, both well-liked brands with a strong legacy.
Whichever product you choose, rest assured that each model presented above has been diligently researched before finding a place in my final list.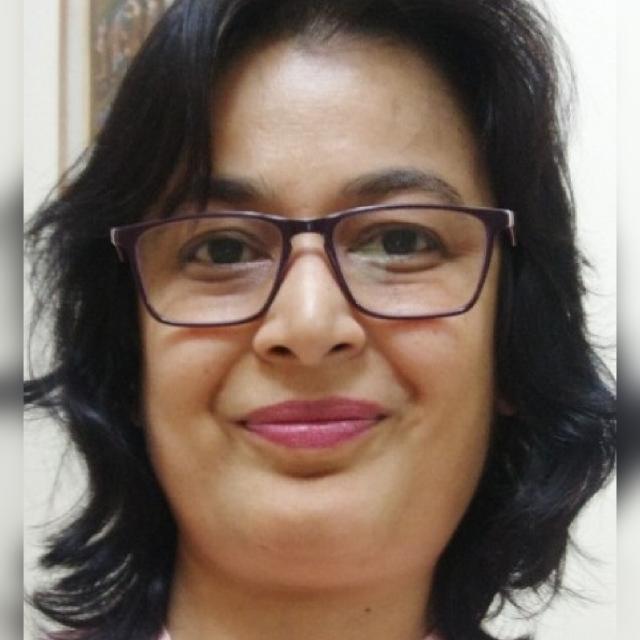 A graduate in Computer Science with post-graduation in Finance, Manisha Dhiman Kant is a stay at home mom. Having worked with multinational companies for around 10 years, she chose to work from home to balance her family commitment and work life. Since then she has written content on various areas of management, life, and technology. An avid online shopper, Manisha enjoys writing frank reviews for the benefit of other shoppers especially in kitchen gadgets and appliances category because that, she feels, is her forte (an entitlement most moms have because of having spent substantial time in the kitchen).