The health benefits of juice consumption is not a new concept today, rather more of a fad. The benefits, no doubt, are irrefutable! Various studies have given conclusive evidence to this effect. Fruit and vegetable juices can help achieve the recommended dosage of each one of them. Vegetable juices have a greater advantage for weight-watchers like me – they have very little sugars as compared to fruit juices. With this in mind, I got down to find out the best juicers for vegetable juicing and came up with an exclusive list of 7 best juicers for vegetables for you. However, before moving further I would like you to look at how vegetable juice can transform your life and be sure of the benefits.
Types of  juicers
Based on functionality and extraction method
Slow juicer 
These can be single auger (gear), Triturating (twin-gear), or cold press. The basic mode of extraction in these juicers is by crushing the fruits or vegetables and separating the pulp and juice by slow squeezing function. A single-gear (also called masticating) juicer has a single auger to crush the fruits or vegetables. As against this, a Triturating juicer has two gears arranged close to each other. These two together ensure that the input is completely crushed and ground to get high-quality juice.
Some distinctive features of these juicers
Speeds – 40 – 100 rpm
Oxidization rate – very low
Juice degradation time – 36 to 72 hrs.
Quality – very high, low foaming and juice separation happens slowly
Yield – Very high as the pulp is thoroughly juiced and comes out very dry
Noise levels – low
Price – Between $200 to $2000 and above
Suited for – Professional juicers and high volume juicing
Centrifugal juicer
This type of juicer is typically the one commonly used in households. The main reason being that they are very fast and economical as well. The technique it uses is centrifugal force. The fruits and vegetables pass through a feeding tube to rub against a fast-spinning metal blade with sharp teeth. The teeth shred the material into a pulp and a high centrifugal force separates the juice from the pulp. Some households use blenders which also use a similar breaking technique as these juicers. However, a juicer is better equipped to separate the pulp and get a good quality juice. For some good portable blenders, you can check my reviews here.
Some distinctive features of these juicers
Speeds – 3000 – 10000 rpm.
Oxidization rate – moderate to high due to heat produced by high spinning force
Juice degradation time – Within an hour of juicing
Quality – moderate, high foaming and juice separation happens fast
Yield – High but the pulp is wet
Noise levels – high or moderate
Price – Between $40 to $200
Suited for – Casual drinkers though commercial ones are very much used in restaurants
Based on juicing ingredients
Cold press juicer
Masticating juicer
Citrus juicer
Wheatgrass juicer
Juicer for green leafy vegetables
Did You Know?
A study of fruit and vegetable intake of American adults suggested that a higher proportion of women met recommended intake (15.1% and 10.9% respectively) as compared to men (9.2% and 7.6%).

How to choose the best juicer for vegetables?
It's a known fact that extracting juice from fruits is much easier than that from vegetables simply because vegetables are drier and leafier than fruits. Hence, I would recommend slow juicers for drier vegetables because they are capable of extracting maximum juice from the pulp.
Another point to be kept in mind is that centrifugal juicers can be used for juicy vegetables like tomatoes, beetroot, cucumber, etc. But they are not good for leafy greens because of their dry pulp. Hence, if you plan to use more of leafy or hard vegetables, then a masticating juicer would be the best choice. For some good juicers for your leafy greens, here's an exclusive list.
Summary of 7 best juicers for vegetables
Omega NC900HDC Juicer Extractor and Nutrition System
– This heavy-duty nutrition system is much more than just a juicer. Its an investment worth making. – A perfect mid-range juicer for your vegetables. Good value for money.
KOIOS Juicer, Slow Masticating Juicer Extractor
– This one comes at a good price with no compromise on quality. Will pleasantly surprise you with its juicing capacity.
AMZCHEF Slow Masticating Juicer Extractor
– A promising masticating juicer at equally impressive price.
Breville BJE200XL Juice Fountain Compact Centrifugal Juicer
–  Another good juicer from a trusted brand. This is one of the best centrifugal juicer for vegetables. – A perfect workhorse, this one will definitely charm you with its juicing capacity.
Bagotte Juicer Machines
– A great juicer for especially for leafy greens. Perfect value for money.
 List of 7 best juicers for vegetables
Sale
Omega NC900HDC Juicer Extractor and Nutrition System Creates Fruit Vegetable and Wheatgrass Juice Quiet Motor Slow Masticating Dual-Stage Extraction with Adjustable Settings, 150-Watt, Metallic
INDUSTRY LEADING 15-YEAR Coverage on parts and performance
LONGER LASTING JUICES - Using a low speed of 80 RPMs results in minimal heat buildup and oxidation promoting healthy enzymes
EXCLUSIVE - Dual Stage masticating extraction
HEALTHY AND DELICIOUS JUICES - Extracts the maximum amount of nutrients, vitamins, taste and juice from minimum amounts of fruits, vegetables, leafy greens, and...
NUTRITION SYSTEM - Extrude pasta, grind coffee and spices, turn nuts into nut butter, make baby food and frozen desserts, mince herbs and garlic, and whip up...
This heavy-duty nutrition system from Omega is much more than just a juice extractor. Apart from its exceptional ability to extract a good yield of juice from fine veggies, it is also capable of extruding pasta or grinding coffee. And not to mention, mincing herbs and garlic along with its ability to turn nuts into nut butter.
Its slow speed of 80 rpm ensures minimum heat production and oxidation, thereby ensuring you the maximum nutrients in every glass of juice extracted.
A feature that I find specifically handy is its large feed chute which drastically reduces the prepping time. The quiet motor is a blessing for those early morning juicers who don't want to disturb the whole household while juicing. You can check out some more good options for leafy vegetables in our expert listings.
User experience
I could find many happy users all through my user reviews. They were appreciative of its great juice yield, quiet function, easy cleaning, good customer support, and good juicing capacity. Some users had issues with parts breaking down. However, the warranty should take care of such issues.
Pros
Silent functioning
High yield
Versatile capability
Especially good for green leafy veggies
15-year warranty
Low oxidation due to 80 rpm slow speed
Long feed chute
Well known brand
Cons
My Verdict: This heavy-duty nutrition machine is expensive. But its versatile functionality justifies the price.
#2.
This 80 RPM slow masticating juicer by Aicok is the perfect juicer for your vegetables. This juicer comes with  ETL and UL certification. With dishwasher-safe parts, this juicing machine makes cleaning a breeze. Talking about dishwashers, for best dishwasher reviews you can check out my list of best dishwashers.
An interesting feature that caught my attention is its reverse function. This is very useful in unclogging the machine of any ingredients getting stuck. It has a heavy-duty and stable body. The 7 segment spiral masticating technology is the key to its high masticating functionality.
User Experience
Overall, the product is well appreciated but there are some users unhappy about the plastic parts. Some users also disliked the slow processing. But hey! masticating juicers are supposed to be slow to get the best juice quality.
Pros
Has all requisite certifications for commercial use
Very quiet
Easy to clean
Slow juicing at 80 RPM
Reverse function for unclogging
Cons
Plastic parts chipping off
Time-consuming
My verdict: Perfect masticating juicer at a good price. A big thumbs up from me!
KOIOS Juicer, Slow Masticating Juicer Extractor with Reverse Function, Cold Press Juicer Machine with Quiet Motor, Juice Jug and Brush for High Nutrie (Red-Black)
【Multi-application】: masticating juicer can extract all kinds of fibrous fruits and vegetables, such as celery, ginger, leafy greens, carrot, apples,...
【Quiet and convenient】: the juicer is less than 60Db when working. And it is easy to assemble, operate, and clean, dishwasher-safe parts make clean up a...
【Higher nutritional value】: compared to Centrifugal juicer, the masticating juicer keeps the minerals, enzymes, vitamins, trace minerals and nutrients from...
【Higher juicer yield】: compared to Centrifugal juicers, slow juicer is higher juice yield by the auger squeezing and reverse function. You will get really...
【What you get】: slow juicer adopts advanced technology and is made of baby food grade BPA-free materials. Our motor is covered by a 10 years. The remaining...
This juicer from Koios may not be very versatile in functionality, but it does its main job pretty well. That means it gives you a perfect nutrition-packed juice just like any other high-end and expensive juicer. Its motor is covered with a 10-year warranty. Its USP is quiet and affordable juicing.
The product comes with an ETL and FDA certification. Hence, it can be used for professional juicing as well. However, if you are specifically looking for some good commercial juicers, you can check out my list here.
User Experience
Most users wary of using this not-so-known brand have been pleasantly surprised by its output. I found them thrilled by the range of veggies it can juice. Its ability to juice green veggies is a special winner.
Some not-so-happy customers did raise concerns about occasional overheating. Some were even critical about the fact that it is not dishwasher-safe. But I wouldn't give this much thought.
Pros
Affordable
80 rpm speed
10-year warranty on motor
Quiet functioning
Good juice yield
Comparable to high-end juicers in juice quality
Cons
Not a well-known brand
Complaints of over-heating
My verdict:  An affordable product that does a good job at juicing. Worth a buy!
Slow Juicer,AMZCHEF Slow Masticating Juicer Extractor Easy to Clean, Cold Press Juicer Machines with Brush, Juice Extractor with Quiet Motor & Reverse Function, for High Nutrient Fruit & Vegetable Juice
🍎【Multi-purpose for Fruits & Veggies,Upgrade Spiral System】AMZCHEF slow juicer with 7 spiral masticating for maximum juice yield, minimal oxidation,...
🎁🎄【1 Juicer Machine for 3 uses】Innovatively changing the single-purpose traditional juicer.AMZCHEF juicer does not only can work as a juicer but also...
🍑【Small Caliber Juicer Extractor】AMZCHEF cold press juicer with small feeder chute allows you can remove the seeds when you cytting the fruit to reduce...
🍋【Intelligent Protection Chips,Easy to Assemble】Juicers equipped intelligent protection chips,making it stop automatically for every 20mins'...
🌈【AMZCHEF Juice Extractor Warranty and Service】 We want you to feel safe with your purchase,That's why we stand behing our AMZCHEF juciers machines by...
Amzchef's masticating juicer does a great job at giving a good yield of juice that is nutritious and healthy. It is endowed with a "7 updated  Auger spiral masticating technology" which ensures 90% juice yield and a nutrient-packed extract with minimal loss.
Features that make it stand out are the one-button disassembly and the reverse function. The reverse function is specifically useful because the leafy veggies do tend to get stuck at times. Besides these, another practical feature is its "intelligent protection" attribute. This makes sure that the juicer automatically stops after every 20 minutes of operation to avoid over-heating.
User Experience
Users have certainly admired this machine for the features it gives at such a budget-friendly price. The downside is its small chute which forces users to cut the veggies real small. Some users were a little unhappy with the effort it requires for cleaning. On the whole, users are happy with this product.
Pros
Easy on pocket
 Intelligent protection function
High juice yield
Only 3% oxidation
Easy disassembly
Cons
Small chute so more cutting of veggies required
Not a very well known brand
My verdict: A great slow juicer at an unbelievable price. A perfect buy for those who want to enjoy the benefits of a slow juicer at a reasonable price.
Breville BJE200XL Juice Fountain Compact, Centrifugal Juicer, Silver, 10" x 10.5" x 16"
The Breville Juice Fountain Compact may be small but it is packed with power; It features a 3 inch wide chute allowing you to juice whole fruits and vegetables...
UNIQUE EXTRACTION SYSTEM: The compact centrifugal juicers titanium reinforced disc and Italian-made micro mesh filter basket are made out of stainless steel and...
SHORT PREP TIME: The Breville juicer machines unique 3 inch extra wide chute feed allows you to juice whole fruits and vegetables without pre-cutting
BUILT-IN FROTH SEPARATOR: Certain fruits or vegetables create froth when juiced; The juice jug features an integrated froth separator to pour more juice, less...
COMPACT DESIGN & CONVENIENT STORAGE: The Juice Fountains compact design makes it suitable to store in small spaces and the power cord wraps around under the...
Breville's is one of the few centrifugal juicers that I found to be good for vegetables. Though I prefer masticating juicers for vegetables, this one comes very close to them in capability. I was quite impressed by its powerful motor which enables maximum juice extraction running at 14,000 RPM.
Its unique extraction system with titanium enforced disc together with micro-mesh filter basket does a good job at maximizing juice and nutrient extraction. A froth separator on the juice jug ensures minimum froth pouring into your glass.
User Experience
Users seem to be quite satisfied by its juicing capacity with vegetables. It does a good job at extracting juice from veggies like carrots, spinach, mint, cucumber, and so on. The only sour point is its noise level. Well, centrifugal juicers are generally characterized by high noise. So, not a very serious issue.
Pros
Easy on pocket
Fast juicer – 14,000 RPM
Well-known brand name
Long feeding chute so less prep time
Dishwasher-safe parts
Compact design
Cons
My verdict: An affordable juicer that does a decent job at juicing vegetables. I highly recommend this one.
#6.
An impressive juicer from this relatively new brand with a very futuristic design. At 70  RPM, this one is amongst the slowest juicers I have listed so far. This implies that it is comparatively better at extracting high-quality juice than others.
An interesting feature that caught my attention is its self-adaptive motor. This means that you don't need to bother about adjusting its speed for different veggies. It automatically selects the best speed for your inputs. One more remarkable feature is its anti-drip function. Not a single drop of juice gets wasted while the extract drops the jar.
User experience
Most users of this product are pleasantly surprised by its perfect juicing capabilities. They have given a complete thumbs up to its ease of cleaning and quiet functionality. They have appreciated its suction cup feet which keep it from moving while juicing.
However, on the downside, it is very slow. Some users also expressed unhappiness about extra prepping it requires in terms of cutting veggies into small pieces.
Pros
Affordable
Quiet
70 RPM speed
Good quality output
Self-adaptive motor
Easy to clean
Anticlogging function
Cons
My Verdict: On the whole, a great workhorse for the price. A good buy for juicing your vegetables.
Masticating Juicer Machines, Bagotte Slow Juicer Extractor, Easy to Clean, Quiet Motor & Reverse Function, Cold Press Juicer for Vegetables and Fruits, Juice Recipes, BPA-Free
UPGRADE THE SPIRAL SYSTEM: 7 upgrade segment spiral with PMMA material, 90% juice yield than other juicer, fully squeeze fruits and vegetables.
JUICE & PULP SEPARATION FUNCTION: Low speed of 80 RPM, perfectly separates the pulp from the juice with less foaming, extracting high-purity juice and leaving...
EASY TO CLEAN & DISASSEMBLE: One-touch disassemble design, easier clean-up, dishwasher-safe parts. Press "Reverse" Function to helps to clean the machine and...
HEALTH & QUIET MOTOR: Runs less than 60 decibels, all detachable parts are made of high quality food grade anti-oxidation materials,100% BPA free.
3 YEARS QUALITY ASSURANCE: This juicer provide lifelong technical consultation and a 3-year warranty. Premium quality by FDA, ETL certification.
This juicer by Bagotte is perfect for your leafy green vegetables because of its high quality masticating capability. With 80 RPM, this juicer extracts maximum juice with minimum foam. It is FDA and ETL certified so you can put it to commercial use without a second thought. With a quite functioning, this machine is made up of a very high-quality BPA-free material. My favorite is its reverse functionality which helps in cleaning and declogging.
User Experience
Most users found it very easy to assemble as well as disassemble for cleaning. Frankly speaking, I didn't find any complaining users which is an achievement in itself.
Pros
Not very expensive
Commercial certifications available
Easy to clean
Reverse function for declogging
Slow masticating function at 80 RPM
Quiet motor
Cons
Not very well known brand
Not many user feedbacks available
My Verdict: It is value for money and perfect for your leafy greens.
For more options in juicers for leafy greens, you can also refer to our reviews here.
My selection criteria
As discussed earlier, juicing vegetables is slightly more complicated than juicing fruits. This is simply because vegetables are less pulpy. Hence I have specifically looked at those juicers which can squeeze out the most from them. Here's what I've looked at before shortlisting the right model –
Speed
Speed is important for the quality and quantity of juice output. Generally, slow juicers extract the best quality juices with minimum nutrient loss. Having said that, it doesn't imply that fast juicers can't be used at all. Hence, I have looked at both types and listed the ones that can give the best results.
Cost
With the price, you are in a tricky space as the higher the cost, the better the features. Hence, I have endeavored to strike a balance between the features and cost. I have not included some of the very expensive models though they might have had some additional features. At the same time, I have not compromised features with the cost.
Ease of cleaning
This is an important feature for any juicer because it is the biggest pain area for most juice enthusiasts. Hence, easy cleaning juicers hold a higher weightage in my reviews.
Size
I feel that home users are more sensitive about size as compared to businesses. Most users like to have a compact machine that occupies minimum space. I have definitely taken this into account.
FAQs
Is it better to blend vegetables rather than juice them?
Both have their own advantages. Juicing leaves the fiber behind while blending doesn't. Fiber is an important component of our diet. However, juicing extracts a higher concentration of nutrients and increases the consumption of vegetables. Nevertheless, a combination of the two techniques can be the best way for a healthy diet. If you are looking for some good blenders, refer to my list here.
What do I do with the pulp?
If you are using organic vegetables, you could use the pulp in soups or bread depending on which veggies you use. However, if your vegetables are not organic, I would not recommend using the pulp in food. You could use it for composting.
Can I use mix some fruits with vegetables for weight loss?
Yes, a couple of fruits will not pose a big challenge to your weight loss goal. It will enhance the taste of your juice.
Conclusion
You must be wondering that my list has a whole lot of masticating juicers and just one from the centrifugal category. Well, the reason is simple. As discussed in the beginning and even in my other reviews, slow juicers are the best at preserving nutrients. They result in minimum oxidation and maximum yield. However, with veggies it becomes more difficult to extract juice because of their relatively drier pulp than fruits. Hence, these are the best juicers for vegetables.
Overall, Omega NC900HDC Juicer Extractor and Nutrition System is the best in terms of performance, in my opinion. However, for those who feel its pinch in their pockets, I have a whole list of mid-range to affordable ones for you.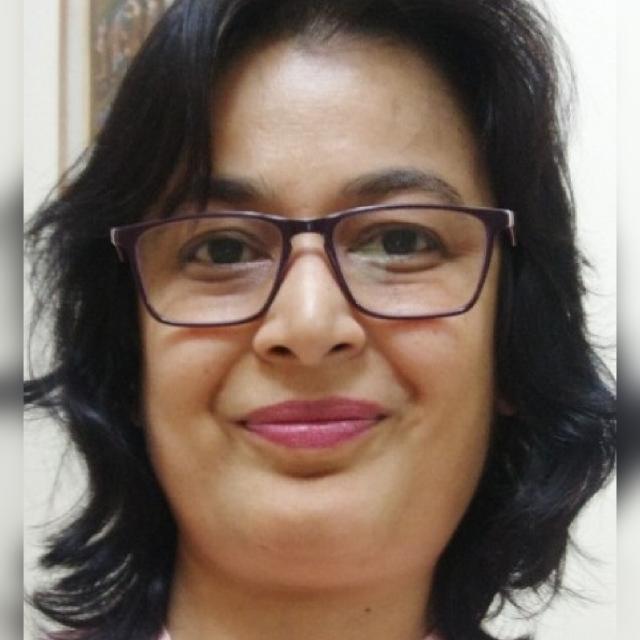 A graduate in Computer Science with post-graduation in Finance, Manisha Dhiman Kant is a stay at home mom. Having worked with multinational companies for around 10 years, she chose to work from home to balance her family commitment and work life. Since then she has written content on various areas of management, life, and technology. An avid online shopper, Manisha enjoys writing frank reviews for the benefit of other shoppers especially in kitchen gadgets and appliances category because that, she feels, is her forte (an entitlement most moms have because of having spent substantial time in the kitchen).