I have always wondered – can there be a magic machine that can do all my prep work in the kitchen? How easy our lives would be if one machine could do all the chopping, slicing, blending, pureeing, juicing, kneading, and so on. This visual inspired me to look for the best blender food processor combination available in the market that fits very much in this fantasy of my mind. After all, these two appliances help do 80% of our kitchen job. Hence, a blender food processor combination would, on one hand, reduce our kitchen work drastically and on the other hand save us a few dollars by providing two functions in one!
Blender vs Food processor
You must be wondering why do we need both the appliances? Won't one of the two suffice? Well, the answer to this is both yes and no. To understand this, let's look at their functions individually.
Functions of a blender
A blender is an appliance that basically liquifies, emulsifies, and purees food ingredients. It usually has sharp metal blades that rotate at a very high speed with the help of a motor to pulverize the food ingredients. Because of this characteristic of its basic design, it can be used for
Juice/Smoothies/Milkshakes – fruit cocktails with or without milk. This needs high-speed liquefication with sharp blades. Additionally, to know about the health benefits of these refer here.
Vegetable juice – complete pulverization of vegetables for cooking purposes or drinking as juice.
Purees – Preparing purees for soups or baby food.
Grinding spices or hard ingredients – The sharp blades of a blender can convert even hard ice to a snowy form for smoothies or fruit slush.
Frozen desserts – ice cream or frozen fruit-based desserts that are hard to break.
Grinding meat
Hence, we can see that all kitchen jobs that require strong sharp blades working at high speed are done well by a blender.
Meanwhile, if you are looking for some great commercial juicers which can be used for personal juicing, check out my list here.
Functions of a Food processor
A food processor helps simplify tasks that are repetitive and laborious. Most common cooking preps include chopping, shredding, slicing, kneading, grating, etc. Its intrinsic design is specifically created for these versatile functions. To know more about the benefits of food processors, check this link. Following are its characteristics –
A wide and spacious body comprising of a bowl.
A feed chute for putting in ingredients as it mixes
An assortment of blades of different shapes and build for various functions
Different speeds, including a pulsator function
A food processor is adept at
Chopping
Shredding
Slicing
Mincing
Kneading
Cheese shredding
In other words, jobs that require some kind of repetitive action and finesse can be done pretty smoothly by a food processor. Nevertheless, if you are looking for a good food processor, you can refer to my list here.
Do we need both in the kitchen?
Having seen the tasks performed by each one of them, I would be more inclined to have both rather than just one of them. As a matter of fact, both are mutually exclusive as one cannot do all the jobs of the other. For instance, a blender cannot knead or slice like a food processor because it does not have the relevant attachments that are blunt or S-shaped. On the contrary, it has sharp metal blades specifically designed to pulverize hard food items, even ice. In fact, a blender can make amazing frozen deserts owing to this functionality, which is not easily achievable in a food processor.
On the other hand, a food processor does the various jobs it is designed for with the help of an assortment of attachments. To enumerate a few, S-blades for chopping, slicing disc for different slice thickness, peeler disc, and so on. Given that a blender does not have these features, it cannot perform any of these functions.
At the same time, I wouldn't completely deny that there are a few functions both are capable of doing. For instance, some food processors have attachments that can puree or grind ingredients. Similarly, some blenders have variable speeds to enable some level of chopping functionality. However, not all models have these extra functionalities.
In short, there is compelling evidence of the fact that we need both appliances in our kitchen. At the same time, a two-in-one appliance will undoubtedly save both energy, space, and money.
Did You Know?
Pierrre Vordon was the first person to invent the food processor and exhibited in Paris in 1971. Thereafter, an American engineer, Carl Sontheimer, took this idea and produced a refined version of this machine, today known as Cuisinart!

List of best-rated blender food processor combos at a glance
Ninja BN801 Professional Plus Kitchen System
– This intelligent combo machine with a powerful motor is second to none. Don't let price cloud your judgment.
Ninja BL770 Mega Kitchen System and Blender
– This workhorse is worth every penny. Not very different from its new cousin BN801, but at a lower price.
Ninja SS201 Foodi Blender Dough Mixer Food Processor
– Another good product from Ninja at a very good price tag.
Oster Pro 1200 Blender Food Processor Combo
– Perfect combination of power and utility, you won't get anything better at this price.
Ninja Nutri Bowl Duo with Auto-iQ Boost (NN102)
– This affordable and versatile product justifies the saying "Good things come in small packages".
Ninja Blender/Food Processor (QB1004)
– Value for money.Go for it if you have a small family.
Best blender food processor combination features
Sale
Ninja BN801 Professional Plus Kitchen System, 1400 WP, 5 Functions for Smoothies, Chopping, Dough & More with Auto IQ, 72-oz.* Blender Pitcher, 64-oz. Processor Bowl, (2) 24-oz. To-Go Cups, Grey
MORE FUNCTIONALITY*: The Ninja Professional Plus Kitchen System with Auto-iQ features a new modern design and more functionality* than Ninja's original Kitchen...
POWERFUL CRUSHING: Ninja Total Crushing Blades give you perfectly crushed ice for your smoothies and frozen drinks with 1400 peak watts of professional power.
FOOD PROCESSING: The 8-cup Precision Processor Bowl provides precision processing for even chopping and smooth purees.
5 VERSATILE FUNCTIONS: 5 preset Auto-iQ programs allow you to create smoothies, frozen drinks, nutrient extractions, chopped mixtures, and dough, all at the...
AUTO-IQ TECHNOLOGY: take the guesswork out of drink making with intelligent programs that combine unique timed pulsing, blending, and pausing patterns that do...
This mighty blender food processor combination from Ninja is unparalleled in its Auto-iQ feature. To elaborate further, this technology enables intelligent programs that have uniquely timed the various combinations of the blend, pulse, and pause functions in a special sequence. In other words, the manufacturers create a preprogrammed set of steps so as to provide you with the same consistent results each time. Thus, there are 5 such auto programs that provide you the same consistent results at the touch of a button.
In addition, there is the option of choosing from three speeds and pulse function if you choose to work manually. Not to mention, a 64oz precision processor bowl with 2 different attachments of kneading and chopping. What's more, the blender pitcher too has a 64oz liquid capacity for large batches of your favorite frozen drinks.
Another cool feature, that I personally liked, is its on-the-go blending feature whereby you can just blend your smoothie and carry it along. However, if you are specifically looking for on-the-go blenders here's a perfect list. And finally, with the dishwasher-safe parts, you can avoid the hassle of cleaning it manually.
Sale
Ninja BL770 Mega Kitchen System, 1500W, 4 Functions for Smoothies, Processing, Dough, Drinks & More, with 72-oz. Blender Pitcher, 64-oz. Processor Bowl, (2) 16-oz. To-Go Cups & (2) Lids, Black
POWERFUL CRUSHING: The 72-oz.* Total Crushing Pitcher pulverizes ice to snow in seconds for creamy frozen drinks and smoothies with a powerful 2+ horsepower...
FOOD PROCESSING: 8-cup food processor bowl provides perfect, even chopping and makes up to 2 pounds of dough in just 30 seconds.
4 VERSATILE FUNCTIONS: All 4 functions – Blend, Mix, Crush and Single-Serve – utilize 1500 watts of performance power to truly customize your drink-making...
ON-THE-GO CONVENIENCE: Two 16-oz. Nutri Ninja Cups with To-Go Lids are perfect for creating personalized, nutrient-rich drinks to take on the go.
BLADES FOR ANY RECIPE: Stacked Blade Assembly for the pitcher, Dough Blade and Chopping Blade for the processor bowl, and Nutri Ninja Blades for single-serve...
Another 1500-watt powerful combo machine is as competent as its newer version discussed earlier, and that too at a lesser price. From crushing ice to kneading, this power-machine can do all your work like a breeze. Its variable speed options are a great blessing. Not only do the manufacturers provide for 4 preprogrammed controls, but also equip it with a pulse function.
Furthermore, I was quite impressed by its great blending capacity. Markedly, the 72 oz pitcher is specifically designed to crush ice for large batches of margaritas and other frozen drinks. Nevertheless, if you are specifically a juice enthusiast, you can look at this set of juicers.
Another key feature that catches one's attention, is its on-the-go smoothie attachment. You can use this attachment to pulverize fruits and vegetables just enough for your power-drink and just twist on a lid for a drink on the move.
Additionally, it comes with an 8-cup food processor bowl and 2 blades for all your chopping and kneading requirements.
Sale
Ninja Foodi SS201 Power Blender & Processor. 3-in-1 Crushing Blender, Dough Mixer, and Food Processor 1400WP smartTORQUE 6 Auto-iQ Presets
The 3-in-1 blender that crushes, food processes, and makes dough.
Smart TORQUE is designed to power through heavy loads without stalling or the need to stir or shake.
Variable speed control. Start slow and ramp up as needed for precision chopping and mixing.
Power Blender & Processor Pitcher: crush, chop, and make dough conveniently in one pitcher.
6 preset Auto-iQ programs for one-touch smoothies, frozen drinks, bowls, spreads, chopping, and dough.
Once again, Ninja brings forth another powerful blender food processor combination. Enabled with the Auto-iQ, this appliance has 6 preset programs for your various needs. As a result, you get the same consistent output each time.
Besides this, it is enabled with a smartTORQUE technology that enables the machine to process heavy loads without any hiccups. Furthermore, just like its previous cousins, this one too has a 72 oz power pitcher (64 oz liquid cap) for large volumes of frozen drinks. Apart from this blending function, it has two different blades for perfect chopping and dough making.
Hence, you can easily say that this machine is a kitchen Ginnie that can do almost any kitchen job at your command at an affordable price.
Sale
Oster Pro 1200 Blender with Professional Tritan Jar and Food Processor attachment, Metallic Grey
This Oster blender and food processor features 7 speeds, including 3 pre-programmed settings for common blender creations like smoothies and shakes, plus pulse...
Features an 8-cup, BPA-free Tritan plastic dishwasher-safe jar; Tritan plastic is known for its clarity, durability, safety, and style
Extra-wide 3.5" jar allows ingredients to reach the blade easier for faster and smoother results
Includes a 5-cup food processor with slicing and shredding blades; the food chopper makes salsa, guacamole, or your favorite dip with ease
Dual Direction Blade technology for extra blending power to chop and grind with precision; plus 1200 power watts of ice crushing power
This is the first non-Ninja model that has entered my list. This shows that this certainly has something compelling enough to shift away from my favorite. As a matter of fact, this is one blender food processor combination I found to be compact and very affordable. So, you get the best of the two worlds at an insanely low cost. Isn't that incredible!
Explicitly talking about its features, this compact 1200 Watt 2-in-1 appliance comes with a BPA-free Tritan plastic body and stainless steel blades. Furthermore, it comes with 3 pre-programmed settings as well as 7 different speeds. At the same time, the pulse function ensures that you get the exact shredding size you are looking for in your preparations.
The feature that I really liked is the fact that it comes with a 5-cup food processor with blades for all types of shredding and slicing needs. Above all, it has dual-direction blade technology to help you do all your kitchen work with precision. In other words, you have the double power to crush your ice perfectly with the click of a button. So go ahead and make those yummy ice crushes for the sizzling summer noons!
Ninja Ninja Nutri Bowl Duo with Auto-iQ Boost (NN102), Black
1200-watt Nutri Ninja Nutri Bowl DUO with Auto-iQ Boost has the power and versatility to Elevate the Everyday.
Nutrient & Vitamin Extraction (extract a drink containing vitamins and nutrients from fruits and vegetables) and the Pro Extractor Blades Assembly allow you to...
The Nutri Bowl brings fresh, wholesome ingredients together to make flavorful Nutrient Fusion (create a fusion of foods containing nutrients from fruits,...
Our Pro Extractor Blades Assembly crushes through ice, seeds, skins, and stems for powerful Nutrient & Vitamin Extraction (extract a drink containing vitamins...
Auto-iQ Technology features intelligent programs that combine specific timed pulsing, blending, and pausing patterns that do the work for you. Easily make you...
This little master blaster might be small in size but not in intent. It is equipped with the Auto-iQ with five pre-programmed modes for consistency of results. Besides these, it has a separate pulse function for your manual processing. With these programs, you can do all your kitchen work like mix, chop, juice, and knead like a breeze.
Additionally, this appliance comes with 2 Tritan Ninja cups of 24 oz capacity with spout lids. Not to mention the processor bowl with two different blades for dough making and chopping. I was also delighted to see the 75 recipe booklet which is included in its accessory.
Sale
This is a small machine for light kitchen jobs. With a 450 watt motor, it can do blending, chopping, and mincing. Again, this one is not equipped with the dough attachment. It comes with a 48 oz. bowl for blending, 40 oz. bowl for chopping and another smaller 16 oz. bowl for smaller chopping.
I liked the splash guards and the two storage lids that come with the machine. The blender comes with a 6 blade attachment, while the processing bowl and chopper come with a 4-blade attachment each.
And above all, the gadget uses pulse technology to give you complete control of speed. All in all, this is a great machine at a price below $60.
Best blender food processor combo reviews
I found most of the users in awe of this workhorse. Specifically, Auto-Iq technology has many admirers on account of the consistency of results not easily achievable manually. They love its versatile functionality and have rated it among the best combo units. Additionally, the suction cups at the base do win many accolades along with the stowaway compartment for the cord.
Some users also loved the veggie rice they prepared using this appliance. For some good rice cooking experience, don't forget to check these rice cookers.
The flip side is its noise which, though not a serious issue, is still a bit of a detractor for some users.
Pros
The powerful motor of 1500 Watt
Auto-iQ technology
Versatile features
Ease of cleaning
Large pitcher capacity
Nutri Ninja cups with to-go lids
BPA-free parts
Recipe booklet
Well-known brand name
Cons
Pricey
Somewhat noisy
1-year limited warranty
My verdict: Features justify the price. This product from a good brand is certainly one of the best in the market.
This Ninja power-machine is certainly an attention grabber with the capability to process almost everything you would need for your kitchen. This model enjoys one of the best ratings given by the users.
Users love its sheer power with which it can pulverize almost anything. Particularly, many users are awed by its dough blades which make preparing dough a breeze. Not to mention, its suction cups at the base which make sure that it stays where it's kept while working. Additionally, the ease of cleaning is a feather in the hat as all its parts are dishwasher-safe. This reminds me to refer you to my list of dishwashers if you are looking for one.
On the downside, some users were a bit unhappy with the limited warranty. Furthermore, some users have pointed to the fact that the processor lid is without a drizzle hole.
All in all, users are quite upbeat about this machine and even the few scorns I found were not the serious ones.
Pros
The powerful motor of 1500 Watt
Versatile features
Ease of cleaning
Large pitcher capacity
Nutri Ninja cups with to-go lids
BPA-free parts
Recipe booklet
Well-known brand name
Cons
Pricey
1-year limited warranty
My verdict: A perfect all in one solution for your kitchen. Don't let the price cloud your judgment.
Once again Ninja has come up with a model that is immensely adored by its users. They call it a monster that can prepare the smoothest nut butter and also chop vegetables beautifully. In other words, they are in utter admiration of its functions, both as a blender and as a food processor. They have also appreciated its large capacity as well as its versatility.
However, some users have reported issues with low volume processing. That is to say, if the quantity of inputs is not up to a certain level, it does not produce the expected results. As a matter of fact, it is meant for large volume processing and thus may not be fit for small quantities. Then there were some users who found the suction cups too tight to remove after they are done with the work. Well, this is Ninja power! That's its USP.
Pros
The powerful motor of 1400 Watt
smartTORQUE
Auto-iQ function
Versatile features
Ease of cleaning
Large pitcher capacity
BPA-free parts
Well-known brand name
Affordable
Cons
No separate Blending and processing pitcher
Not good for small-volume processing
Noisy
My verdict: This intelligent machine is value for money. A perfect kitchen mate.
This power machine can do all your blending, chopping, grinding, and mincing jobs pretty well. The only job it can't do is making the dough. Well, you can't get everything all the time. It definitely does most of the kitchen job at a great price.
Users of this product also share my view on this. On the whole, they were quite happy with the great blending and chopping work it does. Further, they were quite pleased with its grinding capacity. Its blades are so sharp that they can grind the hardest of ingredients like a breeze. And not to mention its ease of cleaning. All parts are dishwasher-safe.
However, some users were slightly disappointed with its noise levels. Another sticky point was its inability to do the kneading work. Well, it's a tradeoff between price and features!
Pros
Very reasonably priced
Good at blending, chopping, and grinding
Compact
High power motor of 1200 Watt
Ease of cleaning
Well know brand
Cons
Noisy
Dough making feature missing
My verdict: On the whole, a good product at a reasonable price. Good value for money.
This little power horse has pretty good reviews, just like any other Ninja models. Users love its grainless blending capacity which gives them a smooth nut butter or perfect fruit smoothie. This is specifically useful for smaller volume processing. They are also quite impressed by its Auto-iQ function as it removes the guesswork from their daily processing. By the way, if you are looking for a good food processor for nut butter, here's a great list.
On the downside, some users found it a bit noisy. But overall, most users are satisfied with its performance.
Pros
The powerful motor of 1200 Watt
Versatile features
Ease of cleaning
BPA-free parts
Auto-iQ function
Well-known brand name
Affordable
Cons
My verdict: This little Ninja justifies its name. Affordable and versatile are the two words to describe it.
To start with, this is a very versatile and useful product for a small family. Hence, don't expect it to do every chopping and processing job under the sun. However, it does a reasonably good job at whatever it is meant for.
For the most part, users seemed quite impressed by the blending work it does to make margaritas. They also liked the baby food it makes and how well it can take hot foods for processing. Equally appreciated were its non-splash and anti-skid features. At the same time, users loved the fact that it is so easy to clean.
However, the things that didn't find favor with users are its inability to make the dough and the use of plastic instead of glass. To sum up, price and features go hand in hand. This product is perfect for the price it's available at.
Pros
Very affordable
Does a good job at blending, chopping, and grinding
Ease of cleaning
Can accommodate hot food
Splash guards and storage lids
Compact design
Cons
Not very powerful motor
Small capacity
Not very versatile
My Verdict: This product is great for small families. It promises affordability and ease of work.
My selection criteria
Choosing a good blender food processor combo can be mind-boggling as one is looking for all the functions of the two machines in one. This is because one wants to tick all the boxes before finalizing one. However, when it comes to choosing the best-fit features, the manufacturers tend to settle for the ones most commonly used because they know they can't fit all. Hence, you need to be very clear about the features that you can compromise and those that are the absolute "must-have". In view of this fact, I have prepared my list according to the following criteria –
Features – I feel that the most common and laborious kitchen jobs are chopping, blending, grinding, and slicing. However, kneading is another job that needs a lot of effort. Hence, most of the models I have chosen has this function.
Capacity – This is another essential factor that helps you save time. With this in mind, I have given higher priority to those models that have the flexibility of both small and large capacity.
Motor power – This definitely is an important factor in deciding what to buy. Hence, the topmost models on my list have a very powerful motor.
Price – Well, you certainly have to pay higher for more features. That's true with my list too. Nevertheless, even the best blender food processor combination on the list isn't outrageously expensive.
Ease of cleaning – This point has evidently not been ignored, though it comes at the end of my priority, because I totally understand the pain of after-work cleaning. All the models listed above are dishwasher-safe.
FAQs
1. Should I go for a blender processor combo that has a powerful motor or the one that has more features?
Well, it depends on your usage. If you think that you would need the blending function much more than the processing, then I guess it would be good to go for the higher motor power. If you feel that versatility is more important then you should go for features. But, all the models on my list are a balance of the two. So, you can easily decide the best one for you.
2. Are the plastic bodyparts safe for use? Isn't it better to use glass for the jars?
The jars provided with all the models listed above are BPA-free, which means they are absolutely non-toxic. I do agree that the glass jars would be better from the health perspective, however, these BPA-free parts are equally safe.
3. Is it ok to put hot liquids for blending/processing?
I would suggest not to put very hot liquids into your machine because it can cause a major accident. Though some of the users claim to have done so, my advice is to avoid such processing completely. Allow it to cool before putting it in for blending.
Conclusion
Before I conclude, I feel that I should elaborate a bit on my choice of models. As a matter of fact, I do realize that my list of the 6 best blender food processor combo has 90% models from the Ninja brand. Frankly speaking, during my research I was quite surprised to find that as against most of the other brands, Ninja had the maximum features. For instance, there were other brands like Oster Pro that I found had blender and food processor attachments, however, they were lacking in features. To name a few, most of these 2-in-1 appliances did not have the dough making feature or just had chopping attachment in the name of a food processor. On the other hand, most of the models I have listed above have features to satisfy the majority of your blending and food processing requirements.
And finally, I would like to conclude by recommending Ninja BN801 Professional Plus Kitchen System as the best-rated blender food processor combo. Incidentally, it also turns out to have the best blender food processor combo reviews. However, looking at the price, I can understand some apprehension by some buyers. Keeping this in mind, my next two choices of Ninja BL770 Mega Kitchen System and Blender and Ninja SS201 Foodi Blender Dough Mixer Food Processor will definitely impress you. Not to mention the last two for the budget-conscious customers.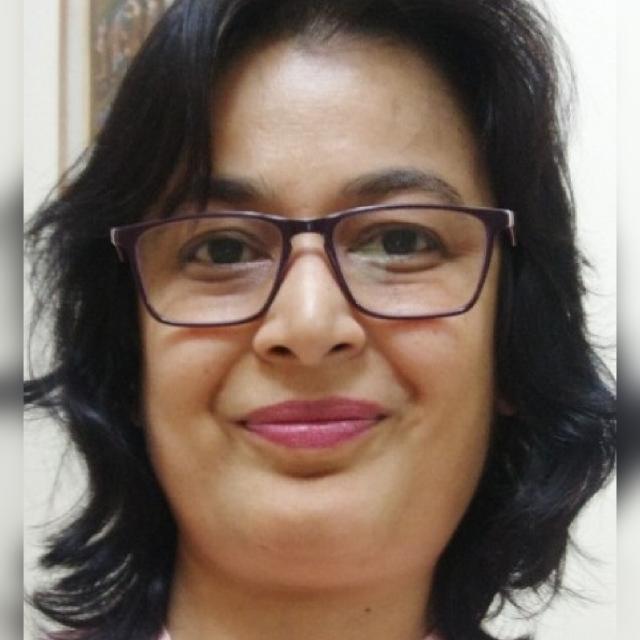 A graduate in Computer Science with post-graduation in Finance, Manisha Dhiman Kant is a stay at home mom. Having worked with multinational companies for around 10 years, she chose to work from home to balance her family commitment and work life. Since then she has written content on various areas of management, life, and technology. An avid online shopper, Manisha enjoys writing frank reviews for the benefit of other shoppers especially in kitchen gadgets and appliances category because that, she feels, is her forte (an entitlement most moms have because of having spent substantial time in the kitchen).