Cooling is a crucial part of the baking process. If your baked items didn't cool properly, moisture might develop, making the crust mushy. Your frosting will end up spilling all over the place if it isn't properly cooled. And that is why you need to have the best bake cooling rack.
A good cooling rack would save you a lot of trouble when it comes to baking. By lowering the internal temperature, the baked goods will continue to cook while gradually cooling to room temperature. You'll need it when making the flawless moist cake, soft cookies, or fluffy cupcakes. I have made a list of the top five cooling racks for your kitchen that you can pick from.
What is a Cooling Rack?
If you're going to decorate your cake or serving your garlic bread, put it on a cooling rack first. Cooling baked items before serving, decorating, or storing them is a vital step in retaining the final product's consistency. Meat should also rest for 20 minutes before cutting, and you can use a cooling rack to let the meat rest and also cool it at the same time.
The cooling rack is mostly used to cool baked goods. Apart from that, it's used to store them until they are ready to be served, frosted, or packed. Cooling racks are typically built of metal and come in a variety of sizes. Small metal bars stretch the length of the rack, letting air flow not only above but also below the cookies. If you're cooling little things, the rack could also contain bars running in both directions or a fine metal net.
You should look for cooling racks that will best match your baking requirements. Want to know more about baking?  Check out LET'S BAKE.
Did You Know?
When roasting juicy meats like steak or chicken thighs, put beans or vegetables under the cooling rack to soak up the drippings while they cook.
Also check out our list of the best cutting boards for your daily kitchen needs.
Why do you need a Cooling Rack?
Cooling racks work on the simple principle of elevating and exposing the underside of your foodstuff to allow for circular airflow. This prevents condensation from forming on the bottoms of baked goods as they rest, preventing them from becoming soggy. You can also use these racks inside the oven to lift a roast turkey out of its juices or enhance the crispness of french fries by letting air and heat flow freely.
Cooling racks come in a variety of shapes and sizes. Round ones are particularly great for round layer cakes. They're a great method to easily flip a cake out of the pan. Simply place the rack on top of the cake pan, flip the pan, and raise the pan to see if the entire cake has come out. Then you can cool it before frosting. Similarly, you can use cooling racks for cookies, pies, and even peanut butter balls.

Things You Should Know When Buying The Best Cooling Rack
Cookies, cakes, and even bread require the right amount of cooling time before serving. If you don't let soft cookies, rich chocolate cakes, or warm bread cool, you won't be able to enjoy them. If the cakes are still warm, you won't be able to even decorate them. For every baker or chef, owning the best cooling rack is crucial. Below are three points you should know before buying a cooling rack to help you select.
Cleaning should be simple – Dealing with dough, batter, and the icing is difficult. These can harden on the grid and break down the rack if left on their own. Consider those racks that are easier to clean or those that you can clean in the dishwasher.

Durable – Whether you're using it for cooling or baking in the oven. You'll want something that could last a long time and endure multiple usages. 

Safe to Use – Choose a rack that is suitable for food storage. Some coated grids are not suitable for food or BPA-safe.
You can also take a lookmat the best whisks to help you with mixing the cake batter.
How To Choose The Right Cooling Rack
Material
Cooling racks are usually built of chrome-plated metal, stainless steel, or carbon steel, which are all long-lasting and safe to use. At the very same time, you should make sure the racks are non-stick coated for easier cleanup and dishwasher compatibility. It is important to know the characteristics of each material while purchasing a cooling rack. This will help you select the one that best meets your needs.
Rack size
The size of the cooling rack is determined by the amount of counter space available and the size of the baking pan. Please ensure the rack is suitable with the baking sheet you'll be using if you're going to use it for baking or roasting. With this in mind, small cooling racks are a good option if you have a small kitchen or need something that can carry a lot of food. The size of the equipment is very crucial, be it a pan or rack. Keeping that in mind, do check out our listing of Best Saucepan – The List Of Top 5 (Updated).

Grid size
The majority of cooling racks are made up of strong metal wires that run perpendicular to one another and cross to form a grid pattern. This type of structure can handle high temperatures as well as heavy and big food items.
Did You Know?
Most cooling racks are made of metal and may have a non-stick coating.
Best Cooling Racks – A Summary List
#1 Hiware 2-Pack Cooling Racks for Baking – This cooling rack is for those who are looking for the best bang for the buck. You will get exceptional value for your money.
#2 Wilton 3-Tier Collapsible Cooking and Baking Cooling Rack – This rack is for those who are looking for 3-Tier Rack and have limited counter space.
#3 Tebery 4 Pack Cooling Racks Baking Rack - 16 – A pack of 4 cooling racks will definitely help you if you bake a lot. Adding to that, it's made up of great material, carbon steel.
#4 Ultra Cuisine Thick Wire Baking and Cooling Rack – This masterpiece can be used for both cooling and baking. The sturdy build will be of great advantage.
#5 KITCHENATICS Half Sheet 100% Stainless Steel Roasting & Cooling Rack – The 1-inch height with supplemental welds gives it a great advantage over other cooling racks.
List Of Top 5 Cooling Racks
Hiware 2-Pack Cooling Racks for Baking, Stainless Steel Wire Rack Baking Rack Oven Rack Cookie Rack, Oven Safe, Rust-Resistant Rack for Cooking, Baking, Roasting and Grilling - Fit Half Sheet Pan
DURABLE STAINLESS STEEL, STURDY CONSTRUCTION: The cooling rack is made of standard food-grade superior stainless steel, which is durable and rustproof. The...
DISHWASHER SAFE AND EASY TO CLEAN: The cooling rack is completely dishwasher safe and will not wear or fade in it. Very easy to clean even if you have to clean...
UNIQUE COOLING DESIGN: The design of 6 supporting feet allows the entire cooling rack to be raised by 0.6 inches to better air circulation which makes foods...
OVEN SAFE UP TO 575℉ MAKES IT VERSATILE: The advantage of high temperature resistance makes it very suitable for use in the oven or grill. It can not only...
PERFECT SIZE FITS FOR HALF SHEET PANS: Measuring 11.8" x 16.5", fits inside a half sheet (13" x 18"). The larger size is suitable for more cooling quantity,...
Hiware Half Sheet 2-Pack's cost per square inch is hard to match.  Each half-sheet rack has a total area of 195 square inches, for a total of 390 square inches. These 100% stainless steel racks are dishwashing safe as well as oven safe, and they're set up for heavy cooking chores like roasting a turkey because of three crossbars that provide additional support.
Unlike some other identical racks in this list, the slightly slanted surface poses no problems; you can walk around these large racks without the danger of spilling baked products on the floor. However, at only half inches in height, this rack lacks the necessary elevation to cool as fast as the finest rack on my list. Otherwise, the HIWARE racks are a great choice and, as a two-pack, offer outstanding value.
User Experience 
Users were happy that it was really sturdy and well-made, but most importantly it works like a charm. They mentioned it is offered at a great price which I agree to. Although some users complained that it started rusting.
Pros
Sturdy braces

Exceptional value
Cons
Decreased circulation due to low height

Slopes slightly outward
My Verdict: It's an excellent product coming at a great price. Total bang for your buck. Go for this one without a doubt!
This is the best choice if you want an oven-safe cooling rack.
Sale
Wilton 3-Tier Collapsible Cooking and Baking Cooling Rack
Space-constrained bakers need not worry. our folding cookie cooling rack can fit up to 3 dozen cookies in one small bit of counter space. If your countertops...
Cool dounceens of cookies or other small treats on an expandable cooling rack
Collapsible for easy storage
Color: black
10 wide x 16 inch Tall (25.4 x40.6 centimeter) assembled
We recommend the Wilton 3-Tier Collapsible for people who don't have a lot of counter space. It'll make baking in a tiny kitchen a lot easier. This 3-tier accordion-style rack packs 480 square inches of the cooling surface into a 160 square inch footprint, and it folds up into a small package for simple storage. A 12-inch gap between levels makes it much easier to transfer cookies or cool larger baked products like muffins while locking racks and rubber feet provide excellent stability.
This rack, though efficient, isn't as adaptable as a conventional stainless steel model – the non-stick coated steel isn't oven-safe, and hence you should not use it for cooking. Because the racks aren't gridded and the bars are half inches apart, little cookies can fall between the spaces. The wires themselves are not particularly thick and tend to sag underweight, despite the fact that the surfaces are flat and the rack is extremely strong. However, for bakers who live in apartments, the Wilton Collapsible is a useful tool when you have limited counter space.
User Experience 
Users like that there was no assembly required, just unfold and slide the rack stand, and it's good to go. They loved that there was plenty of space for their baked cookies. No significant complaints by users.
Pros
High spacing between tiers

Locks for improved stability
Cons
Racks are not gridded

Thin wires can sag under heavyweight
My Verdict: The ratings are really good which says everything. I don't find any reason not to get this. All things considered, it's totally worth it!
This is indeed one of the best 3 tier cooling racks in the market. Do not forget to take a look at the list of best ladles for your cooking needs.
Sale
Tebery 4 Pack Cooling Racks Baking Rack - 16" x 10"
Value Pack of 4 cooling racks in black; Each measures 16" x 10" x 3/4"
Durable steel construction with narrow grid pattern.
4 stable feet keeps pastries raised above the counter air circulate underneath for proper cooling.
Nonstick coating releases food easily, also cleans quickly with non-abrasive cleaners or scrubbers.
Great cooling racks for cookies, pies, cakes, and more.
Is there something better than a pair of two cooling racks? Yes,  Four cooling racks in a set!  That's correct! You will receive four cooling racks in this amazing Tebery cooling rack set, all at a very low price. All of them have the same measurements of 16 X 10 inches. When you manage a bakery, you require to have enough free and clean cooling trays on hand so that your treats are always ready on time. As a result, these four racks will come in handy on such occasions.
Their design is simple and basic. You won't even need a design description after looking at their photos. I was quite impressed that each rack has four feet which makes it very sturdy. A couple of wire squares are missing around those feet as well. You can place your fingers in the empty space. When you're done placing food on the rack, you'll be able to lift it more easily. These racks could be used in restaurants that sell grilled and roasted foods in addition to bakeries. These racks' overall qualities are incredible, and their performance will leave you speechless.
User Experience 
Users liked that this product does not rust, even out of the dishwasher, and is very durable. They were happy that it worked well in the oven. The only complaint that users had was the black coating was coming out after using it for a while.
Pros
Excellent choice for a bakery or a restaurant.

You can use it for cooling many types of food – from pies to cakes.

Made using carbon steel material

Finger holes for better carriage.
Cons
My Verdict: This cooling rack is very versatile without a doubt. Great product for an awesome price!
As mentioned above, you can use it for cooling cakes without any issue. Some tea would go really good with your cake. Here's the list of the best tea kettles for you.
Oven-Safe, Dishwasher-Safe 100% Stainless Steel Cooling and Baking Rack - Food-Safe, Heavy Duty, Small Cooling Rack for Baking - 8.5 x 12-inch - Quarter Sheet Pan Tight-Wire Cooling Rack For Baking
HEAVY DUTY STAINLESS STEEL, STURDY DESIGN: Small cooling rack for quarter sheet baking pans are food-safe, professional grade 304 (18/8) stainless steel with...
DISHWASHER-SAFE AND EASY TO CLEAN: Our cooling racks are 100% stainless steel for easy clean up and can be safely washed in the dishwasher so there is no worry...
OVEN-SAFE ALLOWS FOR MULTIPLE USES: Safe for oven-use up to 575 degrees Fahrenheit; Ultra Cuisine's cooling rack is designed for oven use so you can confidently...
PERFECT FIT: Designed to perfectly fit small 13x9 inch quarter sheet baking pans or cookie sheets (as shown in image - pan not included); this baking tool makes...
PROUDLY DESIGNED IN COLORADO, USA & FREE RECIPE EBOOK: Bake Like A Pro For A Lifetime with Ultra Cuisine's stainless steel baking rack; every cooling rack comes...
On number four, I have listed the Ultra Cuisine solid wire rack. You may use it for baking as well as cooking, and it will turn out great both ways. It readily fits in a quarter sheet pan, and there aren't many free-fitting racks on the market. In addition to cooling, many people use it for broiling as well as roasting. It is also constructed of stainless steel. As a result, you may relax knowing that it will always be perfectly safe to cook food on it. The fact that this cooling rack is dishwasher safe is one of the major advantages of using it.
As a result, you can quickly toss it in the top rack for a thorough wash. It will be totally cleaned and you will be ready to use it as soon as possible again. The product's wiring grid is so durable that it is considered one of the best. The wires are so firmly attached that the rack would never shake, and any type of food can be balanced on it. It's safe in the oven up to 575 degrees.
User Experience 
Users loved its sturdy build quality which I feel is very important while buying a cooling rack. They also mentioned that clean-up was a breeze and nothing sticks to the surface. No significant complaints by users.
Pros
Sturdy build – Never wobbles

Can also be used as a roasting rack

It conveniently fits into any standard-sized sheet trays.
Cons
My Verdict: This is an excellent choice and has a great build. This product justifies its price and is a total "go for it" product.
This cooling rack is best suitable for broiling and roasting.
Sale
Half Sheet 100% Stainless Steel Roasting & Cooling Rack, Baking Rack fits Half Sheet Pan, Oven Rack for Cooking w/Thick Wire Grid - Oven, Grill, & Dishwasher Safe Wire Racks, Patented 11.8" x 16.9"
HALF SHEET ROASTING & COOLING RACK: Commercial grade 304 stainless steel roasting rack & cooling rack. Perfect for roasting, grilling, baking, broiling, bbq, &...
ULTRA DURABLE WITH EXTRA WELDS COOLING RACKS FOR COOKING AND BAKING: Multiple welds allows you to rest up to 45 lbs of weight on grate without breakage and...
1/2 SHEET WIRE BBQ GRILLING RACK: Perfect wire rack for cooking BBQ, grilling meat, fish, vegetables, & even fruit on gas or charcoal grills; entice grill...
LIFETIME GUARANTEE & FREE RECIPE EBOOK: Rest assured that you've made the best decision with our lifetime warranty on all racks; for questions and concerns,...
DESIGNED & QUALITY-CONTROLLED by SNLCO LLC, Utah, USA. Premium quality cooling racks designed by US experts to meet your cooking & baking needs. Safe to use for...
Because of several intelligent design adjustments that set it apart from the competition, the KITCHENATICS Cooling & Roasting Rack makes it in the top 5 list. This rack is 1 inch tall, which is twice the height of practically every other rack in this list and allows for better airflow. Supplemental welds give further support and stability. As a result, the manufacturers claim that it can sustain up to 45 pounds. The stainless steel construction is dishwasher safe as well as oven safe up to 575°F. This makes it a versatile roasting and air frying alternative as well.
The added height means that those feet jut out substantially more than the rest. The KITCHENATICS rack is also available in quarter-sheet and jelly-roll sizes. Nonetheless, if you want exceptional airflow for everything from roasting to cooling, this is without a doubt an excellent rack. 
User Experience 
Users liked its construction and material – solid stainless steel. They also mentioned that cleanup was easy. Some users didn't like its price, although according to me it's totally worth its price.
Pros
Superior height and circulation

Supplemental welds for improved strength
Cons
Longer feet complicate storage

Expensive
My Verdict: I recommend that every household should have this one. A great product with great quality. Buy this one without a doubt.
You can also check out our list of the best wine stoppers.
What Makes a Good Cooling Rack?
The most crucial characteristic is the sturdy build.

Its solid metal construction makes sure that it will not bend, which is critical.

The material you're looking for is steel.  

Another component that can be used to make the cooling racks is aluminum.

If you want to bake a lot at once, pick a rack of large size.

Cooling rack with multiple tiers, if you like to bake in huge numbers, and don't only bake for yourself.
FAQs – Frequently Asked Questions
What makes cooling racks different from baking racks?
The only distinction between a cooling rack and a baking rack that we can think of is that cooling racks can be used to both heat and cool items. Baking racks, on the other hand, can only be used for baking and nothing else.
Is baking bread on a cooling rack possible?
Because a cooling rack is a wire rack that can only hold solid objects and not dough or semi-fluid, it cannot be used to make bread. That is why you should use a baking rack to bake the bread.
How do you cool cookies and cakes on a cooling rack?
To use a cooling rack to cool your baked cookies, put them on the rack from the oven using a spatula and leave them there for 5 to 15 minutes. To cool a freshly baked cake, flip the pan and place the cake over the rack. Allow the cake to rest for a minimum of 10 to 20 minutes on the rack.  If you like making cookies and are in search of a cookie press, refer to Best Cookie Press – The List Of Top 9 (Updated).
Is it safe to use a dishwasher to clean cooling racks?
Yes, cooling racks can be washed in the dishwasher; but, if the cooling rack is hot, do not attempt to clean it in the dishwasher. If you're going to wash cooling racks in the dishwasher, double-check the manufacturer's specifications to be sure it's safe to do so.
Conclusion
A cooling rack is a piece of essential equipment to have in any well-stocked kitchen, from its primary use of cooling baked products to its less-intended utility for cooking. Summing up, a good rack can let you open a world of home cooking. It goes beyond your cookbook of baking recipes, from roasting and broiling to air-frying and crisping.
I would recommend you to get Hiware 2-Pack Cooling Racks for Baking as it offers the best features in the price range. If baking is your passion and needs more space to cool down your treats, go with Wilton 3-Tier Collapsible Cooking and Baking Cooling Rack as it'll give plenty of space for your cookies.
Investing in the best cooling rack for baking is a wise decision. When you have this right kitchen equipment in hand, you may decorate your cake, decorate your cookies and cupcakes, and even cure and dry your meat without fear. At last, get the best cooling rack today and experience a kitchen that smells like freshly baked sweet treats!
After being done baking, if you would like to make some delicious curry in a wok then check out our listing of Best Wok – The List of Top 7 With Full Buying Guide (Latest).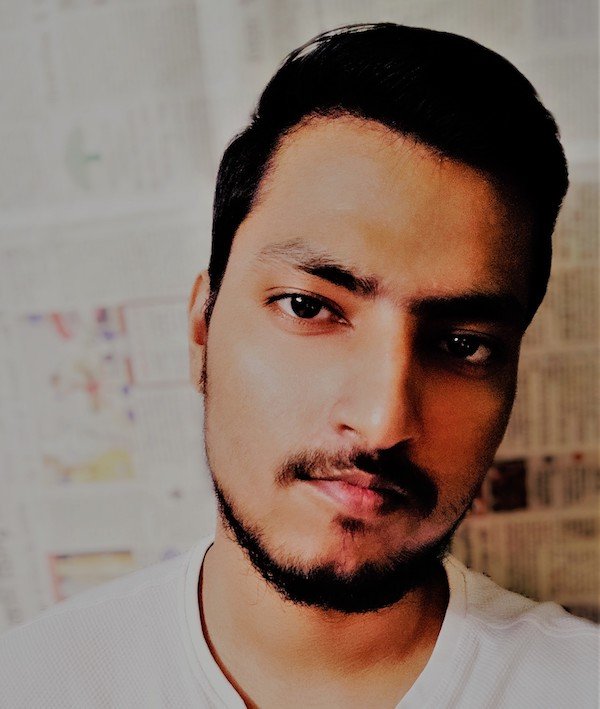 To those who want to read honest reviews and make a solid decision which they will not regret later. Ritik is an enthusiastic writer and what makes him stand out is his extensive knowledge in the field of kitchen gadgets and appliances. Seeing his mom using different gadgets and appliances at home fascinated him more in this niche since the childhood. He loves to share his research and knowledge about all the latest kitchen gadgets and appliances being released in the market and provide his reviews along. He helps his audience decide what will fit the best in their kitchen and what not.