If you are a kitchen-pro (by a pro, I mean – used to the daily cooking for your family), then you would undoubtedly know what place a colander holds among the various other kitchen-equipments. I didn't realize this until someone gifted one to me. Till then, what a mess I would create trying to drain hot water from pasta or rice! I even burnt my hands many a time. Hence, below is my take on the best colander for all your kitchen needs.
While the Kitchen-pro readers will get what they are looking for here, the new-bees into the kitchen world will also get some insights. In particular, they'll get to know how this seemingly insignificant piece of equipment can make their kitchen work smooth like butter. But just one reminder for all those new chefs in the making! Though this information will save you some burns (just like in my case), no one becomes a good cook without burning their hands a bit! Don't take this literally. It only means – don't be scared to experiment with cooking, but be careful!
What is a colander?
By and large, it is a bowl-shaped utensil with perforations or holes in it. The idea of this design is to help users conveniently drain out water while washing fruits or vegetables. It also helps in draining out the hot water from cooked pasta or rice.
Though this is the basic design of a colander, there are different types and sizes of this utensil available in the market. Even the materials used for their construction are widely varying.
Types of colanders
As pointed earlier, there are many varieties of colanders available in the market. Here's a summary of what you can expect to find:
Based on material used
Though the use of this utensil dates back to the 13th century BC, humanity has come a long way since then in the materials used for its construction. So you can find colanders made from stainless steel, aluminum, food-grade plastic, ceramic, silicon, and porcelain enameled steel. Each of the materials has its advantages or utility, as you will see in the following discussion.
For some amazing plastic colander options, we have this expert listing for you!
Based on design
Generally, a colander looks like a perforated bowl. However, we also have some innovative designs as mentioned below:
1. Expandable/collapsable colanders
These can be collapsed or expanded vertically or horizontally. So if you need it for straining or storing something then you can expand it. At the same time, you can collapse it for storage.
We have collated a list of the best expandable colanders for you. Don't miss out!
2. Over-the-sink-colander
Some colanders have extendable handles that you can adjust according to your sink size. You can position the colander across your sink and under the tap for easy and thorough cleaning of fruits or veggies. With this type of colander, your hands are completely free to wash the items in it or safely drain pasta or rice water.
Talking of colanders for pasta, don't forget to have a look at our best pasta colander list here.
3. Scoop or spoon colander
Another very useful style is the spoon or scoop colander. This is specifically useful when you need to remove hard items from your broth or while making french-fries.
Keeping this in mind, our experts have endeavored to present the best products to you in this category. So, do have a look at our expert listing of the best colander for broth.
4. Basket colander or double colander
I, specifically, find this type of colander very useful because it serves a double purpose. You can wash your fruits and veggies and directly store them in the refrigerator in the same utensil. It allows for ventilation and keeps your eatables fresh longer. Generally, they have a removable inner colander enclosed in a non-perforated utensil of the same shape.
Did You Know?
"Pastafarianism" is a social movement started in 2005 in Kansas. It is a movement to promote light-hearted religion. As some reports suggest, Austrian authorities accept the colander as a religious headgear of Pastafarians. Furthermore, an Austrian Pastafarian got himself photographed for his license in a colander headgear after he won a legal battle for it.

Why use a colander?
Besides the many uses, I have already introduced in my discussions above, my research and experimentations have shown me many more innovative uses of this utensil.
While skimming through some recipes for making Greek yogurt at home, I stumbled upon a very unique utility of a colander. It is used to drain out the whey from the ordinary yogurt to achieve the right consistency.
Steaming veggies is another very exclusive use of this utensil. If you have seen how a steamer works, you'll know exactly what I'm saying. Just put your veggies in a colander and place the colander in a vessel of water. Heat the vessel from below and cover it with a lid. Let the steam work on the veggies in the colander. However, make sure that the base of your colander is a bit above the water level else it will become more of a broth.
Separating leaves from the stems of herbs like celery is a trick I learned from my son while he was playing with it. I saw him passing the thread of the herb through the hole of the vessel and then pulling in back in the opposite direction. The leaves were left behind and the straw was in his hand. Well, sometimes children are the best teachers!
Best colander – a summary list
#1. All-Clad 37072-I D Stainless Steel Pasta Colander – When it comes to quality and elegance, All-Clad products are unparalleled. This model too stays true to its brand image!
#2. Collapsible Silicone Colander by Finn Market – A versatile equipment that can brighten up your kitchen. You will not regret this purchase!
#3. Ruvati Wood Platform with Mixing Bowl and Colander RVA1288 – An innovative product specifically for users of workstation sink from the same brand, Ruvati
#4. All-Clad Stainless Steel Dishwasher Safe Colander – Don't think twice before going for this must-have kitchen tool! This one has immense fan-following!
#5. Kraus CS-2 Stainless Steel Colander – Unmatched quality with German technology! The name says it all!
#6. ExcelSteel Scoop Colander – A high-quality kitchen essential that will make your cooking a breeze.
#7. Makerstep Over the Sink Strainer Colander Basket Stainless Steel – Backed with great user reviews, you don't need any further assurance for the quality and utility of this product! It's a sure buy!
#8. LiveFresh Stainless Steel Micro-Perforated Colander – Intelligence combines with excellence to get you an uncompromised quality with this LiveFresh kitchen tool.
#9. Kitchen Gizmo Snap N Strain Colander – Perfection and practicality of design are rare attributes that are easily available in this essential kitchen tool. So, don't think before you buy this one!
#10. Wyok Collapsible Colander Extendable – Simple and affordable, yet this kitchen gadget can do your job well.
#11. Collapsible Kitchen Colander - Over the Sink By Comfify – When it comes to flexibility and innovation, this Comfify kitchen equipment is unparalleled. My full recommendations for a buy especially if you are looking for easy storage.
Features and reviews of the Best Colander Listings
My list begins with this All-Clad colander, which is made of  18/10 stainless steel material. If you are afraid of burning your hands, then its riveted-stay-cool handles are here for your rescue. You can fill it with the pasta to be cooked and place it inside a pot with water. Later, when you feel it's done, just pull the insert out without burning your hands. The handles do a good job indeed! While the hot water will remain in the pot, you will have your cooked pasta in the insert. Its impressive tri-ply layered stainless steel build prompted me to list it here. It gets its sturdiness and elegance from this construction.
User Experience
Users are highly impressed with its superb quality and 7-quart capacity. They have specifically loved how easy it is to pull the pot out after boiling the food item. Undeniably, its stay-cool handles take the credit for this feature. On the downside, some users were unhappy with the fact that water bubbles out of the pot on boiling, even if it is filled with very little amount.
Pros
Sturdy and sleek
The brand is known for high-quality products
Dishwasher-safe, hence easy to clean
Stay-cool handles
Lifetime warranty
Cons
Complaints of water bubbling out while boiling
Expensive
My Verdict: If you are looking for elegance and durability, then this is the right product. Features, undoubtedly, outweigh the price!
However, if you are looking for some more options, do refer to our list of steel colanders.
Collapsible Silicone Colander/Strainer / Steamer with Stainless Steel Base in Raspberry Fuchsia Pink Color - 3 Quart - by Finn Market
EXCELLENT COLANDER / STRAINER: Works wonderfully for rinsing and straining fruits and vegetables, draining a full box of cooked pasta, and can also be used...

TWO SIZES / 3 QT CAPACITY: Use fully opened or halfway open. Holds 3 quarts when opened fully. The durable and sturdy silicone sides stay open and hold the...

COLLAPSES TO 1 INCH FLAT: Space-saving, kitchen cabinet friendly, stores easily in small kitchen spaces, takes less than 1/4 the space of a traditional...

ECO-FRIENDLY: Made of food grade silicone, BPA free, complies with FDA and LFGB regulations. High quality stainless steel and non-stick silicone surfaces....

EASY TO CLEAN / DISHWASHER SAFE: Run through your dishwasher for easy cleaning or hand wash with dish soap. The silicone inserts in the handles can be...
Next, we have this product from Finn Market with a uniquely innovative design. This collapsible utensil brings forth the synergy of stainless steel and food-grade silicone. While steel gives it strength and durability, silicon gives it the flexibility to collapse for easy storage. What's more, you don't have to worry about any health issues with silicone because it is BPA-free and compliant with FDA and LFGB regulations.
Its versatility is what appealed to me the most. It's a simple bowl that can be collapsed or expanded to hold varied capacities. When you open it fully, it can hold up to 3 quarts. At the same time, you can open it halfway if you have something lesser to place in it. Above all, it has a raised silicone platform encircling the base to prevent it from touching the sink bottom. This keeps your food items safe from contamination.
User Experience
Whether rinsing the fruits and veggies or draining cooked pasta, users have found this very handy. Its space-saving feature has won many user-applauds. Additionally, its attractive color has made it very popular with all. However, I saw some concerns regarding the height of its feet. In my opinion, it's a non-issue that is ignorable!
Pros
Space saver because of its collapsing property
Vibrant and attractive colors
Dishwasher-safe
High quality and certified materials used
Versatile
Removable silicone handle inserts make it easy to clean
Cons
A bit expensive
Could have longer legs for a better distance of base from the sink
My verdict: This rare combination of looks and utility is hard to find. So, don't be guided just by the cost because you get what you pay for!
In the meantime, make real soft cheese at home with the special colanders we have compiled for this specific requirement.
Ruvati Wood Platform with Mixing Bowl and Colander (complete set) for Workstation Sinks - RVA1288
ACCESSORIES SET for Ruvati Worksation Sinks: Includes solid wood PLATFORM, 5 quart MIXING BOWL, perforated COLANDER, black plastic LID, SLICER attachment, and 2...
Solid Mahogany HARDWOOD platform sits on the ledge of your workstation sink. | Platform fits all Ruvati workstation kitchen sinks (not bar sinks) including...
5-quart size MIXING BOWL with silicone NON-SLIP BOTTOM is perfect for tossing salad or mixing batter. | Includes perforated COLANDER that also fits in the...
NESTING design: the mixing bowl and colander stack inside one another | Includes LID that fits tightly on both the mixing bowl or the colander. | Includes...
Wood platform dimensions: 17-1/4" x 15-3/4" x 1" (thick) | All stainless steel parts are made of FOOD-SAFE, corrosion-proof T-304 grade stainless steel
Another exclusive product on my list is from Ruvati. This comes with a full package of accessories thereby increasing its utility.
I specifically liked the hardwood platform with a hole in it. This platform has a hole of the size of the colander and the bowl included in the accessories. So your colander simply nests on this platform and you can turn on the tap for an easy wash of your fruits and veggies. Similarly, the bowl can be nested in the hole and you can use the grater or slicer to do the required job.
User Experience
While most users have great words for this setup, they are also aware of its limitation. As this is specifically designed to work with the Ruvati workstation sinks, its use is limited to some extent. Nevertheless, if your sink dimensions can accommodate its wooden platform, you could still go ahead with it.
Pros
Very innovative and versatile product
High-quality accessories – stainless steel
Easy to use and work with
Cons
A bit expensive for a colander
Limited use as made specifically for Ruvati workstation sink
My verdict: Very convenient and versatile set if you own a Ruvati sink. Others could go for it if the dimensions match your sink size.
Simultaneously, we also have a list of colanders that can be used for making spatzle. So go ahead and check it out!
Once again All-Clad colander appears on my list, mainly because of the high ratings it has earned from the users. Though a simple bowl with perforations, its quality and looks make it absolutely irresistible. Like all other All-Clad products, this too is built to last a lifetime, especially with its 18/10 quality stainless steel construction. Furthermore, it's stain and corrosion-resistant and also doesn't react to acids. Besides, the mirror finish of this tool makes it a beautiful fruit holder to be kept in full view of your guests.
User Experience
This brand has many loyal customers who can vouch for this product with full confidence. In fact, some new buyers were even regretting not having bought this brand earlier. I also didn't find any complaints worth mentioning.
Pros
High-quality steel used
Available in 3 different capacities, highest being 5 quarts
Stylish looks
Stong riveted steel handles
Supported by a strong pedestal at the bottom to avoid contact with the sink base
Dishwasher safe
Lifetime warranty
Cons
My Verdict: Highly rated product from a renowned brand makes it a must-have item. A full thumbs up from its users!
Sale
This tool from Kraus does not require any introduction because of its German backing. Well known for their quality, German products never let you down.
Its chrome-plated high-quality construction can make heads turn. This construction is also responsible for its anti-corrosive and rust-resistant properties. I was quite delighted with its protective bumpers that enhance its looks.
User Experience
While the reviews are full of happy customers, the only downside of this product is that it is specifically made for certain sink models from Kraus. However, I would still go for it because it has the potential to be used separately as well.
Pros
Well known brand
High-quality product
Corrosion and rust-resistant
Limited lifetime warranty
Cons
Limited to specific models
My verdict: High-quality product from the well-known German brand. A great option if you own a Kraus product.
ExcelSteel Scoop Colander, 16.5", Stainless
Made of high quality stainless steel for durability and reliability
Comes with a long handle to keep hands away from heat
Also has a convenient end loop for hanging
Made to scoop and drain food straight out of pots and pans with no hassle or mess
A must have tool for every kitchen
Next on my list is a scoop colander for those times that require you to remove food items from hot liquids. So if you want to remove chunks from your broth or pick out something after deep-frying, this will do the job well. The tiny holes will ensure that all the liquid drains out and you are left with only the stuff you wanted to pull out. Additionally, the scoop is deep enough to hold the food item in it without letting it fall back into the pan.
I was quite impressed with its high-quality stainless steel body and long handles to save you from burns. Another useful feature is the end loop that enables you to hang it for storage.
User Experience
The reviews of this simple tool are quite outstanding. Most users found it very helpful in pulling out small-sized pasta because of its small holes. At the same time, I didn't find any serious complaints from users about this product.
Pros
High-quality and durable tool
Easy storage
High ratings by users
Useful for scooping out food items from hot liquids
Long handle for burn-protection
Affordable
Cons
Can be used only for a specific purpose
My Verdict: An indispensable item for your kitchen at a very affordable price. So go for it without any doubts!
Sale
Makerstep Over the Sink Colander Strainer Basket Stainless Steel, For Kitchen Sink with Rubber Grip, Fine Mesh, Large Kitchen Gadgets Tools, Expandable Metal Pasta Strainer Home Kitchen Essentials
When Quality & Practicality Blend Into One – This professional grade oval colander strainer with fine mesh basket is your premium quality solution for variety...
Expandable Handy Kitchen Tool – We specifically refined this oval drying sleeve to supply expandable support in your cooking adventures. Our large over the...
Masterful Draining Solution – From straining and rinsing pasta, food, fruits and vegetables, to quick drying dishes, filtering, sifting and similar washing &...
Easy to Clean & Store – Enjoy fast and easy maintenance as the metal oval colander strainer with mesh basket is dish washer safe. When not using, simply store...
Quality You can Trust – Here at we are completely dedicated to producing top quality kitchen items and flawless customer service. That's why you can rest...
This awesome colander appears on my list because of its sheer capacity to augment your work rate in the kitchen. A combination of common sense and high quality, this gadget also has very versatile functionality. Hence, you can rinse, strain, and filter all with the same utensil.
It has many features that I would like to specifically highlight because they make this tool a very handy piece of kitchen equipment. Firstly, it has expandable handles that have a non-slip quoting on them. So, you don't have to worry about the size of your sink because it can adjust to any size. Secondly, it has a rust-proof steel mesh so you can hold the tiniest of items in it. Additionally, it has a 6-quarts holding capacity. And how can I forget its superior stainless steel finish! No doubt it will last a lifetime.
User Experience
As expected, feedback forums are all swamped with positive reviews for this tool. In fact, the average rating by global amazon customers is 4.7 out of 5. This is impressive, considering a high number of users (3,500+) who have rated it. Undeniably, this product seems to have quite a fan-following! Nonetheless, the only sticky point worth mentioning is the food items getting stuck in the rim. Not a deal-breaker issue indeed!
Pros
High user ratings
6-quarts capacity
Small holes that don't allow the tiniest of the item to flow out
High-quality stainless steel construction
Expandable and non-slip handles
Affordable
Cons
Food gets stuck around the rims
Storage can be an issue due to the size
My Verdict: A great buy for the price and quality. Excellent user reviews are a mark of confidence for this product. Hence, my full recommendation for a buy!
Sale
LiveFresh Stainless Steel Micro-Perforated 5-Quart Colander - Professional Strainer with Heavy Duty Handles and Self-draining Solid Ring Base - Dishwasher Safe
Microperforated Holes Drain Faster And Prevent Fall-through. Extra close, small holes on every surface allow for super fast drainage so you don't have to tilt...
Save Time Cleaning. 100% dishwasher safe and rust-proof, this 5 Quart colander has never been easier to clean. The smooth pierced metal is gentle on your dish...
Indestructible Design With Riveted Handles. Constructed of professional grade 18/10, 304 stainless steel and built to last a lifetime. Our steel will never...
Warranty For Life. Rest assured, we are so confident that you will love our product that we back it up with a 100% lifetime manufacturer's warranty. If you...
Rapid Draining Ring Base That Won't Tip Over. The sturdy solid ring base keeps the colander from tipping over so that you can fill it up without fear of...
One more popular model that I couldn't resist adding to my list is the LiveFresh colander.  Its ingenious design and high-quality steel make it a must-have tool for your kitchen.
To begin with, it is built with a heavy gauge 18/10, 304 stainless steel that makes it exceptionally durable and your life partner. Next, the micro-perforations ensure that even the small food particles do not fall through. Additionally, its unique solid ringed pedestal quite caught my attention. It is unique because it has drainage holes to prevent any liquid from collecting at the bottom causing backflow. So, you can place it inside your sink and turn the tap on for washing the fruits and veggies without the fear of contaminating them with dirty water. Another very useful feature is its riveted handles that will never come off.
User Experience
Once again, this is a highly rated and popular model with users full of adorations for its quality and utility. Many users have specifically chosen this over other similar ones because of its extra drainage speed due to the extra drainage holes in the pedestal. As far as user complaints go, not many. For one, some found it not very good at quinoa and rice drainage. Others were a bit apprehensive about its sharp handles which they themselves clarified were not a hazard but could have been softer. But overall, a good product!
Pros
High-quality utensil
Sturdy yet light-weighted
Micro-holes are perfect for small food items
Drainage holes in the pedestal lead to faster drainage
Affordable
High capacity
Dishwasher safe
Cons
It may not be suitable for rice and quinoa
Handles could have a smoother finish
My Verdict: Lightweight yet strong, this one's perfect for small-sized food items.
Sale
Kitchen Gizmo Snap N Strain Adjustable Silicone Clip On Strainer for Pots, Pans and Bowls - Lime Green
ORIGINAL MANUFACTURERS: This is the original Snap N' Strain designed and manufactured by Kitchen Gizmo!
UNIVERSAL DESIGN: The specially designed clips will fit nearly all round pots, pans, and big and small bowls (including lipped bowls).
SPACE SAVING: Small, compact strainer that is easy to use and store in a quarter the size of the traditional colander. Great when working with limited counter...
PACKAGE INCLUDES: One Snap N' Strain Strainer (Orange)
KITCHEN GIZMO GUARANTEE: All our products come with a 1-year warranty. We will replace all defective products if purchased brand new from Amazon - free of...
Undeniably, it would be unfair if this popular colander model from Kitchen Gimo is not included in my list here. For one, it is very much in demand across the globe because of its universal design. What makes it so popular is its ability to adapt to any kitchen pot or pan. Thus, it can be fixed to pots, pans, or bowls of any size with the help of clips. Most significantly, the clips fit most of the round-mouthed utensils available in a kitchen.
Since it blocks the rim of the vessel just like a hand would do, it prevents the food inside from falling out when tilted. However, its tiny holes let the water or the liquid inside drain out. Furthermore, what I really liked about this product is its flexibility to adjust to the vessel it is attached to. As it is made of silicone, that too BPA-free, it's bound to have this adaptability.
User Experience
While some users love its flexibility, others are in awe of its functionality. In particular, most users have highly appreciated its space-saving attribute. Since it's just a quarter of the size of other colanders, it basically fits anywhere. So no more storage issues! At the same time, some users wished it was a bit larger for wider area coverage. Also, some users did not find it as adaptable to pots as has been advertised. However, I would ignore all these issues for the various features it boasts of.
Pros
Innovative design
Dishwasher safe
Easy to use
Affordable
The BPA-free silicone material used
Heat resistant
Ease of storage
Cons
It may not work will all types of kitchen vessels
My Verdict: Clever design and innovation give it a universal appeal. This one is especially for those who have limited storage space in the kitchen.
Collapsible Colander Kitchen Extendable Strainer Fruits Vegetables Noodle Pasta Food Drain Basket Space-Saver Portable Drainer Over Sink (Grey)
✔️ DRAINS QUICKLY: The evenly spaced holes of this collapsible colander make straining and draining easy and fast. Plus, the holes are small enough to...
✔️ EXPANDABLE COLANDER: The colander can be expanded from 14.2 inches to 19.5 inches to fit sinks of different sizes and hold more food and fruits.
✔️ LARGE CAPACITY & VERSATILE: The colander has a 5-quart capacity to hold and drain everything like spaghetti, pasta, potatoes, broccoli, green beans,...
✔️ SPACE-SAVING: The expandable body design makes storing this colander in any kitchen drawer, cabinet, or drying tray very convenient without taking up too...
✔️ HIGH QUALITY & DURABLE: The colander is made of high-quality material. It is BPA-free, dishwasher safe, and heat-resistant up to 230° F/110° C. The...
Next, I have another expandable colander on my list but this one has a very distinct design. Unlike the previous one appearing earlier, this one expands horizontally. Hence, it can be expanded to the size of your sink. Moreover, you can adjust it to any size between 14.2 inches to 15.5 inches. Thus, you get up to a 5-quarts capacity with this kitchen gadget. Furthermore, it can be easily stored in your kitchen drawer. Not only is it made up of BPA-free high-quality material but is also heat resistant. What's more, it is available in four beautiful colors.
 User Experience
While it's highly appreciated by most users for its versatility, they love its vibrant colors even more. Whether they use it for food items or as a drying stand for utensils, this gadget has always won their applauds. However, the downside, as pointed by some users, is its small holes. Some of them felt that the holes should have been a bit bigger.
Pros
Sturdy and compact
Vibrant colors
Versatile
Expandable
BPA-free material used
Easy on the pocket
Cons
Cannot be used for very heavy loads
My verdict: A useful gadget to have, especially if storage space is limited.
Collapsible Kitchen Colander - Over the Sink Kitchen Strainer By Comfify | 6-quart Capacity | Blue & Grey
Adjustable Over the Sink Strainer: Designed with superior drainage in mind, this convenient collapsible colander is perfect for rinsing fruit and vegetables,...
Large Enough, yet Foldable: The non-slip handles expand to almost 26", and the colander can hold up to 6 Quartz of your favorite food, but the space-saver...
Heat Resistant Strainer: Pasta-loving people rejoice! This colander is heat resistant for up to 176º F, so you can safely drain your boiling pasta directly...
Perfect for Small Kitchens: Large, yet compact and foldable, this adjustable colander is ideal for small kitchens, RV's and camping trips. Fits most sinks...
Quality and support: We created a great product for you. Our promise to you, our customer, is that you will always be treated fairly and with respect. You will...
And finally, the last one on my list surpasses all others in flexibility. This Comfify product not only expands horizontally to adjust to your sink size but also vertically to give you the desired depth. Moreover, it is made from high-quality BPA-free silicone that makes it heat resistant also. Furthermore, its raised bottom makes sure that your food doesn't touch the base. Above all, it is easily storable in the smallest of spaces.
User Experience
Most users have acknowledged its impressive functionality. Furthermore, they are also quite delighted by its capacity to expand. Nevertheless, some users had difficulty operating it because they felt it's a bit stiff for easy maneuver. But overall, a good product that's easy on the pocket.
Pros
Highly flexible
BPA-free and heat resistant material used
Good capacity
Affordable
Easy to store
Cons
My verdict: Immensely flexible and durable product at a very reasonable price! A splendid piece of kitchen equipment worth having.
My selection criteria for the best colander
Though a colander is a simple kitchen device and does not require any complicated know-how before buying, I would still suggest you keep a couple of things in mind before finalizing one.
1. Design
As seen in the previous discussion, colanders are available in various styles and designs. The most common ones are bowl-shaped vessels with two side handles to hold. At the same time, some others are expandable or ladle shaped and so on. Make sure you pick the one that suits your requirement the most. Keeping this in mind, I have ensured that I enlist a diversified portfolio of styles.
2. The material used for construction
Input material holds the key to the longevity and flexibility of your colander. Here, I would like to highlight my preference for stainless steel over plastic because of its health impact. If you have read my write-up on the best rice cookers, you will know how plastic or non-stick quoting is associated with cancer. Hence, the majority of the models I have shortlisted for you are steel-based. While choosing the other models also, I have ensured that I include only non-toxic, BPA-free plastic models.
3. Size of drainage holes as well as the utensil itself
Both these sizes depend on usage. While some users would prefer bigger drainage holes in their colander for easy drainage, others prefer mesh-style drainage. Evidently, for washing veggies and fruits, you would need bigger holes than for rice or quinoa. While talking about colanders specifically for rice, you can refer to our expert listings for the best options.
Furthermore, if you have storage limitations, then you would prefer a smaller-sized utensil that is collapsible and vice-versa. Given that, my list has been collated considering all the scenarios, you have plenty of options from which to choose.
4. Durability and ease of use
Generally, the quality of material used for construction decides the durability of any product. Hence, I have shortlisted only the strongest quality steel or silicone material.
FAQs
1. Is a colander the same as a sieve?
Though they work on the same principle, they are slightly different from each other. Generally, a colander has bigger holes. Additionally, it is used to separate liquids from solids. However, a sieve is used to separate two solids of different particle sizes. Generally, it is used to separate unwanted elements from the useful ones, like husk from flour.
2. Can I use a colander to strain flax seeds?
Though you could try using a mesh-style colander with tiny holes, a strainer will do the job much better. However, if using a colander, you can  lay a thin cotton cloth over the colander. While the seeds will not pass through the holes,  the water can still pass.
Meanwhile, check out an interesting trick you can do with your Colander! However, it is only for the steel one!
Conclusion
While selecting the right colander may not require very complex technical knowledge, it is important to understand its various facets. This knowledge will go a long way in helping you in making the right purchase. Hence, my list is quite exclusive, in the sense that it covers all the aspects of a colander, starting from its design to the buying guide. On one hand, it lists some expensive and top of the line colanders like All-Clad 37072-I D Colander and Collapsible Silicone Colander by Finn Market while on the other there are some very unique ones like Ruvati Wood Platform Colander RVA1288 and Kraus CS-2 Stainless Steel Colander.
Besides, I have ensured that budget-conscious readers are equally taken care of as well. Thus, models like Kitchen Gizmo Snap N Strain Colander and Collapsible Kitchen Colander By Comfify find a place on my list. Additionally, I have endeavored to include those models that are both affordable and flexible. Hence, you have a wide variety to choose from without going through the hassle of checking at various places for the same. So go ahead and select the one that suits you the most.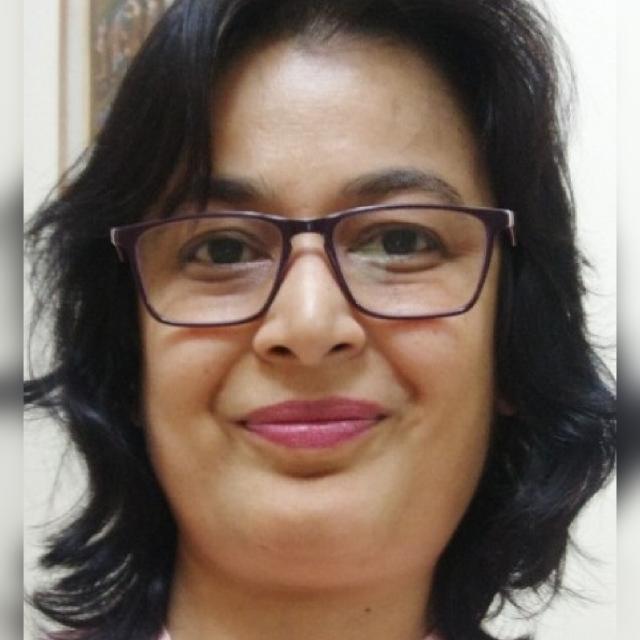 A graduate in Computer Science with post-graduation in Finance, Manisha Dhiman Kant is a stay at home mom. Having worked with multinational companies for around 10 years, she chose to work from home to balance her family commitment and work life. Since then she has written content on various areas of management, life, and technology. An avid online shopper, Manisha enjoys writing frank reviews for the benefit of other shoppers especially in kitchen gadgets and appliances category because that, she feels, is her forte (an entitlement most moms have because of having spent substantial time in the kitchen).