Who does not love coffee? Whether it be early morning or a dull afternoon, our hands always reach for a steaming cup of coffee to energize our bodies. If you are also in my situation, longing for the best coffee, let me tell you about the best French press that makes the most addictive coffee in the world. Whether you like expensive café coffee or a high-price espresso machine, the best French press will work as efficiently as them. Not only this, but it will also provide you with mouth-watering coffee with its rising aroma and retained flavor. Some people are so addicted to coffee that they even need them during their office hours. If you belong to this category, you might find some good options in our list of coffee press for your office. 
French Press Vs. Normal Brew Machine
French press or regular brew machine, which one to buy? Coffee has been the most brewed as well as a most loved beverage in the world. Moreover, its consumers love having it in their special flavors. So marking one best for everyone would not fit in the scenario as both of these coffee makers are helpful in different ways. Hence we will see be French press has taken away the seat.
However, if you are looking for something as strong as big coffee machines, you must check our unbreakable French press post.
The French Press
You might have heard the different names for French Press, including cafeteria, Press pot, coffee press, coffee piston, etc. The French Press is a simplistic coffee maker. It is designed with a cylindrical beaker to put your coffee beans and add hot water over them. This may sound very straightforward and easy method. But I am sure it must have pushed you to think about how a simple machine can turn your coffee into something so compelling. No wonders, the answer lies in the flavor and aroma of the coffee freshly brewed in the press, which will make you go for more each time you take a sip. The French press, unlike others machines, does not soak up the flavor and add tiny bits of coffee grounds in the coffee.
How It Came To Existence?
The history of this coffee maker goes a long time back. Over the years, it has gone through several modifications to serve the coffee consumers without losing its original taste. Additionally, the new design consists of a narrow cylindrical beaker usually made of glass or steel. Besides, it is furnished with a metal or plastic lid and plunger that fits perfectly in the cylinder and holds a fine stainless steel wire or nylon mesh filter. Most people avoid using a French press that is made of plastic as it contains BPA. Since it seeps into food or beverages and causes several adverse health effects on the brain and prostate gland, if you are very particular about not using plastic, then check our list of best French press with no plastic.
How To Use French Press
As mentioned earlier, brewing coffee in the press is simple and easy. However, that machine is not everything you can rely on to get the best results. Other factors also contribute to making the best-tasting coffee. When I make my coffee, I always make sure my coffee beans are fresh and ground perfectly to medium coarse. After which, I take filter water and brew it to more than 90 degrees Celsius. Besides, how you brew your coffee is also important while preparing it. Meanwhile, I also ensure that coffee beans and water are in the correct ratio to get the desired results.
Other Uses
Coffee is not the only thing you can brew in the Coffee plunger. Sometimes you are not always in the mood for coffee; you crave something different to refresh your mood. The tea works perfectly in that situation. You can turn your French press into a tea infuser to prepare your tea. Moreover, always remember to decant the tea in an empty vessel right after it is prepared. Why? Because even after the plunger is depressed, it still steeps the tea, turning it too bitter. Hence, If you are more of a tea lover, our French press for tea might interest you.
Did You Know?
"Kopi Luwak" is the most expensive coffee in the world. It comes from Indonesia and is made from beans digested from the Asian Palm Civet. It sells for $426 and up per kilo.

Best French Press Quick Review
Stanley Coffee Maker
– This Hammertone green press with stainless steel body from Stanley is a tough and durable product that will prepare an amazing cup of coffee for you.
Mueller French Press
– This silver press from Mueller will not only let you brew your coffee, but you can also make hot chocolate, cold brew, frothed milk, and cashew milk. 
MIRA French Press
– This French press from MIRA is a huge capacity press that allows you to brew coffee for your whole family at once. Additionally, its ultra-fine mesh filter perfectly filters coffee grounds to reduce acids.
Veken French Press
– This copper press from VEKEN is a stylish design coffee maker. Now you can enjoy your own coffee in just 4 minutes.
iwoxs Coffee Maker
  – This digitally advanced press lets you monitor the ideal temperature. Allow you to make the perfect cup of coffee with fresh and pure flavor.
Best French Press Detailed Review
Stanley French Press 48oz with Double Vacuum Insulation, Stainless Steel Wide Mouth Coffee Press, Large Capacity, Ergonomic Handle, Dishwasher Safe
MAKE NOW, DRINK LATER: Designed with double vacuum insulation, this French Press not only allows you to make an amazing cup of Joe but you can also keep it hot...
TOUGH AND DURABLE: We designed this with two layers of naturally BPA-free 18/10 stainless steel walls to provide superior insulation The mesh plunger is strong...
EASY TO CLEAN: The last thing you want to do is spend your time cleaning – that's why every piece of our French Press is dishwasher safe
HOW TO USE: Place your favorite coffee grounds in the French Press, add boiling water and give it about 5 minutes to brew, then press the steel plunger once...
This machine has surprised me with its double vacuum insulation, which helps to keep your coffee hot for up to 4 hours and also retains your cold drink's temperature up to 9 hours. It is so handy and light in weight that you can easily carry it with you for traveling. Isn't that amazing? Well, that's not all. It also builds up of 18/10 stainless steel wall, which lasts forever and is an excellent Insulator of heat. Therefore not letting you feel its hot temperature through the outer body.  its plunger is not as strong to keep your coffee ground out of your cup. However, these tiny particles will raise the authentic flavor of the coffee.
The company Stanley offers a lifetime warranty with their juicers. Therefore, establishing a bond of trust with their customers. If you talk about their product, you can easily find that the press is such a strong build that it will never let your coffee drip even if you kick the container or drop it hard. It has incredible durability. Hence this machine lies on my top category of the best French press.
User Experience
Users have found it to be an excellent product, which has all high-quality features. Subsequently, they love how easily it can prepare the coffee. Some users have also faced the issue that it does not keep coffee warm for many hours. Nevertheless, it thus keeps it warm for an hour or two. I don't consider it as a deal-breaker as long as it serves me with the best coffee.
Pros
48 Oz Capacity
Large Capacity
Ergonomic Handle
Wide Mouth Coffee Press
Dishwasher Safe
Tough and Durable
Easy To Clean
Cons
Fine Plunger
little costly
My Verdict- According to my need, this machine contains all the qualities I personally look for in a coffee maker. Its double vacuum and the lifetime warranty impressed me the most. Therefore I will highly recommend people to go for this machine.
If you are a small family of just 2 people, instead of buying the larger press, you can look at our best press for 2.
Sale
Mueller French Press Double Insulated 304 Stainless Steel Coffee Maker 4 Level Filtration System, No Coffee Grounds, Rust-Free, Dishwasher Safe
If you really care about your coffee – We tested enough mechanisms and filters to make your head spin to tweak and uniquely design our press with a triple...
More thicker, More heavier, Build to last – Our huge capacity professional grade 304 18/10 double-layered stainless-steel baby will keep your coffee hot for...
Multiple Uses - Besides using the french press as a coffee maker, it is also handy appliance to make tea, mct oil coffee, hot chocolate, cold brew, frothed...
Perfect for any occasion - For house warmings, weddings, birthdays, holidays and all coffee/tea lovers & healthy foodies! Two bonus stainless steel screens and...
European Engineered - Our total satisfaction promise covers all our products. So choose Mueller with confidence and look forward to a lifetime of java pleasure.
If you are a campaign person, then this might be the perfect purchase for you. Its stainless steel body allows you to carry it anywhere without the fear of being broken. Moreover, the company has designed the press with a three-layered filter structure that will not let the coffee ground reach your cup. But, you will still find the thick oil layer floating in your cup. This might upset the people who love their coffee light. However, this won't be seen as a big deal for people who enjoy a strong flavor of the coffee. Additionally, this large and built-to-last press will keep your coffee hot for about 60 minutes.

The machine does not come alone, the company also offers a small travel canister to hold beans or grounds for two entire batches. Therefore you won't run out of coffee while traveling. However, the press is pretty bulky, and the opaque design of the press will not let you see your coffee level.
User Experience
Some shoppers have found this steel body much better than the glass one. It keeps the coffee hot for a longer time, and its finer mesh screen makes the coffee taste better without any grains. However, some have experienced a kind of black metallic grease that builds upon the rod and makes the whole brewing process unhygienic. Nevertheless, deep cleaning can tackle the problem quickly. Hence you can enjoy the warm brew in seconds.
Pros
4 level filtration
Rust free and Drop free
Dishwasher safe
Double Insulator
Larger Capacity
No coffee grounds
Cons
Quite Heavy but manageable
My Verdict– On the outline, The coffee maker serves you with many advantages. However, you will still find some flaws, but they can easily overcome as soon you are used to the product. Hence this press is best to purchase. 
If you are looking for the press that can serve your joint family at one go, check our best 2-liter French press.
MIRA 34 oz Stainless Steel French Press Coffee Maker with 3 Extra Filters | Double Walled Insulated Coffee & Tea Brewer Pot & Maker | Keeps Brewed Coffee or Tea Hot | 1000 ml (Gray)
● Durable Construction: Made from high-quality 18/10 stainless steel that is built to last. Unlike glass French Press coffee makers, our highly rated...
● Quick & Easy Enjoyment: Create a delicious pot of hot coffee in a snap with our coffee press. Simply measure out your coffee grounds, heat water, let steep...
● Bolder Flavors & Aromas: The French press features an ultra-fine mesh filter that perfectly filters coffee grounds and teas to reduce acids and eliminate...
● Versatile & Portable: Use your French press to make large quantities of piping hot coffee, cold brew coffee or loose leaf tea. Take your travel French press...
● Innovative Design: Our sleek and modern French press is designed with the user in mind. For your hands comfort, the sturdy ergonomic handle stays cool even...
I have chosen this product as it serves all the advanced features and is a high build structure just like the above ones. However, this product is a little less pricy than the others. The machine holds a capacity of 1 liter and is made of stainless steel, which lasts forever. Therefore the press is unbreakable, shatterproof, and won't break. Moreover, in the press, flows stay hot. So you don't need to wait for your next cup of coffee.
Sometimes the steel container can give you a metallic taste while drinking the coffee. However, this press provides a fresh and ultra-fine mesh filter, which perfectly filters coffee grounds to reduce acids and eliminate the taste of a paper filter. Moreover, it includes three extra filters to avoid any ground particles entering your coffee as a bonus. Hence, It is a versatile and convenient product.
Use Experience
Users have seen that the press fine mesh filter assures the richest and smoothest coffee. Now you can use this French press to make flavorful coffee, loose tea, hot chocolate, and more. Moreover, the filter is complicated to unscrew the first time. However, which is not a big issue for some user and are happy with the purchase. Drink your delicious coffee without having coffee grounds in your drink.
Pros
3 Layered Filter
Doubled wall insulated
1000 ml Capacity
Ultra-fine mesh filter
Versatile & Portable
Cons
The outer gray plating sometimes comes out
My Verdict: The press is worth every penny; it is highly durable and gives you a rich and smooth coffee experience. Overall, it is a satisfying purchase.
If you are also a fan of creamy coffee, you must look at our best french press for lattes.
Veken French Press Coffee & Tea Maker, 304 Stainless Steel Heat Resistant Borosilicate Glass Coffee Press with 4 Filter Screens, Durable Easy Clean 100% BPA Free, 34oz, Copper
Choose a Lifetime French Press - All materials contain no BPA and surpass food grade quality. The handle is secured with a stainless-steel frame to keep the...
Say No to Residual Grounds: Veken coffee press is perfect for both professional barista and novice coffee lovers. Double stainless steel filter screens help to...
Thickened Borosilicate Glass Carafe - The 34oz large carafe is made of thickened heat resistant borosilicate glass which can withstand extreme temperature...
Freshly Brewed Coffee - As a coffee lover, you must never compromise with your coffee. A cup of freshly made coffee just take you 4 minutes. With our stylish...
Why purchase this product? - Veken French Press features an exact scale line so you can prepare exactly the right amount of coffee or tea to meet your needs....
The French press has a classic and vintage look that will give your kitchen a royal gaze. If you are a person who loves the classical atmosphere and are old-fashioned then, this could be your purchase. Unlike the older ones in the past, the press has a modern double stainless steel filter, which ensures the coffee grounds don't get into your cup. Therefore, you get the best of both worlds. The container also includes the level markings. Moreover, the handle of the press is shaped very nicely to fit the hand. As its whole body is of glass, try to hold it far enough away from the hot container to protect yourself from burns.
The press is exactly what it claims. You will not find any residue at the bottom, and it also comes with two extra filters and a lovely wooden spoon which is a mind-blowing deal at such an affordable price. Hence, the press lies in the 'no regrets' category for purchase.
User Experience
Users have a great experience with this coffee press. They are stunned by its quality and look. However, some users have complained about the breaking of glass while steaming, resulting from improper usage. 
Pros
BPA free
Secured with a stainless-steel frame 
 34oz large carafe
Easy to assemble
Easy to clean
Cons
The glass sometimes slides out
My Verdict– Overall, it is a hands-down product that meets all your requirements. 
 Those of you who are health conscious and want their coffee totally decaf, check our best decaf coffee press.
Sale
French Press Coffee Maker 34 oz, Stainless Steel Coffee Press with Temperature Display, Timer Reminder, Easy to Clean Glass French Press Coffee Pot
♨Thermometer and Custom Alarms Function: iwoxs electronic french press coffee maker can alert you when coffee is perfectly brewed, you are in full control of...
♨Durable Stainless Steel Coffee Press: coffee french press is the 304 grade stainless steel, the rust and corrosion resistant metal makes up the carafe...
♨Large Coffee French Press: french coffee press tea maker with a large 34oz(1 L) size resulting in plenty of coffee and tea to share with family and friend
♨Unique design and materials: High quality and BPA-free materials. The French Press is made of thick borosilicate glass that is resistant to extreme...
♨An outstanding gift and we provide after-sales service: No matter the occasion, whether it's Christmas or a birthday, the innovative iwoxs French Press...
The press has a unique digital timer and reminder functions that alert you when coffee is perfectly brewed. So you don't have to worry about your coffee being burned. Moreover, it is waterproof, which makes the cleaning process easy. It also has a long battery life which runs continuously for 15 days without charging. Furthermore, it has a sleek modern design and can prepare up to 1 liter of coffee, which means you can easily prepare coffee for your whole family.
The best part about this press is that it has a thick borosilicate glass which will not crack easily like regular glass. However, some people can get confused if they are using it for the first time as they will not easily find out the differences, but that's not an issue to bother. Hence Enjoy fresh, delicious, and extraordinary coffee in just minutes.
User experience
Users seem to be happy with the product as its digital superiority has made it everyone's favorite. It has helped users in preparing the best coffee according to their taste. However, other users have complained that the timer does not always work and have also criticized the handle's poor quality. Besides, some users have suggested not to fall for electronic gadgets as they stop working in a few days.
Pros
BPA free
Timer reminder
Temperature display
Large capacity 
3D interwoven 0.18mm mesh filter 
Unique design 
Cons
The timer does not work correctly sometimes
My Verdict- Overall, it is a nice French press with unique features. However, you can also go for simple French press as they work great and do not require much hassle while preparing coffee.
Sometimes, you make mistakes while grinding your coffee; you can buy some grinders for your beans to avoid that. Check our page to find the best grinder for your press.
Buyers Guide
Preparing coffee in the French press is not a messy or complex process. However, to achieve the best coffee without complications, you must check what your press should have.
Strong Material
You must have seen the stores flooded with varieties of the French press, from plastic, steel to glass. However, the question arises which will be perfect for use? The press has three parts the plunger, carafe, and a frame; therefore, the material used to make it would impact the functions and taste of your coffee. Here, I would highly recommend you never fall for the plastic ones. They might attract you with their super-cheap price, but they will only give you worse results. In comparison, the glass one is preferred as it is transparent and allows you to see inside the press. However, it is fragile. In contrast, Metal is durable. Steel too is stable, can keep coffee hot for longer.
Durability
Buying a French press is an investment of several dollars. Hence you don't want to spend your dollar on something that would not even run for a month. Therefore to know the durability, you should focus on the material of the carafe.
The Right Size
If you are purchasing a French press for your family of more than four people, I suggest you buy the press which can prepare 10 ounces of coffee each time. However, even if you buy it for a bit of a batch, I would recommend buying the larger one. As sometimes you need more than 1-2 cups of coffee for yourself or Someday it can be due to the arrival of several guests. Instead of making it a thousand times to serve your guest, fill the whole batch at once in your large container. Hence the delicious coffee is ready without any rush.
Filters
Filters are essential consideration while buying the press. However, some people do not bother as they love having little grounds in their cups. At the same time, some people prefer the press with doubled filters to avoid the grounds from getting passed to the cup.
Cost
I can guarantee you that any press you choose would be less than the espresso machines available in the market. However, it will give you the authentic and exact taste of coffee. The cost of the press differs with its size, weight, and material used during the production.
FAQ's
If you are buying the French press for the first time, then there must be millions of questioning rising in your head. I will try to solve all your queries here.
Why are there some coffee particles in my cup?
When you ground your coffee, sometimes the particles are crushed so fine that they easily slip through the filters and reach your cup. However, sometimes the particles are larger and get blocked by the filters. I propose that you try to grind it medium-coarse to avoid any coffee particles in your cup.
Moreover, if you still find small particles, you don't need to worry. Just try not to sip it with the coffee. Meanwhile, you will learn the right grinding process.
What is the correct ratio of water to put in the press?
It is difficult to tell as it differs from one individual to the other. Some prefer their coffee to be strong, while others love their drink to be light. I prefer you to try different coffee strengths to know the right amount and taste you like. However, if you are not satisfied, you must try 7-8 grams of coffee in 200 ml or 6.7 oz of water.
Furthermore, the quality of water also counts with the quality of coffee beans. So make sure you are adding mineral water as it will give your coffee a better taste.
What is the best time for brewing?
 It only takes few minutes of your day to prepare the coffee in the French press. However, even some people burn their coffee beans, so try to brew them for not more than 4 minutes. Moreover, if you like your coffee less bitter, you can finish the process in 3 minutes. Besides, you can put the coffee in a separate carafe after brewing and let the coffee particles settle in the French press, and give your drink the bitter taste if you like it strong.
Conclusion
 By now, you must have understood or got an idea about what kind of French press you need for your kitchen. Yet, I would suggest you go for the press, which has a large capacity and a muscular build. Moreover, as time passes, you will automatically understand the fundamental concept of the French press and how you want your French press to work. However, if you choose from the list I have provided you will not regret your purchase.
You can also take a look at our best frothing French press if you like your lattes and cappuccino with a sweeter taste of frothing milk.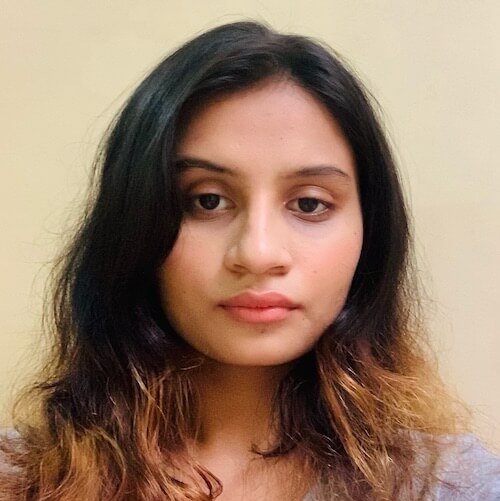 Shiwani Bisht is a young mind full of inquisitiveness and determination and always enthusiastic about writing; commencing with penning her own recipes with her mother, she hopped up to a new level of writing just after completing her schooling. She is also a home-chef and loves preparing various cuisines; her mother, a learned chef, inspires Shiwani to cook. She and her mother had designed their recipe book and swayed their hands on different kitchen gadgets to make their cooking sessions advanced and more effortless.
As a food lover, she also started writing content on various appliances, which helped her make her cooking sessions easier. This made her gain more knowledge about technical gadgets. When she is not writing or cooking, she is usually volunteering in various welfare communities.